WILLS POINT, TX – Gospel for Asia (GFA World) founded by K.P. Yohannan, which inspired numerous charities like Gospel for Asia Canada, to assist the poor and deprived worldwide, discussing Raimon's physical ailment, two years of near-constant pain, and how God heals through the power prayer.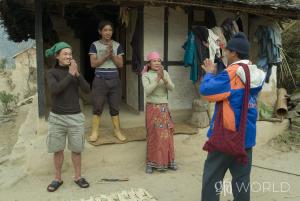 When pain first flared in Raimon's stomach, he immediately journeyed to the hospital. But the doctors could find no remedy for the pain that beset the 31-year-old father of four. When medical treatment didn't take away the pain, Raimon turned to spiritual treatment.
Two Years of Near-constant Pain
Raimon; his wife, Perley; and their four children lived in a rural village without basic amenities such as clean water. The roads to their village were rough and unpaved, making necessary trips difficult. With the nearest hospital 18 miles away, only an emergency—like Raimon's sudden pain—could persuade the family to make the trip.
Once Raimon made it to the hospital, however, the doctors had only bad news for him: They had no idea what was affecting him, and they could not offer any help.
So Raimon turned to the local witch doctors, but they could offer no help either, only the pronouncement that the unfortunate father was likely under the spell of black magic. And with that, the family gave up hope. For the next two years, Raimon lay in his bed, enduring the pain and writhing in hopelessness.
The Pastor's Prayers
As Gospel for Asia (GFA World) pastor Seamus wound his way through the area he served, he came to Raimon's village. There, the pastor did as always: He offered words of love and encouragement to any who wanted to hear, and he listened to the people's troubles and prayed for them. Perley, hearing of a man in their village offering prayers for the sick, immediately tracked the pastor down.
After explaining Raimon's mysterious sickness, Perley begged the pastor to come and pray for her husband. They had tried everything, she said. Nothing had worked.
Pastor Seamus followed Perley to her home. He saw Raimon lying in his bed, writhing in pain. Taking his hand, Pastor Seamus prayed for the ailing man.
Later, the family visited Pastor Seamus's church for more prayer. Pastor Seamus and the other believers welcomed the family with open arms and prayed for Raimon's healing. From that day on, Raimon did not suffer from any more stomach pains; he had been totally healed!
After Raimon's miraculous healing, he and his family expressed to Pastor Seamus that they wanted to learn more about his God. When all other avenues of finding healing and peace had failed, and there was no hope, the Lord had intervened and sent Pastor Seamus to bring healing for Raimon.
---
Read how a man found healing for his daughter through the prayers of a pastor.
*Names of people and places may have been changed for privacy and security reasons. Images are Gospel for Asia World stock photos used for representation purposes and are not the actual person/location, unless otherwise noted.
---