I'm a pro-lifer who once considered having an abortion. This is my story.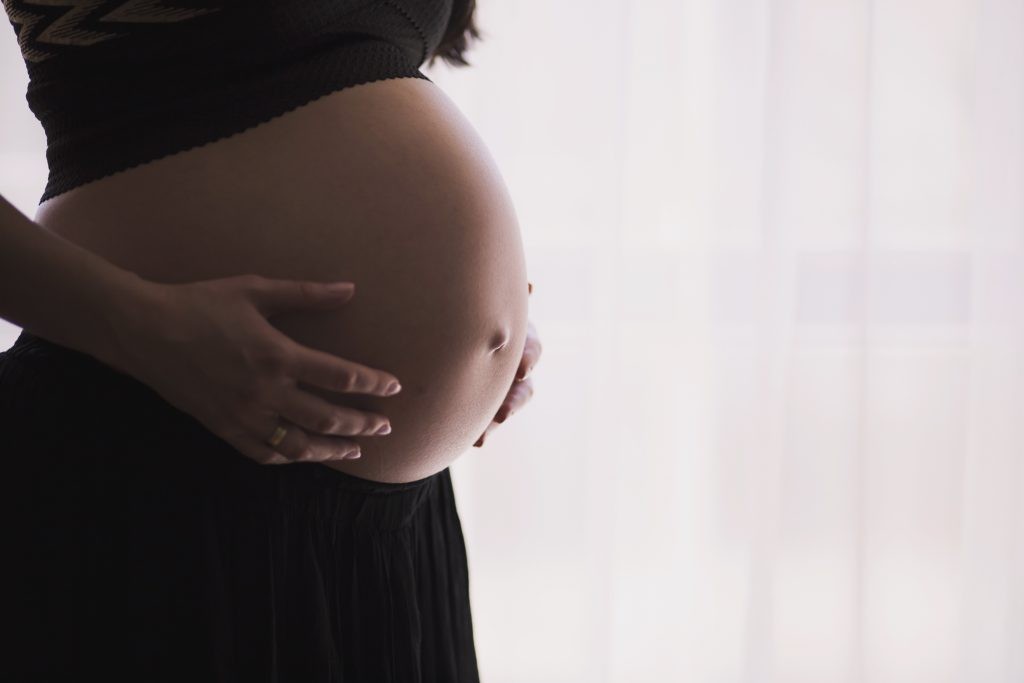 I stared at the two pink lines intersecting on a plastic stick. I wasn't sure if I wanted to vomit or just crawl back in bed. I dreaded telling my husband.
Let me set the scene for you. We had just moved back to Alabama from Atlanta and into my mother-in-law's home six months before. We were struggling financially. I already had three children. The youngest was seven-months-old (and nursing). His pack-and-play served as his crib which fit just right in the space under the stairs….in the same room where my husband and I slept. My older son and daughter were sharing a small room upstairs.
Right after our littlest guy was born, we decided we were good with three kids. My husband had a vasectomy a month after our last baby was born.
I remember being absolutely devastated those first few days. I was not handling being a mother of three very well. Perhaps it was due to all of the other stress. The idea of a fourth…of having three of them in diapers all at once, and in someone else's home, buried me in anxiety.
I wanted out of the situation. I didn't want a new baby. I didn't want to live with my mother-in-law. I didn't want the life I had at the moment. The future seemed oppressive.
Up to this point I was a birth junkie. A trained doula. A woman that gave birth naturally with midwives and doulas. I loved babies. I loved being pregnant. I loved giving birth. I loved all of my children fiercely. It was safe to say I was staunchly pro-life.
So naturally what followed all of this fear was shame.
Shame that I was being selfish. Shame that I had terrible thoughts of wishing I could end the pregnancy. Shame that we had even gotten into the financial situation we were in. Shame that I wasn't enjoying motherhood at the moment.
That's a lot of shame.
With lots of encouragement I eventually eased into and even embraced my "predicament." It took a good month of anxiety-induced prayer and plenty of encouragement from friends to finally let some joy into my heart over this new baby. Before too long, I was not only confident  I could do it, but I was excited. I knew we would get through this thing. I was looking forward to one more little baby to hold.
Then, one of my closest friends died very unexpectedly of an acute asthma attack. Two hours after her funeral, at fourteen weeks of pregnancy, my water broke. I lost the baby I grown to love and even desire.
It didn't take long for all of that shame came flooding back.
Even though I had loved that baby…..I was relieved.
Right or wrong, it's true.
This was a very complicated grief. The friend that passed was a lifelong, deeply close friend. We'd been roommates for years. We'd been together through crazy life journeys. In addition to the normal grief of losing a friend, there was the grief of losing a baby, and the complexity of being more upset over the friend than my child. This is the person I would have called to cry over the miscarriage, and now I couldn't. I found myself angry over the pregnancy once again. That it had even existed to make me feel this way.
More shame.
God did not let me stay there though. Miraculous things happened in my heart over the next two weeks. Never in my life have I felt the covering of prayer by friends, like I did in that time. The heart healing was supernaturally fast, and beautiful, and in the hindsight of five years passing, I see now that it had deep purpose. Half a decade later I still see how my Father gave me beauty for ashes. He still does.
What I am about to say is very complicated. Some of you are going to read it and get angry. Others are going to feel it to your very core.
I believe I was allowed to feel that shame. So often we see tragedy as a weapon of the enemy, and it is. But I believe that God allows it. (Read Job) God used mine to completely fill my heart with grace and mercy for a group of people that I had previously felt very little mercy for.
Previously, I had no interest in understanding the hearts of women who chose abortion. Like it or not, I had to face the fact that I too stared that desire, no matter how briefly, straight in the face. My thoughts on abortion were pretty harsh until then. Now, God took this thing that happened to me, and used it to give me deep emotion and understanding for why people ever entertain and even follow through with the idea of abortion. That will sound awful to some, but it's a truth I have to deal with.
I am still pro-life. But my definition of what pro-life means has broadened dramatically. Like many of you, I want to live in a world where we never think of not letting a baby be born, but the reality is that is not the world we live in. It never has been.
I want to never again judge a woman for her choice where abortion is concerned. Every woman has a different story, and I am pro her life too. I understand her anxiety and dread, and I believe she has a hope and a future even after her abortion. If there is no Grace for her, how could there ever be for any of us.
Sasha Johns is a wife, mom, artist, blogger, jelly maker, story teller, lover of the Magic City, and not afraid to meet other Baptists in the liquor store. You can find her on truevinegifts.com or keep up with her on twitter at @johns_sasha
*This post is part of the "This is My Story" series.