As a kid and throughout most of my 20's, I was intent on being perfect so that I would deserve and earn God's love (read: approval). Sin was basically an idol. It's the age-old adage of the kid who is told not to touch the iron or the stove. It's so bad, so dangerous, so off-limits, that it becomes an obsession.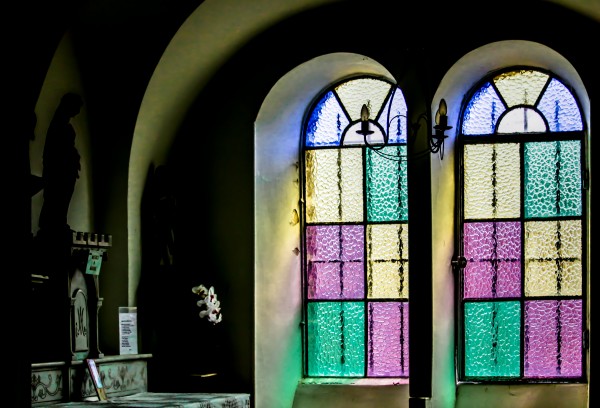 In my attempts to run from sin, I actually made a little god out of the whole concept. I was so focused on what not to do, I failed to put energy into growing more like Jesus. All of my attention was consumed by every little thing that would disqualify me from being a child of God.
I grew up in a world where "holiness" was the topic of discussion more Sundays than not. But instead of focusing on holiness as being set-apart, or living differently, the word caused my soul to tremble. Every week, it reverberated through my eardrums and scared me back down to the altar. Holiness meant perfection. You were either holy or hellbound. Saint or sinner. There was no darkness in the light, and certainly no room for anything in between.
But what about Jesus? Where does this man who openly embraced the rank and file of the vilest of sinners in broad daylight fit into a conversation on sin? Look at what Jesus says to the Pharisees in Matthew 12, "A tree is known by its fruit. A good tree will bear good fruit and a bad tree will bear bad fruit."
The Pharisees appeared to have good fruit by every outward sign. They followed the Law down to the tiniest detail. It would be a solid assumption to say they never sinned, right? But why, then, did Jesus call them "a brood of vipers"? Why did Jesus call these holy men a bunch of "white-washed tombs"? By Old Testament standards, they were sinless.
But Jesus said their fruit was full of worms. It was detestable. Maggot-infested. Bitter.
So can you live a sinless life and miss the whole point? It would seem so. And can you live a flawed and broken life but somehow manage to capture the heart of Jesus? Yes.
I grew up with the belief that sin was kryptonite for the Christian. Sin would lock you in the belly of a whale, or steal all of your power. For years – decades – that was my understanding of the concept. No more. No less.
Am I oversimplifying sin? Yes. And that's the point. We hear nothing but black and white teachings on sin and goodness, holiness and hell. I wonder if that's because fear fills pews.
Sin literally means "broken into pieces" – a missing of the mark. Imperfection. Off-target. Broken. Sickness. There are a thousand other metaphors for sin, but why does it even matter to me today?
Is that what Christian life is really about? Being good and not being bad?
Is sin just the violation of the Christian moral code?
Is being a Christian the opposite of being a sinner?
Is sin bad and holiness good?
Or is there more to God's word than simply teaching us to have upstanding character?
To answer all of these questions, I go back to the fruits and the tree. When those who know me best describe me, is my fruit detestable? Or is the flavor of my life good? Tasteful? Helpful? Sweet?
If I'm honest, I no longer fear sinning, I fear disappointing God. But most often, when I feel afraid, it's because God looks like the people I have always tried to please. And when I put on the mask of performance-based Christianity again, I still fear imperfection. Weighed in the balance and found…wanting. When I take off the mask, I'm far more mesmerized by the life and goodness of Jesus. There's no more room for the shaky fear of a fiery hell.
My friend Stephanie says it like this, "When I am trying to function outside of my God-given sense of rightness, when I am not in line with the person God created me to be, I testify against myself internally. For me, that is sin."
Put another way, "To thine own self be true."
We do stupid shit. We make poor decisions. We hurt others. And we ultimately hurt ourselves. But I don't believe we are all darkness, all desperately sinful. In the words of my friend Sarah, "We are beauty that is broken. We are the perfect image of God, which fell and cracked and was bent out of shape. We are still recognizable as image-bearers, but we are glasses seen through darkly."
Have you ever heard of ubuntu? Desmond Tutu described it this way:
Ubuntu is very difficult to render into a Western language. It speaks of the very essence of being human. When we want to give high praise to someone we say, 'Yu, u nobunto'; 'Hey so-and-so has ubuntu.' Then you are generous, you are hospitable, you are friendly and caring and compassionate. You share what you have. It is to say, 'My humanity is inextricably bound up in yours.' We belong in a bundle of life.
In certain sects of Christianity, we have created such a culture of fear, shame, and guilt that we've forgotten to leave room for people to be human. We've forgotten that even on our worst day, we are still image-bearers of the Divine. Instead of scaring us away from hell, may our imperfections thrust us into the arms of Divine Love.