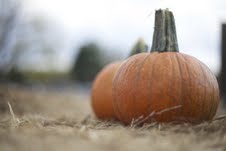 Do you have extra canned pumpkin puree in your pantry or have the three generic pumpkin options just become, well, kinda…generic? We asked friends how they use up their mashed pumpkin and the response was nothing short of inspiring. Here are some great suggestions if you find yourself stuck in a rut!
1. Like the taste of Starbucks Pumpkin Bread? Have a go at it in your very own kitchen.
2. Chocolate chips and pumpkins seem to go hand in hand. Here is a recipe for Pumpkin Chocolate Chip Cookies.
3.  Trying to stay away from too many sweets? One friend suggested adding the puree to your favorite Greek yogurt (don't forget the pumpkin-pie spice). Several other friends recommended Pumpkin Soup and Hummus. Looking to add a little more zing to that creamy sensation of a soup? Try a Thai-inspired version!
4. Don't know which pumpkin bread to try? Here and here are a couple of suggestions.
5. How about pumpkin for breakfast?
Cinnamon Rolls
,
French Toast
,
Pancakes
, oh my!
6. Now, back to desserts! Pumpkin Spiced Latte Cupcakes and Mini-Muffins seem to be beckoning us towards our flour sifters. And how can we possibly ignore the glorious Pumpkin Cheesecake?
7. Some moms offered their very own recipes: a) Roast some root veggies, put them in a pie crust. Mix pumpkin purée with 1/2 a stick melted butter and some sage. Pour over veggies and bake about 1/2 an hour. We serve it with cranberry sauce on the side…Yum! b) Make bachemel sauce (no broth). Add cinnamon, nutmeg, and sweet butter. Pour pumpkin puree on the bottom of a Pyrex dish. Then add a very small layer of the bachemel sauce. Layer it with raisins, almond slivers, and coconut flakes. Add more bachemel on top and put it in the oven until it becomes reddish-brown on top.
8. Lastly, these pumpkin bars seem to be a favorite snack enjoyed by many. Best of all, they also freeze very well.
Feel free to share any tried and true recipes with our community in the comments section below!