Voodoo Universe has two lists up this month for Halloween movies, and John Beckett has one list as well.  They are great lists, full of classic horror which is awesome, but they are missing a little something.  Monster friendly movies! By which I mean, kid friendly, for the most part.
I made a rule for this year, October our TV must only have scary, paranormal or Halloween based movies and TV shows (exceptions are documentaries and educational shows/movies).  This is what we have watched so far or I have ready and waiting for the rest of the month.  We probably won't watch all of them, they are simply there if we need them.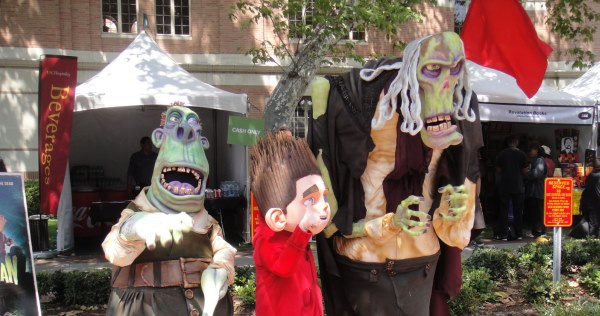 Animated
Monster House (2006)
Plot – It's Halloween and our protagonist young boy gives the scary guy across the road a heart attack.  While he is away, the kids decide to take advantage of his absence and investigate his house where the old man often stashes all their toys that end up in his yard.  Soon they come face to face with the monster house that the man was truly protecting them from.
Notes – This has some interestingly real behaviour by the characters, the uncaring annoyed teenaged babysitter, the blackmailing girl scout, the oblivious parents.  It's an interesting one for sure.
Hotel Transylvania (2012)
Plot – Count Dracula, after losing his wife to a mob of humans, runs a grand hotel for all monsters to gather and be safe from humans who might hurt them.  On his daughters 118th birthday he throws a party for her coming of age, but soon discovers a human boy has trespassed into the hotel.  How can he keep the human from scaring and killing and everyone? And how can he keep his daughter from falling in love with a human?
Notes – The turnabout where humans are considered the horrible ones by the monsters is interesting, and Draculas attempts to make everything go his way are quite amusing.  A good fun movie, for kids and adults.
Hotel Transylvania 2 (2015)
Plot – Dracula now has a half human, half vampire, grandson and is looking for any way to make the little one more monster than human.
Notes – I haven't seen this one yet, so I have no notes, I'm looking forward to watching it though.
ParaNorman (2012)
Plot – Norman is a young boy who can see ghosts.  Suddenly an old curse in the form of a young girls ghost is inflicted upon the town, and Norman, with some help, has to stop her from destroying everything.  He also has to take on some zombies, and try to navigate the rules the adults try place upon him.
Notes – Not as fun as most animated movies for kids, it has some serious overtones to it and a lot of the undertones won't be understood by the young kids.  But my daughter loves this one despite all that, my son can take it or leave it though.
Frankenweenie (2012)
Plot – Young Victors pet dog is hit and killed by a car, so Victor decides to use science to bring the dog back to life.  That's when things start to go wrong.
Notes – Honestly I don't really like this one much, but the kids do so, yay.  Like ParaNorman, this one is a fair bit more serious than things like Hotel Transylvania, a bit less overtly fun.
Nightmare Before Christmas (1993)
Plot – Jack Skellington, the king of Halloweentown, discovers Christmastown and Santi Claus and decides this is exactly the change his little town needs.  But it's just not so easy as all that.
Notes – Everyone loves this movie, but I still have trouble with all that singing!
Coraline (2009)
Plot – Coraline finds a doorway to another world that almost identical to her own, but everyone has buttons for eyes and they all seem so much nicer than the people in her world.  Seem, being the operative world.
Notes – Certainly a darker one for the kids, but it's an interesting one to watch and kids seem to enjoy it.
The Book of Life (2014)
Plot – Manolo is a young man torn between doing what his family wants and what his heart wants.  This is a story of love, life, death and the afterlife.
Notes – This one is not about Halloween, but it is perfect for Dia los Muertos.  This is a great look into Mexican lore and a good beginning place for Aztec mythology as well.
Strange Magic (2015)
Plot – Based on a Midsummers Night Dream, this movie is about a battle between fairies, elves and goblins for a powerful potion.
Notes – Not really a Halloween movie to be honest, I include it because I think it's great for Beltane which is also coming up for us in Aus.  It has enough darker aspects to it to just fit into my rules for this month.  While it seems to be about your typical good fairies vs bad goblins, things just aren't how they appear.  It shows that dark and scary things aren't always so dark and scary.  Except the singing, which is terrifying.
Live Action
Hocus Pocus (1993)
Plot – On Halloween, three witches are accidentally summoned back from the dead, they have until dawn to suck the life out of a child so they don't die again.
Notes – If you don't know this movie, I don't know that you count as human.  This is an awful movie really, but it's fantastic at the same time.
The Witches (1990)
Plot
– A group of witches are meeting in a hotel, kidnapping kids planning to rid the world of all children.  A little boy discovers their secret and tries to stop them, even after they turn him into a mouse.
Notes – It's been ages since I have seen this, but I remember the witches have purple eyes.  Who doesn't want purple eyes?
Hansel and Gretel Witch Hunters (2013)
Plot – Hansel and Gretel, after their encounter with the gingerbread hosue witch, grow up to be famous witch hunters.  A town hires them to find and kill the witches who are kidnapping some of their children, for a rite on the blood moon that will make the witches invincible.
Notes – Not everyone likes this one, but not everyone matters.  It actually includes good witches and a change of attitude from the hunters going from "kill them all" to "kill the bad ones".  My kids enjoy it too, but it is probably not suitable for all kids.
Oz the Great and Powerful (2013)
Plot – The great and powerful con-man Oz is transported to the magical land of Oz, where he meets a nice witch who tells him he is the prophesied wizard and king of Oz.  He just has to defeat the wicked witch before he can become king, and get all that gold in the treasury.  But not everything is as it seems.
Notes – Not a horror or Halloween movie, but, the wicked witch is in it, so it has to be watched.   Some might prefer the more original Oz movies, but the singing, dear Gods the singing.  This one is mostly singing free!
Goosebumps (2015)
Plot – The new kid in town sneaks into R.L. Stines house and accidentally releases all of the monsters from the books.  Fun and horror ensue as they rush to defeat the monsters.
Notes – It's Goosebumps, it has Jack Black as Stine, what else can I say?
Into the Woods (2014)
Plot – A number of fairytales converge in this musical.  A witch wants to regain her power and enlists the help of the baker and his wife, promising to release their curse of barrenness if they get her the objects she needs.
Notes – This is probably the only musical movie I actually like.  But it has some serious dark tones to it that makes it not suitable for all kids, my kids didn't understand those dark tones so loved it immensely.  I love a fairytale that pays homage to the original horrible variants, and those charming princes are ridiculously hilarious and inept.
Maleficent (2014)
Plot – Maleficent is betrayed by the human she loved and turns from a good-hearted fairy warrior into a dark and vengeful "witch" of a fairy.  To get revenge on her former love, she curses his newborn daughter to sleep as in death on her 16th birthday.  Another fairy amends the curse with the saving grace of true loves kiss and Maleficent gets more than she bargained for.
Notes – Not your typical sleeping beauty story, this one is dark and powerful and, in my opinion, amazing.  I really do love this one, and so do my monsters.  And it's not a musical, so that's a bonus!  May not be considered a Halloween movie usually, but when everyone is dressing up as Maleficent, how can it be ignored?
Sleepy Hollow (1999)
Plot – Ichabod Crane travels to Sleepy Hollow to investigate some unusual deaths.  He is soon confronted with the impossible.
Notes – Johnny Depp stars in a Tim Burton movie.  What else needs to be said?  Parental discretion is advised though of course, not suitable for all kids.
The Brothers Grimm (2005)
Plot – Jakob and William Grimm, two brothers and con artists who create fake witches and other horrors in various towns and offer their services, for a price, to get rid of those horrors are conscripted to investigate what turns out to be a real supernatural horror.
Notes – I know, a lot of people hate this one for some reason.  Whatever.  I like it, possibly because I love fairytales especially when they become twisted, but I find it's not too adult for my kids and that makes it even better.  But, it's probably not suitable for all kids.
Eight Legged Freaks (2002)
Plot – Toxic waste is accidentally left in a waterway.  A spider collector takes some crickets from that waterway, feeds them to his spiders and they grow bigger and bigger from the toxic waste exposure. Soon, the spiders are taking over the town.
Notes – Total B-grade awfulness, but it's terribly amusing as well.  My kids absolutely loved this one, although my daughter didn't so much enjoy her dad sneaking up behind her and doing spider fingers on her neck haha!  Perhaps not suitable for all kids, but I don't think it's all that bad.
The Mummy 1, 2, 3 (1999, 2001, 2008)
Plot – A librarian, her con-man brother and an old soldier travel to find the lost city of Hamunaptra, while there they awaken a mummy who is bent on destroying the world.  Then they do it a second time.  Many years later, they and their son awaken the Dragon Emperor.
Notes – Mummies.  Mummies are Halloween, simple as that.  Not suitable for all kids of course, but these aren't too bad either so most kids are probably fine with these ones.
More, More, More
TV Shows and Short Movies
The Simpsons: Treehouse of Horrors.  All of them.
Shreks Thrilling Tales
Scared Shrekless
Toy Story of Terror
Monster vs Aliens: Mutant Pumpkins
Not Included for This House
Harry Potter – These are great for October, but we watched them all quite recently, so not this year.
Corpse Bride – A great one for October, but neither of my kids actually like this one.
Poohs Heffalump Halloween Movie – Great for younger ages, but my kids are too old now except the 1yo, who is too young for anything.
The Little Vampire – Also one we watched recently, so not this month.
Monster Inc – The kids just don't get into this one all that much.
The Haunted Mansion – Great for October, but I can't stand Eddie Murphy, not my type of humour.
Goosebumps TV series – If I had the old TV series, we would totally watch it!
Dark Shadows – I know my kids, this would be fine for them, but they would actually be bored.  They are weird.
I hope all of that gives you some inspiration!