Beltane can be a difficult Sabbat for the Pagan parent, since it has so much emphasis on fertility, especially the human aspect of it – ie. Sex.  Obviously the more adult versions of Beltane are simply not appropriate for children.  But that doesn't mean we have to ignore the festival completely, it's entirely possible to have a kid friendly and fun Beltane – even if it might mean a bit more emphasis on the less spiritual side of things.
The possibilities are many.  We can keep it simple and just cook some yummy in season foods, read some fun stories or watch some relevant movies or TV shows.  We can colour in or draw pictures, do Beltane themed mazes, wordsearches, crosswords and the like.  And of course we can get crafty.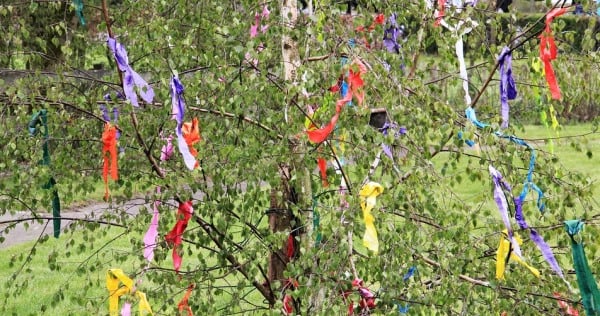 Pooka Pages
Pooka pages is a kids magazine that is released each Sabbat, full of stories, activities, information, recipes and the like that are relevant to the Sabbat.  It's northern-centric however, so when Beltane is here for us down south, Pooka Pages is releasing Samhain issues.  We of course get used to this and usually save the Beltane issue from 6 months ago – unfortunately this year there was no Beltane issue and the back issues they usually have up are not there right now, because they have instead decided to link to numerous old Samhain issues.
I got in contact with Pooka Pages and asked if it would be okay to share direct to PDF links of their old Beltane issues (I have a number of old links bookmarked).  Instead they decided to go one better and realised it was probably a good idea to also have some of the old Beltane issues listed with Samhain ones.
So here we are, you will find three links to previous Beltane issues of Pooka Pages, and five Samhain links too.  I suggest grabbing them all, including the Samhain ones, while you're there and bookmark the links too if you can, just in case you ever lose the PDFs.  Enjoy!
Ruperts Tales
A favourite series of books for Pagan parents and children.  Ruperts tales is all about Rupert the rabbit and his own journey into learning all about Pagan things.  For this particular post, we of course need to look at the books about Beltane.
The Wheel of the Year: Beltane, Litha, Lammas and Mabon.  In this tale Rupert adventures to discover why people are leaving their homes during the seasonal festivals.  He meets many new friends along the way.
Wheel of the Year Activity Book.  A companion to the two Wheel of the Year books, this one contains, obviously, activities.  Includes puzzles, games and colouring pages.
Various Links
Recipes
Honey Ricotta Pie
Recipe I found in Witchcraft Magazine back when it was still in print.  It is suggested for Yule, but I think the honey part of things makes it perfect for any of the spring and summer festivals.  Yes I have made it before, yes it is tasty.
For the Oil Pastry:
1½ cups of SR wholemeal flour
½ cup of plain wholemeal flour
½ cup of oil
½ cup of cold water
Pinch of salt
Emulsify oil, water and salt by whisking with a fork.  Add the flours and mix into dough.  Roll out thinly and line a 20cm cake tin.
For the Filling:
1½ cups of fresh ricotta cheese
1 tsp of cinnamon
1 ½ tbsp of flour
Pinch of salt
2 eggs
¼ cup of flaked almonds
½ cup of honey
Mix the ricotta cheese with the eggs, then fold into the flour, honey and salt.  Pour the filling onto the pastry and top with almonds and cinnamon.  Bake in 190C (374F) oven for about 30-40 minutes until filling is firm and pastry is golden.  Serves approximately eight people, well, if you're not greedy like me that is.
Crafts
For the Homeschoolers
Fertility
Fertility isn't just about sex and human sexuality, but of course we should all realise that as Pagans.  Learning about other forms of fertility is a great way to keep the fertility in Beltane with kids.  You can try looking at the ever popular butterfly life cycle.  You can plant some seeds or seedlings and look into plant life cycles – this bean growing experiment is a great one for observing plant growth in real time.
Magpies
In Australia, you just can't look past magpies when it comes to spring.  This is the season when they may just be trying to take your head off, so why not learn why.  But they may also be slowing down when Beltane comes along (we can hope).  So while you're at it, look at some of their other more fun, less scary aspects.  They are playful, joking birds and they sing beautifully, it's possible they could be one of our native symbols of Beltane.
Bees
Bees are endangered now, which is a truly sad thing even if you hate them with the passion of a thousand stings.  They not only produce that honey that we love so much, and which is a big thing for Beltane – but without them, a lot of plants would not be able to reproduce because the bees are the ones carrying pollen from one plant to another.
This would be a great time to learn about the important role that bees play in our worlds survival and to learn about the danger they are in, what that could mean for us.  You can of course read up about it and do some activities regarding bees.  You might also, if possible, visit someone who keeps bees.
If you are going to be using honey in your Beltane, then it seems only fair to give the bees a bit of thought on this day too.
Other Ideas
Tie ribbons around tree branches, making wishes with each one
Decorate the house with fresh picked native flowers, or if you can't get any, make some paper ones.
Dance and sing, obviously!
Make a fairy house and/or garden.  Google and Pinterest will bring you so many ideas for this one, I can't possibly link to anything.
Alternatively, leave some more traditional offerings out for the fae, but you might consider some protection too.  Morgan Daimler speaks of the fae and Beltane here.
Jump the bonfire.  Perhaps this is not possible for some people, whether because of a concern for safety or possible fire restrictions, but kids can still have fun with the basic idea using a fake fire.  You could try crafting one with cellophane for fire and cardboard tubes for fire wood, or even real wood.  You could use a candle or electric candle for a simplified version.
Watch a movie.  Not many Beltane ones out there, but a simple fairy movie will probably work well – Strange Magic, Disneys Tinkerbell movies, even Spiderwick Chronicles.
Enjoy the day.  If the weather is fine, go out and enjoy and explore nature.
There are more ideas than this out there, more things you can do with the kids but I think this will hopefully be enough to get you started and get your imagination flowing.  Have a fantastic Beltane!