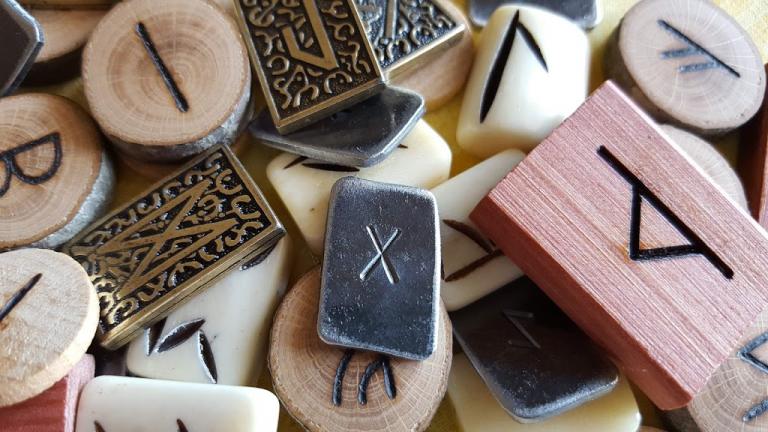 If you're new to Heathenry, the amount of stuff it seems to require can be daunting. Building up an altar, making offerings, stocking your library with all the right academic tomes; it can be very expensive. Walk into your nearest witchy metaphysical shop and you'll find runes with twenty different crystals for $50. Take a look on etsy and you can find handmade rune sets for over $200.
It doesn't have to be runes, but I do feel that at least rudimentary skill with divination is important to being polytheist. You of course can ask priests or others for clarification, but having your own line of communication with the divine is invaluable.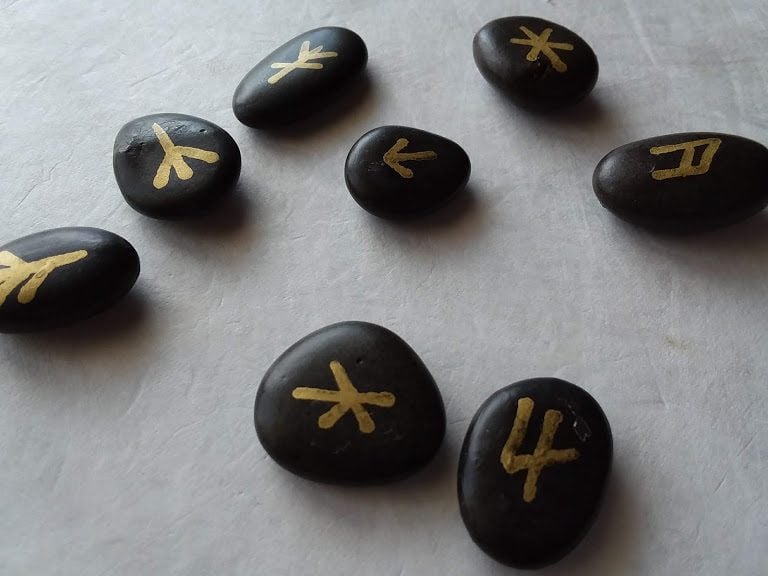 There are lots of links in the text ahead, but to be clear I have no affiliation with Amazon and get no benefit from linking to them. I'm just a busy mom with five kids and a prime account, so it's where I find a lot of my crafting supplies.
Runes for Free or Close Enough
Natural materials are a bit tricky for runes due to their inherent size variations, but they're easily available. Depending on where you live, you can gather shells, twigs, or large pebbles for this purpose. I saw a set made from sea glass once that was stunningly beautiful. With shells or pebbles, the easiest method is just writing rune shapes with a sharpie or similar marker. To get the marks to stay permanently, I recommend a varnish that can be purchased very inexpensively at your local craft store. If you have access to a dremel, you can use that to cut grooves in stones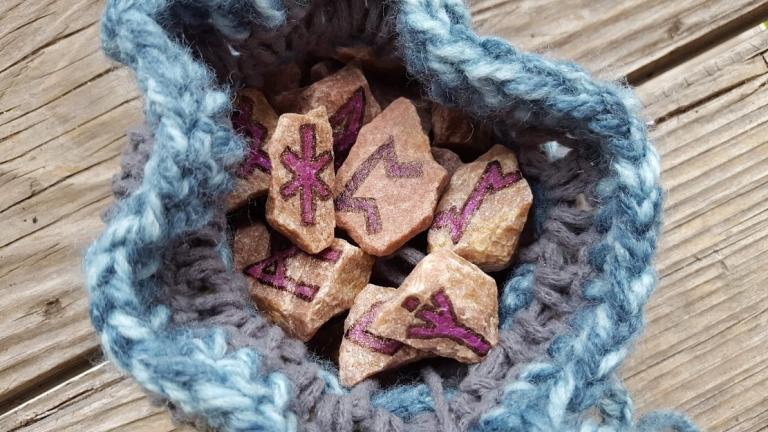 I wanted to create a set of Northumbrian runes for myself recently. I gathered similarly sized stones from down by the railroad near my home and washed and dried them. Since these were relatively large, about an inch to an inch and a half, I was able to use a two-color outline technique with sharpies that helps the runes 'pop'.
With twigs or branches, it becomes a bit more complicated. Generally, you'll want to expose some of the inner wood so that you can see the runes more easily. You can shave a bit of bark off the edge of each twig, or peel it entirely. If you have a branch and access to a hacksaw, you can cut discs to write your runes on.
For those who are used to working with the tarot, index cards with runes written on them can be a good transition. If you're artistically inclined, you can create a beautiful set of cards this way.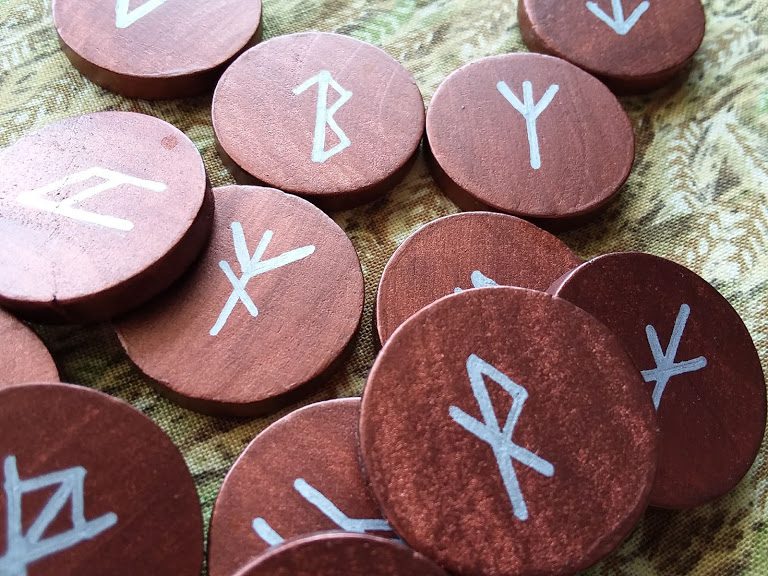 Fun but Inexpensive Upgrades
There's a few inexpensive options you can use to make rune crafting even easier. Smooth wooden crafting discs are available on Amazon or at your local craft store. I like to paint them with acrylic paints and use metallic paint markers to mark the runes; you'll definitely need varnish with this technique though.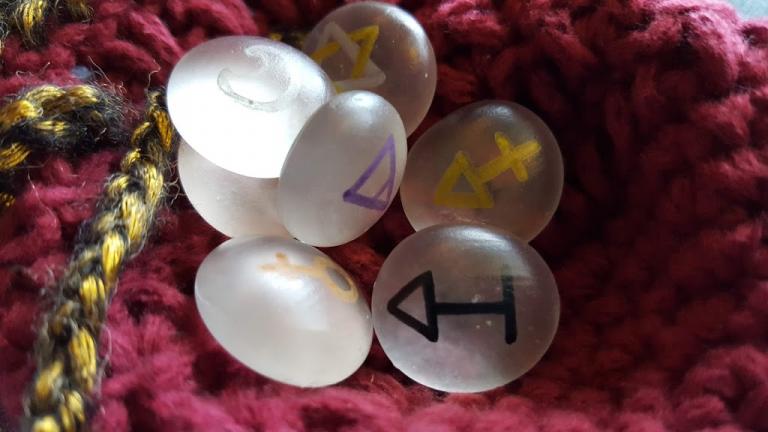 Glass pebbles are another easy to find material at any craft store. When marking these be sure to varnish them, as paint or marker will flake off easily. I used these for the Alchemy Stones I created, which I've used for a few years with no problems.
Different markers will also make a big difference. I have a set of sharpies in lots of colors that is handy for marking on wood or pebbles. I also use metallic paint markers for darker things like stones or painted wood; these can be stunning. I used them on a set of tarot symbols I made recently.
When using wood, whether discs or twigs, a wood burner is a fun investment. They're usually pretty inexpensive and some come with different attachments for interesting effects. This is how I created my very first set of Anglo-Saxon runes years ago, and they're still going strong.
You can also use air dry clay or Sculpy, but I don't have any experience in this area!
Expensive Doesn't Mean Better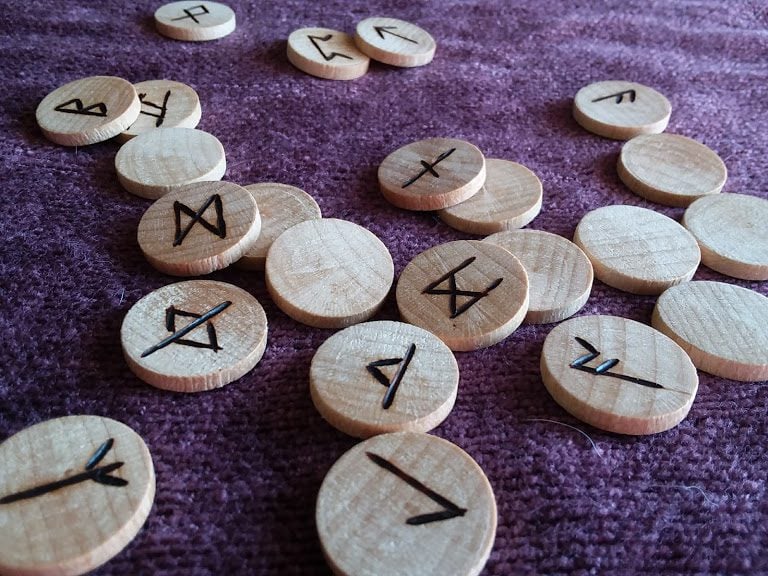 I have a large collection of runes at this point, and some of them were costly. But my go-to set is still the one I burned myself onto craft store wooden discs. Lots of sets I've crafted are in my working tool rotation. Connecting with the runes and the spirits you're trying to communicate with are much more important than how fancy or expensive your set is or isn't.
Just relax and enjoy the creative process!