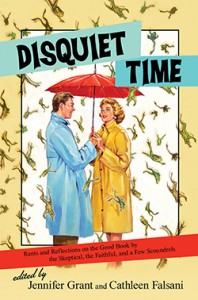 When a book bills itself as a series of "rants and ravings on the Good Book by the Skeptical, the Faithful, and a Few Scoundrels," I'm primed for some fairly salacious reading. Unfortunately, Disquiet Time–edited by Jennifer Grant and Cathleen Falsani and published recently by Jericho Books–didn't quite deliver as promised.
Sure, some of the contributors swear (gasp!), and one even goes so far as to say the Bible is "full of crap" (not shit?), but overall the writings are pretty tame. I was looking for the equivalent of a Mayhem concert, but I got something closer to Hootie and the Blowfish. Perhaps the cover design should have been a tip-off.
Other than the somewhat misleading sub-title, my main problem with the book is that many of the writers are a little too self-conscious about eking out an outsider status. Others feel like Evangelicals–or former Evangelicals–who are feeling their oats. You mean it's really okay to say these things? Perhaps it's a coming of age thing, which is fine, but it's not what I was expecting. I wanted to be challenged.
Once I got over my initial misgivings, what does come across consistently throughout every reading is that even though many of these writers have had issues with the church, they keep coming back to the Good Book–and for good reason. They may not read it the way they used to, but thank God for that, because rather than a dead letter, it's become a living word that is far more relevant than they ever could have imagined back when they were memorizing the Roman Road during Sunday school.
If you've walked a similar path to many of the contributors, you'll probably find this book encouraging and comforting. Disquieting? Not quite, but I'm sure even the boys from Mayhem listen to Hootie and the Blowfish sometimes.