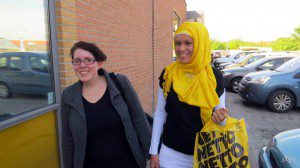 3 weeks ago, Danish Muslim activists Inaam Abou-Khadra and Alaa Abdol-Hamid started a campaign to support a Muslim woman who was denied a position working in Netto, a Danish supermarket. Netto is part of a larger supermarket chain, all of which banned women who wear hijab from working in public positions. This time, the rejection created a media furor after a Muslim lawyer, Safia Aoade, wrote an article to express her discontent with the situation, which catalyzed Safia, Inaam, Alaa, and their colleagues to protest the policy.
I spoke with spoke with Inaam Abou-Khadra, a student of political science and union activist, about the origins of the campaign and her response to the reversal of the supermarket chain's hijab policy. The women first launched a Facebook page, which was open to the public, and used an open, welcoming tone to spread their message, to boycott the supermarket until it reversed it's policy. Next, they produced a short, humorous video that quickly went viral. Changing the lyrics of Netto's commercial jingle, they used hijabi characters to make their point. Inaam further clarified to me, "We used the melody so people can recognize where it's from, and changed the words to our message. It's a nice, easy and creative video. It helped us in sending our message to the mainstream Danish media, and national TV adopted it. Humour and sarcasm works! We were still planning further activities, but thankfully the supermarket changed its policy before we did something next."
The supermarket chain's main argument was that hijabs would not fit in with the company's dress code. Inaam says, "We didn't want to make a traditional demonstration. Instead, we would like to be remembered as the nice girls that served people and reached out for dialogue. And the best way of achieving this was of course to come up with new, more peaceful ideas that could make people think again before they bought from the store." During their protest, the women color-coordinated their hijabs with Netto's bright yellow brand. According to Usman Nawaz, a British Muslim activist who first alerted me to the story, " it was actually a genius campaign – the local women wearing hijab donned the the store uniform colors and helped shoppers take their bags to their cars, showing that hijabis are just as competent as anyone else."
Apparently, the supermarket chain agreed, since they reversed their policy yesterday, as a result of the boycott, protest and national discussion on hijb policy:
Dansk Supermarked ends its decade-long practice of barring employees from wearing headscarves
As of today, employees will no longer be barred from wearing headscarves at some of the nation's largest grocers. Dansk Supermarked, which operates Netto, Føtex and Bilka stores, has decided to end its policy of banning employees from wearing headscarves, a company spokesperson told public broadcaster DR. Dansk Supermarked has for the past ten years forbidden employees who interact with customers from wearing anything on their heads, unless it was necessary for hygiene purposes. The company won a legal battle in the the Supreme Court in 2005 that upheld its right to enforce a dress code at its stores.

The headscarf ban came up in the media again recently when a 26-year-old Muslim was

told not to apply for a job at a Netto store

 in Odense because of her headscarf. That led a group of Muslim women to encourage a boycott against Netto, Føtex and Bilka, and according to the company's director of communications, Mads Hvitved Grand, it worked.
Inaam concludes, "The campaign was not only for Muslims, far from it. It was for all people that didn't agree with this supermarket's policy. So everybody was included in our work. We believe that this wasn't an issue only for Muslims, but for all Danes. Denmark is becoming a more multicultural society and it's for everybody's benefit to include people in labor regardless of their background and or beliefs. A boycott is not just about protesting. And you can run a protest in a positive way, so that you gather people's sympathy and respect. In the end it is all about giving each other the freedom of choice and by creating opportunities that includes all kinds of people. This campaign was for women with hijab, tomorrow it could be for the turban – who knows. I hope that it can inspire more people to take action for what they believe in."
Looking at
photographs from their recent brightly colored protest
, I can't help but feel inspired and thrilled that their viral campaign worked. Europe is still working through her diversity woes. My view from across the Atlantic is simple: the sooner European countries view their diverse citizens as an asset, rather than a challenge, the sooner all European citizens can thrive in harmony.