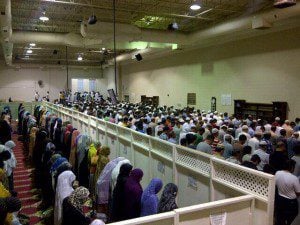 Editors' Note: This article is part of the  Public Square 2014 Summer Series: Conversations on Religious Trends. Read other perspectives from the Muslim community here. 
Earlier this year, ISNA, a national Muslim umbrella group has identified addressing challenges to mosque inclusion and the promotion of remosquing as a major priority to tackle this year. A lack of adequate women's spaces, convert care and youth inclusion are all reasons why people across the country are unmosquing and this organization has developed an institutional body to address these issues. Their national convention, which will occur over Labor Day weekend, will host several conversations and workshops on how mosques can be more inclusive to their congregants.
As I've written before*, the main reason I am unmosqued is because most mosques in my area are not inclusive toward women and girls. Two years ago, I started a crowd-sourced Tumblr site, Side Entrance, that showcases women's prayer spaces and experiences from around the world.What I learned from that project is that many, many women, especially in Western countries, are unmosquing en masse because of how restrictive and unwelcoming most mosques are. From a locked door in the women's entrance, to grossly neglected women's spaces, to absurd stories of using ping pong tables to create physical partitions, my own personal experiences of mosque exclusion are often mirrored in dozens of countries around the world.
During Ramadan, Sunni Muslims offer extra nightly prayers called Taraweeh. They are meant to cap off a long day's fast with a spiritual connection to God before you begin the fast again in the morning. While these prayers can be made solo, most people prefer to offer them in community. Since I've been unmosqued for years, and don't stick to one specific mosque for Friday services, Ramadan is the only time of the year when I regularly attend one mosque for several consecutive weeks.
I'm pretty choosy about the communities I do join for Ramadan, because I am always on the lookout for that one congregation that can help me remosque permanently. This year, I prayed Taraweeh with a congregation that is about 20 minutes away from my home. As their mosque is currently under construction, this congregation rents out a banquet hall for their Ramadan and Eid events. For the first time since I was a young child, I experienced what it is like to pray in the same hall, with no physical barrier, with men, every night, for several consecutive weeks.
It was amazing.
Superficially, women enjoyed the same beautiful designs and chandeliers as the men did. When interesting guests spoke to the community, the women had access to them.  After the prayers ended, families milled about the lobby together and chatted about their days and made plans for the weekend. You had a sense that you were in a family-friendly environment, not a men's club.
But more substantively, when the imam forgot to mention that there would be an extra prostration in the prayer (which happened at least twice), the women were not left wondering what part of the prayer we were in. Women, as well as men, had the opportunity to donate money to organizations dedicated to alleviating the suffering of children in Syria and Gaza, because the representatives of those organizations could see us clearly, along with the men.
And even when a fight broke out over how to correct the imam when he made a recitation mistake (the Quran is 114 chapters long; you can understand if someone forgets some of it), the mosque administrator told us that, "While many in the congregation are huffaz** mashallah, even many of the women and girls, we have designated only one person from the mosque to correct the imam."
I am constantly in conversation with my brothers in faith about the topic of women in mosques. Often, they advise me to just go ahead and attend a mosque, even if it is not friendly to women. They say that I can only change mosques from within. I agree with them to a certain extent. But I'm not sure if my brothers in faith realize how spiritually exhausting it is to try to connect with God in a space that has been designed to keep you out. Which is why I loved praying Taraweeh with this community in Ramadan.
Every night, hundreds of women and girls joined their husbands and brothers in prayer. And yes, some women did talk during the breaks. But everyone was generally well-behaved. The world didn't fall apart because teenage boys and girls were praying in the same hall. After all, even if they wanted to get their flirt on, their parents and community were there to keep an eye out. Small children didn't get to much shenanigans, since moms were able to split parental duty with dads. The same teenagers prayed every night with their families and joked with the imam. The same young couples jointly managed their children. The same elders prayed in their designated seats night after after night. A real sense of community was forged by the end of the month.
And women were not excluded from this community of worshipers; we were part of it. And that was truly amazing to experience.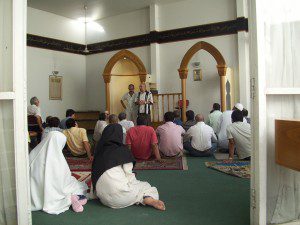 *This article is also part of my own series exploring the unmosqued trend. Read the previous articles here, here and here.
**Huffaz are people who have memorized the Quran in it's entirety, in Arabic.