Can you or I change? Beyond cosmetic cover-up? Beyond fleeting moments of pretense created by self-focused stickies and mirrored affirmations? What comprises real, lasting change? How do I change? How do you change? Can we really change apart from Christ and His grace? This is the subject of this cast, in which, Host, Karen Trifiletti engages with Brad Wilcox, educator and author of The Continuous Atonement. Whether you find yourself admittedly stuck and/or addicted to your own systems of self-improvement or to substances that have taken over your life, or if you're just interested in becoming better "in Christ" and not through your own bootstraps, or if you don't know Christ and want to know why you need Him and what He offers you–stay with us. This cast for all of us who are honest seekers of truth. Please join us, share your comments or prayers by calling Karen at 185-KNOW-GOD-1 or leaving us a comment, or engaging us on FB.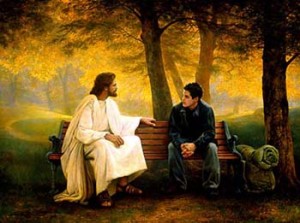 Find the full I Believe, Changed by Grace transcript here.
Bible Verse:
 "As for God, His way is perfect. God is my strength and power: and he maketh my way perfect (2 Samuel 22: 31,33).
Faith Quote: "Where we are most vulnerable wounded and weak, where our personal power seems most defeated, we have the greatest opportunity" to step out in faith and count on fully lean on His grace." He also says that the "radical giftedness of grace" is something we're not culturally conditioned to receive (Gerald May, Addiction & Grace, p. 126).
Find us on:                                                                               Or call: 185KNOWGOD1
Twitter Facebook Google+ YouTube Subscribe on Itunes ibelievepodcast.com