What's God asking you to do today? Call a friend? Slow down? Stop doubting? Start believing? Visit someone? Begin a project? Let go? Hold on? Get help?
He does so through His real but invisible agent, the Holy Ghost.
And sometimes spiritual impressions come as a nudge….
Have you ever second-guessed those delicate, divine, directives that come to you? Ever asked yourself, "Is that me? Is that God talking?"?
When we're striving to live according to God's plan for us, seeking to obey the light we presently receive, then the very thoughts that come into our hearts and minds are those prompted by the Holy Ghost. Those impressions, divine instagrams, come from God come with recognizable:
Clarity
Peace
Intelligence (pure strokes of ideas coming unbidden)
Inclinations to act positively
Expanding feelings (ratifying the thoughts)
Revelation is real. It is a channeling of God's will, light, truth, to us through the Holy Ghost, a member of the Godhead, guiding our path.
One apostle wrote, "When it is crisp and clear and essential, it warrants the title of revelation. When it is a series of promptings we often have to guide us step by step to a worthy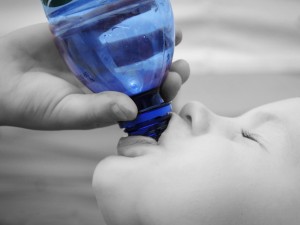 objective, for the purpose of this message, it is inspiration."
Here's an excerpt from this episode of I Believe: Expressions of Faith podcast below: Find the full I Believe Podcast transcript here.
Standing in a grocery store check-out line after picking up a few items early one morning, an impression landed and lit gently and clearly–as they do–kind of like a firefly on my hand on a summer's nite. The thought was simply this: ….
Hope you'll listen in and learn together about the gifts of the Holy Ghost, and spiritual nudges…and join me again. Share this with a friend and send me a note any time.
Bible Verse: "Quench not the Spirit" (New Testament: 1 Thessalonians 5:19)
Faith Quotes: "The gift of the Holy Ghost… quickens all the intellectual faculties, increases, enlarges, expands and purifies all the natural passions and affections; and adapts them, by the gift of wisdom, to their lawful use" (Parley P. Pratt).
"We, more than others, should carry jumper and tow cables not only in our cars, but also in our hearts, by which means we can send the needed boost or charge of encouragement or the added momentum to mortal neighbors" (Neal Maxwell).
Find us on:                                                                               Or call: 185KNOWGOD1
Twitter Facebook Google+ YouTube Subscribe on Itunes ibelievepodcast.com