Do little children need baptism? Will I see my child again? Will I raise my child? What is the status of children before God? Are they saved? What if they weren't sprinkled or baptized before passing on? These questions are answered succinctly in this brief video cast.
There is hope and great news. The gospel teachings, Jesus' words, are clear and man has been misleading man since the 4-5th century after Christ on this matter. Little children are sinless, saved, and sanctified in Christ. Please join me for this cast and send it to a loved one who may be wondering or grieving for lack of gospel answers and light. God bless you. I'd love to hear from you. Please find the I Believe: Expressions of Faith Podcast Transcript here.

Bible Verse:
"Behold, I say unto you, that little children are redeemed from the foundation of the world through mine Only Begotten; Wherefore, they cannot sin, for power is not given unto Satan to tempt little children, until they begin to become accountable before me".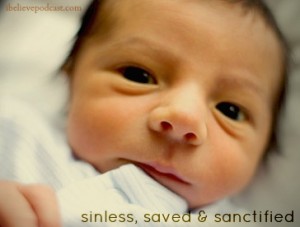 Faith Quote:
It matters not whether these tabernacles mature in this world, or have to wait and mature in the world to come, according to the word of the Lord and prophets in our day, the body will develop, either in time or in eternity, to the full stature of the spirit, and when the mother is deprived of the pleasure and joy of rearing her babe to manhood or womanhood in this life, through the hand of death, that privilege will be renewed to her hereafter, and she will enjoy it to a fuller fruition than it would be possible for her to do here. When she does it there, it will be with certain knowledge that the results will be without failure; whereas here, the results are unknown until after we have passed the test" (Smith, Doctrines of Salvation, 2:54).
Additional Episodes of I Believe Podcast:
Find us on: Or call: 185KNOWGOD1
Twitter Facebook Google+ YouTube Subscribe on Itunes ibelievepodcast.com