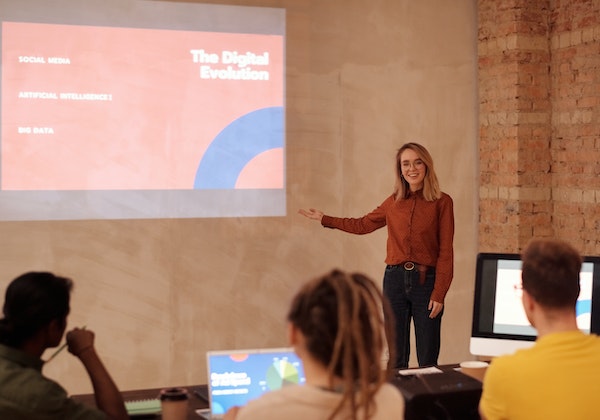 Speakers bureaus have faced massive disruptions over the last two years due to COVID-19. However, as society emerges from the pandemic, the speaking industry is poised for robust growth. According to Daniel Hennes, CEO of Engage, Aaron Rehberg, Partner at Capitol City Speakers Bureau, and Mark Castel, President of AEI Speakers Bureau, virtual and hybrid events are here to stay, creating new opportunities for speakers and the bureaus that represent them.
New Opportunities Abound for Speakers and Bureaus
Hennes sees three major opportunities for speakers bureaus. First, the overall speaking market has expanded tremendously. Pre-pandemic, virtual events were rare. Now they frequently complement in-person conferences. Companies have realized that high-quality virtual speakers provide immense value. As a result, the demand for speakers at virtual, hybrid and in-person events has skyrocketed.
Second, companies want to hear from speakers on a wider range of topics than ever before. For example, addressing workplace mental health has become essential. Bureaus can now book speakers on important new issues in addition to the standard motivational and leadership speakers.
Finally, bureaus can harness technology to book more events at varying price points. New platforms allow them to match the ideal speaker to any audience at any budget. Overall, COVID has primed the speaking industry for innovation and accelerated growth.
Rehberg spoke about the battle by companies to attract and retain top talent. According to him, "Companies and associations need to retain their best people or risk losing them to a competitor. Leveraging outside perspective to assist with training and development through an experience such as a Keynote talk is a great way to boost employee engagement."
Castel saw opportunities for bureaus to pivot quickly to offering virtual speaking and consulting on hosting virtual events. While some clients still prefer in-person only, many now accept virtual options. Virtual allows for lower minimum fees, around $2,500. Many of AEI's education clients have embraced virtual. Some speakers have maintained pre-COVID fees for virtual and in-person, but AEI does not work with them.
Adapting to New Challenges
Rehberg sees three main challenges for speakers bureaus: inflation increasing speaker fees, less access to top talent like celebrities, and rebuilding relationships with new planners due to personnel changes.
Hennes stated that while the pandemic did not introduce wholly new challenges, speakers bureaus must ensure they represent top talent across emerging topics at multiple price points to meet demand. Bureaus that fail to adapt their talent rosters and leverage technology will get left behind in the post-COVID world.
Castel did not report new challenges for bureaus but did note that speaker fees seem to be increasing overall.
The Rise of Hybrid and Virtual Means More Opportunities
According to Hennes, "Before COVID, virtual events almost never happened. Now that we are out of COVID, in person events are back in full force, and virtual events still take place." The proliferation of hybrid and virtual events is a boon for speakers bureaus. More events mean more opportunities to book their speakers, whether in-person, online, or both.
Rehberg says virtual and hybrid events provide valuable opportunities for bureaus to see more speakers in action, gain insights into the market, and meet client needs at lower price points. While virtual bookings may generate lower commissions, they require less work to plan and execute compared to in-person events.
Castel notes that while some clients still prefer in-person only, many now accept virtual options which allow for lower minimum fees. Many of AEI's education clients have embraced virtual. Some types of speakers like motivational speakers, comedians and performers do not adapt as well to virtual.
Overall, the rise of virtual and hybrid presentations is a positive development for speakers bureaus.
How Speakers Can Work with Bureaus
Hennes recommends that speakers approach bureaus through a warm introduction from a mutual connection. Once connected, speakers should provide the bureau with footage from recent talks, testimonials, and information on their fees. "Speakers who start at yes and are proactive always have the most success," says Hennes. He urges speakers to remain flexible on fees and keep bureaus updated on their availability and key topics.
According to Rehberg, speakers hoping to work with bureaus must have a polished digital presence, including high-quality video, a thoughtful one-pager, and an excellent website. He advises speakers to understand how each bureau operates uniquely and return "spin business" to the bureaus that book them.
Castel recommends speakers offer a higher percentage, such as 25-30%, to bureaus that strongly promote them. Bureaus want speakers who are low maintenance and flexible. High-quality video, both in-person and virtual, under 3 minutes, is very important. For virtual, have a professional background and good lighting. Being animated and engaging for the virtual audience is key.
Overall, being easy to work with, providing value to bureaus, offering promotional incentives, and having excellent video and in-persona and virtual presentation skills will lead to the most productive partnerships between speakers and the bureaus that represent them. That's what I always believed as an established speaker before the pandemic – barring the virtual presentation skills, which was not widespread prior to COVID – and it's good to have that reinforced by the experts. At the same time, I cultivated a national brand as a future of work expert – thus, The New York Times called me an "Office Whisperer" and "Hybrid Expert," which really appeals to keynote audiences.
The Future is Bright for Speakers Bureaus
Hennes is optimistic about the future of speakers bureaus. "Speakers bureaus will be more important than ever. Companies need to keep their teams motivated, engaged, and excelling. Booking a great speaker can have permanent impacts on morale, culture and sales, and speakers bureaus are key partners in helping companies find the right speaker at the right price."
Rehberg believes live events will make a strong comeback, fueling demand for speakers bureaus. He says bureaus provide tremendous value to clients by handling the logistics of booking outside speakers so they can focus on revenue-generating activities. Rehberg predicts bureaus will continue to serve as a vital extension of clients' teams, providing flexible capacity and expertise in booking keynote speakers.
Castel's business increased after COVID, showing the ongoing importance and value of speakers bureaus. While some clients still want in-person only, many now accept virtual options. Bureaus that quickly adapted to offer virtual speaking thrived.
Conclusion
By adapting to serve the growing demand for virtual and hybrid events, embracing new topics, leveraging technology, and representing speakers able to present powerfully across platforms, speakers bureaus are poised to thrive in the post-pandemic world. The future is bright for this industry that connects experts with audiences hungry for knowledge, inspiration and new perspectives. Speakers bureaus will continue to serve clients as a vital extension of their teams, acting as a conduit for fresh thinking from the outside.
Key Take-Away
The COVID-19 pandemic has reshaped the speakers bureaus industry, creating new opportunities in virtual and hybrid events, expanded topics, and technological innovation for growth in the post-pandemic world…>Click to tweet
Image credit: Mikael Blomkvist/Pexels
Originally published in Disaster Avoidance Experts on April 30, 2023
---
Dr. Gleb Tsipursky was lauded as "Office Whisperer" and "Hybrid Expert" by The New York Times for helping leaders use hybrid work to improve retention and productivity while cutting costs. He serves as the CEO of the boutique future-of-work consultancy Disaster Avoidance Experts. Dr. Gleb wrote the first book on returning to the office and leading hybrid teams after the pandemic, his best-seller Returning to the Office and Leading Hybrid and Remote Teams: A Manual on Benchmarking to Best Practices for Competitive Advantage (Intentional Insights, 2021). He authored seven books in total, and is best know for his global bestseller, Never Go With Your Gut: How Pioneering Leaders Make the Best Decisions and Avoid Business Disasters (Career Press, 2019). His cutting-edge thought leadership was featured in over 650 articles and 550 interviews in Harvard Business Review, Forbes, Inc. Magazine, USA Today, CBS News, Fox News, Time, Business Insider, Fortune, and elsewhere. His writing was translated into Chinese, Korean, German, Russian, Polish, Spanish, French, and other languages. His expertise comes from over 20 years of consulting, coaching, and speaking and training for Fortune 500 companies from Aflac to Xerox. It also comes from over 15 years in academia as a behavioral scientist, with 8 years as a lecturer at UNC-Chapel Hill and 7 years as a professor at Ohio State. A proud Ukrainian American, Dr. Gleb lives in Columbus, Ohio. In his free time, he makes sure to spend abundant quality time with his wife to avoid his personal life turning into a disaster. Contact him at Gleb[at]DisasterAvoidanceExperts[dot]com, follow him on LinkedIn @dr-gleb-tsipursky, Twitter @gleb_tsipursky, Instagram @dr_gleb_tsipursky, Facebook @DrGlebTsipursky, Medium @dr_gleb_tsipursky, YouTube, and RSS, and get a free copy of the Assessment on Dangerous Judgment Errors in the Workplace by signing up for the free Wise Decision Maker Course at https://disasteravoidanceexperts.com/newsletter/.