Social media is equal parts toxic rhetoric and mindless drivel some days. And yes, maybe it allowed Russian hackers to initiate the unraveling of civilization and we are all really just here with popcorn now to watch the whole thing implode in a slow but epic fireball of chaos.
But some days, it's alright. Some days it is hilarious videos or effective fundraising; or reconnecting with your BFF from Kindergarten, or sharing a cache of old pictures as all your old friends turn 40(!) this year … Point is, it can be a good and life-giving place sometimes. I've found that to be true this past week-plus as I've moved through the 10 album challenge.
Yes, it's one of those dumb things where a friend tags you, and then you tag somebody else … a modern day chain letter, maybe. But I had way too much fun with it.
I think the original charge was to "share 10 favorite albums over the next 10 days." But these things evolve as they get passed around and my friends—being mostly writers, ministers, #Englishmajors, musicians and general literary types—took it up a notch. It became more about sharing the 10 albums that were most formative. The ones that have made up the soundtrack of your life. (And now the only question is, who's going to play you in the movie??) So, the sharing of these albums is not just about the music itself, but how that music wound its way into your life, your relationships, your physical spaces, your very soul.
On the whole, this could really be the outline for your memoir.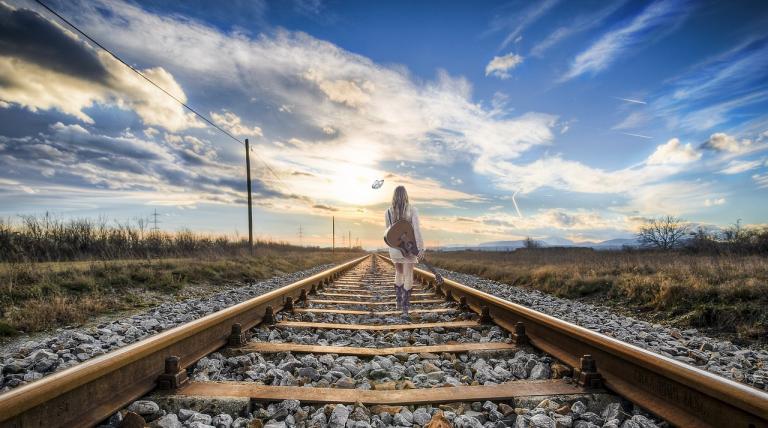 In that spirit, even if you didn't get "tagged" in for this, you should do it anyway. Whether to share, or just for yourself. I know that many of you want to write more—whether you are church leaders, aspiring bloggers/authors, or just people on a spiritual journey looking for practices to help you along the way. One of the best ways to become a better writer is to find opportunities to tell your story. Thinking through the music of your life is a great way to do that. And if you think the word "challenge" is a stretch for an exercise like this … then try narrowing down all of your favorite tunes and artists to TEN that capture your life effectively. It's hard.
All of my favorite music is tied to a particular season, group of people, or most often, geographic location. The songs that I shared take me to Kentucky backroads and Arizona highways and all kinds of spectacular and ordinary places in between. If you can locate your life story on a map, or hear it through sound waves, or trace it through scattered piles of photographs, then by all means, do it. Whether or not it makes a writer of you, it will for sure help you find meaning in your experience. And isn't that what we're all trying to do, every day?
Here are the 10 albums I shared, with some personal narrative attached to each one. Meanwhile, "Writing Prompt Wednesday" is a new thing I'm going to try. Check back here for a new challenge each week, and get pen to paper (or fingers to keys, as it were). But first–10 albums!
 Graceland by Paul Simon. Musically brilliant, poetically stunning, and the parts with Ladysmith Black Mambazo are pure magic. This album taught the white world a great deal about apartheid, in a time when white people were not talking about such things. It also ran on repeat in my house for a lot of years when I was a kid, mostly because my little brother demanded it. He knew every word at age 2 and, go figure, grew up to be a musician. (Like, a real one).

Coal Miner's Daughter. I grew up in Laurel County, about 100 miles of Kentucky backroads from Loretta's homeplace in Butcher's Holler. (Or "Butcher Hollow," if you want to be a Yankee about it). In addition to teaching civilians the proper use of  "holler," Loretta also appropriately rhymes "tired" with "hard." Making her music sound like home, always.
Anything by The Band. But especially, any number of versions of the song "The Weight." Because 20 years ago, Levon helped me out of a (really) bad boyfriend situation. A few different left turns, and my life might have been a meth lab in southeastern Kentucky. I took a hard pass on that—and took a load off instead. This song brings back the exhilaration of finally breaking free; and also reminds me that, to do hard things, we need our people. It took a mighty village to finally haul my ass out of the wilderness that year. (I wrote a whole post about this song when Levon Helm died, if you want to visit the archives).

All the Roadrunning by Mark Knopfler and Emmylou Harris. This genre-bending collaboration is the perfect soundtrack for living out a lifelong dream—like leaving the holler and moving to points west, as I did about 13 years ago. I listened to it pretty much the whole drive from Kentucky to Arizona. A move like that is always a huge risk, but I had a feeling there were good things waiting for me down that road. I was so right. Whatever the song might say, the roadrunning is never in vain.
Who Made Who, the soundtrack from the movie "'Maximum Overdrive." Because when you can get AC/DC and Stephen King at the same time, you are living your best life. Also, nobody can take you back to the 80s like they can.

Cleopatra, the Lumineers. Because the whole thing just tears my heart out. But I keep listening. Because it's so good.
Acoustic Citsuoca. My Morning Jacket is a Kentucky band we took with us to Arizona and elsewhere. We loved living in the west, and burned up a lot of highway cramming in everything we possibly could. First with no kids in a Camry; then a baby and a dog in a Subaru; then two toddlers in a minivan. (The drummer's idea, not mine). A lot changed in seven years, but the soundtrack mostly stayed the same.
The Carpenter by The Avett Brothers, offers a sweeping commentary on illness and fear; life and death; divorce and destruction; and the search for meaning and purpose that runs through all messy human experience. In theory, all art has that real and raw thing going on … but this one gets an A+ for authenticity. This album (on repeat) literally called me out of the desert. A couple years later, I heard them live in Kansas City … hearing them do "Live and Die" onstage was one of those cosmic, full-circle, "I'm exactly where I'm supposed to be" moments you only get a few times in life.

Bad, Michael Jackson. Because some days there's nothing for it but to blast "Smooth Criminal" and dance it out. Also, pretty sure this was the first album (tape) that I bought with my own money.
Houses of the Holy, Led Zeppelin. I don't know if there's a heaven, in the literal sense. But if there is, I know for sure that the literal way to get there involves I-10 (westbound. Phoenix to L.A.) with this playing in a fast car. In particular, "Over the Hills and Far Away," at excessive volume.
More than you ever wanted to know about me, right? Maybe. But I highly recommend trying it for yourself. You'll see why. And if you try it and still don't get it, at least there were some great jams along the way.