Guest post by the Rev. Megan Severns Huston
The first time I met the Rev. Dr. William Barber, he was a guest at a clergy retreat I was attending. During our time with him, someone from my group posed a question that most of us were thinking but didn't have the courage to ask.
"I want to do social justice ministry, but my spouse and I are both clergy, we depend financially on the church, and we don't think we would have much support in the church in doing this work. We have a child for whom we must provide. What advice do you have for us?"
It is a topic I have discussed countless times with my clergy colleagues.
The Rev. Barber became a pastor in that moment, reflecting honestly and without judgment. First, he said, "Well, you have to be like Paul and have some type of tent-making career as your back up."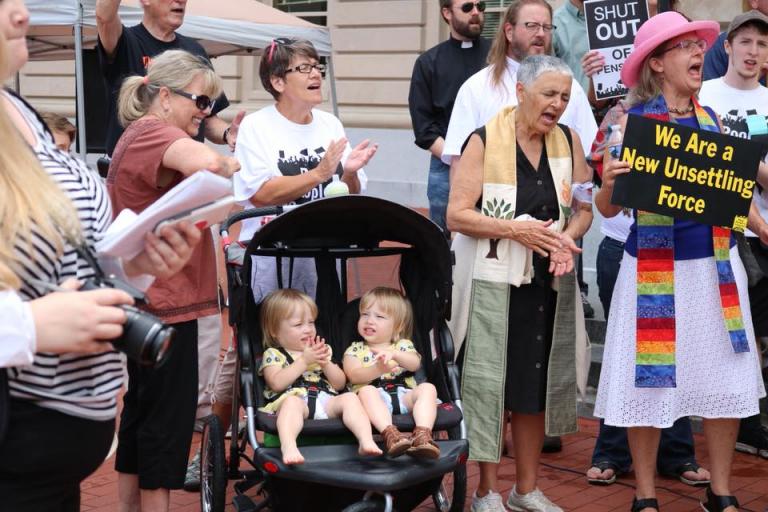 And then, he said something that would change my life.
"But you have to realize that your job, as a parent, is to provide more than material things," he said. "Yes, your children need food and shelter. But you are also leaving them a legacy."
That cut deep. And I haven't been able to unhear those words.
I am the mother of twin 2-year-old daughters who are bright and sunny, growing and learning each and every day, exploring their world. And I've spent more time than I care to admit away from my daughters over the last five weeks as a leader in Kentucky for the Poor People's Campaign. You know what ministry is like, but add in a volunteer organizing job in a very intense and demanding campaign for moral justice, and well, the hours add up quickly.
Every Monday, leadership with the Poor People's Campaign are tasked with leading a three-hour training for direct action participants, hosting a 45-minute rally and doing direct action in our state capitol. Over the course of these past five weeks, these actions have lasted anywhere from one to 17 hours each Monday. And, did I mention, I live about three hours from Kentucky's state capitol in Frankfort?
As I write this in my church office on a Tuesday morning, my heart aches that I haven't held my babies since Sunday afternoon, seen their bright little smiles peering up at me. But as I stood at the doors of our capitol, yesterday, where our group has been denied entrance, I had the opportunity to call out their names as the group called them back.
I stood there because I want Mae Belle and Evelyn Wray to know that when Kentuckians were being robbed of healthcare, living wages and affordable housing, that their mom stood up and did something. They will know that the same year our teachers were robbed of their promised pensions that their MiMi drove them to Frankfort to be there for a rally every Monday for six weeks. They will know that as dozens of armed guards blocked our entry into the capitol that their dad led our group in song, singing "This Little Light of Mine," even changing the verses on the spot to: "Don't let money snuff it out, I'm gonna let it shine!"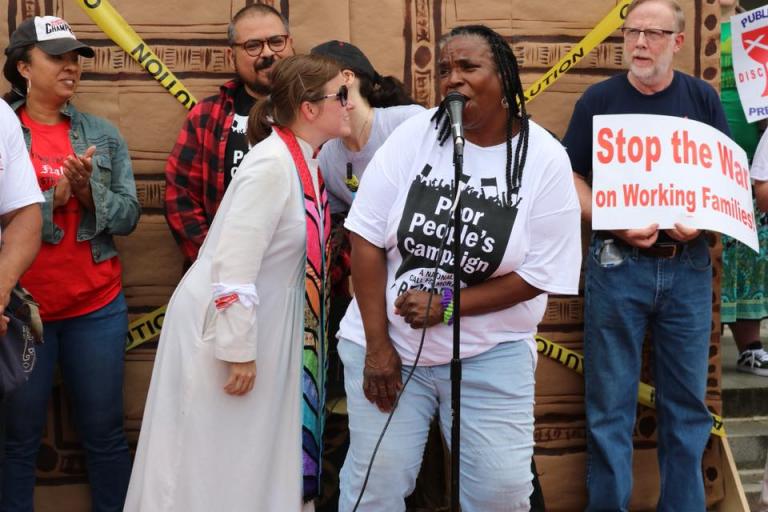 So, I guess you could say this is a family affair. Not just for my children, but for all the children who will inherit not just a legacy, but the world we leave for them.
When I think back on that day my clergy colleagues spent with Dr. Barber, I remember how his words struck me, but I also remember my misgivings. What if I am away from my children too much? What if my church doesn't support the work of justice I am committed to and what if this causes conflict? Who am I to do this work when Kentucky is hardly one of the "church social justice hubs" many pastors admire and long to serve? And in the months that followed, as my commitment to the Poor People's Campaign grew, the answers began to form. But they didn't form all at once and still aren't always clear.
It is, at times, achingly difficult to balance all that congregational ministry requires. There are meetings and programing, yes, but there are also the beautiful things that can only be done with focused time and energy — planning thoughtful worship and being present in pastoral care. When justice feels like an addition to everything else, it is even harder.
But one of the greatest lessons my daughters have taught me is that the hardest things we do are often the most important. Even when we don't have all the answers, all the time or all the resources, we are called by God to do something. And what I have learned in all my questions is that God doesn't demand perfection: We don't have to wait for the perfect circumstances, or for our kids to be the perfect age to do this work, or the perfect time in the liturgical calendar or the perfect confluence of congregational leadership to do this work. God only demands our presence, to the amazing churches we have been called to serve, to the heartache of the poor and the work of justice that heartache demands, to our families in all their configurations. And most of all, God wants us to be present to the longing in our own hearts that this world CAN be a place we are proud to leave as an inheritance for the next generation.
And so, I thank God, even when I am tired, cranky and overwhelmed, I have been called to the Poor People's Campaign: A National Call for Moral Revival. It is uniting tens of thousands of people across the country to challenge the evils of systemic racism, poverty, the war economy, ecological devastation and the nation's distorted morality.
Megan wrote this blog with the help of her faithful friend the Rev. Cara Gilger, who took her tired words and made them much more beautiful. Megan Huston is mom to 2-year-old twins (Mae Belle and Evelyn Wray), wife of a banjo playing stay-at-home dad and farmer (Willie), and the Senior Minister of First Christian Church of Bowling Green, Ky. She currently serves as a Tri Chair for the Kentucky Poor People's Campaign: A National Call for Moral Revival. Megan and her family live on 13 beautiful acres in Rockfield, Ky., and hope to leave their land better than they found it. Megan is motivated to find balance in her roles as mom and minister and sees her call to ministry rooted in community organizing, caring for people and preaching.