How do we define contextualization?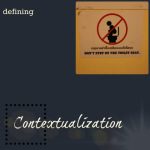 Judging from the books and articles I've read on the subject, it might be easier to explain the Trinity than contextualization. One person's "contextualization" is another person's "compromise."
How can we do contextualization if we can't explain what it is?
In this post, I want to suggest a way of organizing the most common evangelical views on contextualization. By clarifying our categories, I think the following taxonomy can help us to stop talking past each other.
Evangelicals use the word "contextualization" to refer to three things:
1) Interpretation—theology, exegesis from a cultural context
Many people talk about contextualized theology and not being confined to "individualistic" "law-oriented" categories. However, I suspect that in reality, evangelicals are bit afraid to actually do this.
This is the category that I hammer on in my book. If we miss this foundational step, I think we undermine the whole process. Consequently, we will simply contextualize a contextualization.
2) Communication — analogies or "bridges" (like Peace Child or C2C)
I think this is probably the most common understanding of contextualization among evangelicals.
3) Application — methods, strategies
This could include tools for disciple making and church planting. Also, it could be issue specific, answering questions like "What do I do preach in a contextually sensitive way?" or "How do I honor ancestors without worship them?"
All theology is contextualized theology
I completely agree with a number of people who, in one way of another, have said all theology is contextualized theology. This needs explanation perhaps. Let me offer a very broad definition of contextualization.
Contextualization is the interpretation, communication, and application of the biblical text in view of a cultural context.
Below, I've listed a number of definitions of contextualization. They either come from evangelicals or are representative of a common evangelical view. Here are my questions for you:
When you read evangelical explanations of contextualization, what patterns do we find?
Which ones would you most agree with?
What do you think needs to be added?
How would you define contextualization?
Evangelical Definitions of Contextualization
"The core idea is that of taking the gospel to a new context and finding ways to communicate it so that it is understandable to the people In that context. Contextualization refers to more than just theology; it also includes developing church life and ministry that are biblically faithful and cultural appropriate."
A. Scott Moreau, Gary R. Corwin, and Gary B. McGee, Introducing World Missions: A Biblical, Historical, and Practical Survey (Grand Rapids, Mich.: Baker Academic, 2004), 12.
"Christian contextualization can be thought of as the attempt to communicate the message of the person, works, Word, and will of God in a way that is faithful to God's revelation, especially as it is put forth in the teachings of Holy Scripture, and that is meaningful to respondents in their respective cultural and existential contexts."
David J. Hesselgrave and Edward Rommen, Contextualization: Meanings, Methods, and Models (Grand Rapids, Mich.: Baker, 1989), 200.
"A conservative evangelical view of contextualization limits it to communicating the gospel message in a way that is both faithful to the Bible and meaningful to respondents in their respective cultural and existential contexts."
Roy Musasiwa, "Contextualization," ed. John Corrie, Juan F. Martinez, and Simon Chan, Dictionary of Mission Theology: Evangelical Foundations (Downers Grove, Ill.: IVP Academic, 2007), 66.
"[C]ontextualization is simply the process of making the gospel understood."
M. David Sills, Reaching and Teaching: A Call to Great Commission Obedience (Chicago, Ill.: Moody Publishers, 2010), 205–7.
"I take contextualization, then, to refer to the dynamic and comprehensive process by which the gospel is incarnated within a concrete historical or cultural situation."
Dean Flemming, Contextualization in the New Testament: Patterns for Theology and Mission (Downers Grove, Ill.: IVP Academic, 2005), 19.
"We understand contextualization as the various processes by which a local church integrates the Gospel message (the 'text') with its local culture (the 'context')."
Louis J. Luzbetak, The Church and Cultures: New Perspectives in Missiological Anthropology (Maryknoll, N.Y.: Orbis Books, 1988), 69.
"making concepts of ideals relevant in a given situation,"
Byang H. Kato, "The Gospel, Cultural Context, and Religious Syncretism," in Let the Earth Hear His Voice (ed. J. D. Douglas; Minneapolis, Minn.: World Wide, 1975), 1217.
"the translation of the unchanging content of the Gospel of the kingdom into verbal form meaningful to the peoples in their separate culture . . . ,"
Bruce J. Nicholls, "Theological Education and Evangelization," in Let the Earth Hear His Voice (ed. J. D. Douglas; Minneapolis, Minn.: World Wide, 1975), 647.
"to discover the legitimate implications of the gospel in a given situation."57
George W. Peters, "Issues Confronting Evangelical Missions," in Evangelical Missions Tomorrow (ed. E. L. Frizen and Wade Coggins; Pasadena, Calif.: William Carey Library, 1977), 169.
"Attempting to adapt the style, form and language of the Christian faith and message to the culture of the people one is seeking to reach."
Kevin Greeson, The Camel: How Muslims Are Coming to Faith in Christ! (rev. ed.; Monument, Colo: WIGTake Resources, 2010), 199–200.
Regarding a "translation" view of contextualization: ". . . there is a core message of universal truth which must be translated into each new cultural setting in a way that remains faithful to the core. Because the content of that message is absolute and authoritative, the contextualizer's task is to change the form of the message."
Scott Moreau, "Evangelical Models of Contextualization," in Local Theology for the Global Church: Principles for an Evangelical Approach to Contextualization (ed. Matthew Cook et al.; Pasadena, Calif.: William Carey Library, 2010), 169.
"The goal of contextualization perhaps best defines what it is. That goal is to enable, insofar as it is humanly possible, an understanding of what it means that Jesus Christ, the Word, is authentically experienced in each and every human situation. Contextualization means that the Word must dwell among all families of humankind today as truly as Jesus lived among his own kin . . . . Contextualization in mission is the effort made by a particular church to experience the gospel for its own life in light of the Word of God."
Dean Gilliland, "Contextualization" in Dictionary of Mission Theology: Evangelical Foundations (ed. John Corrie, Juan F. Martinez, and Simon Chan, eds.; Downers Grove, Ill.: IVP Academic, 2007), 225.
"the efforts of formulating . . . the Christian faith."
Enoch Wan, "Practical Contextualization: A Case Study of Evangelizing Contemporary Chinese," Global Missiology 1, no. 1 (October 2003): 18–19, n.p. [cited 27 December 2011]. Online: http://ojs.globalmissiology.org/index.php/english/issue/view/27.
Although not an evangelical, I include Bevans because of his influence on evangelicals.
"The contextualization of theology [is] the attempt to understand Christian faith in terms of a particular context."
Stephen Bevans, Models of Contextual Theology (Orbis: Books: Maryknoll, N.Y., 2002).
Related articles