There is an interesting dialogue in the newest issue of EMQ. The article is titled, "Has the Use of Orality Been Taken Too Far?" written by Wes Seng, from Mission Resources International.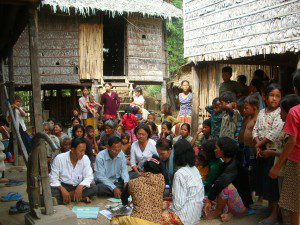 Wes warns against a subtle tendency of some who prioritize storytelling and oral strategies. The danger is that we might begin to denigrate or minimize literate forms of communication. The orality movement has helpful spotlighted the importance of storying among oral peoples. However, an unfortunate side effect can emerge. Strategic factions emerge that belittle the importance of the other approach.
Here is an excerpt from Wes' article:
If scripture exclusively limited itself to using story form, it would be obvious this was God's favored (divine) way of communication. Certainly, scripture contains a large portion of valuable lessons in ancient history in story form. Orality as a method of communication was prominent and preeminent at that time. Moses received his information of ancient history in the oral tradition under the inspiration of the Holy Spirit. However, once the accounts were registered in written form, they became available through literary communication. Orality joined hands with literacy.
EMQ also invited 4 people to respond to the article. They graciously asked me to be one of the four. Here are the titles of the responses.
Orality as Preparation for Reading? by Jackson Wu
Oftentimes, Orality Really Is the Best Method by Jerry Wiles
Allowing for Patience as We Navigate Orality and Linear Learning Systems by Paul Trinh
Looking Instead at What Each Method Offers Learners by Billy Coppedge
The above represent a range of responses. This is an important and very relevant debate that impacts missions practice around the world. For those involved in orality ministry, it's good for team discussion.
After you read the article and responses, send me your comments.