Today's post comes from guest writer, Matt Rhodes. This is the final part in a series where he introduces key ideas from his new book, which I enthusiastically endorsed. Having lived in North Africa since 2011, he and his wife, Kim, serve as part of a church planting team to a previously unengaged people group. Check out Part One, Part Two, and Part 3.
---
Abdul-Aziiz wants to get rich quick.
I know this because he is going north next week to the goldfields. At some point in their lives, most young men here will go to look for gold.
Sadly, the goldfields end up being a nest of troubles. Some men who go are able to gather enough gold dust to cover their expenses, but most have far more encounters with snakes, scorpions, bandits, and murderers. Local men go to mines as far away as Libya, and some who went have been enslaved, kidnapped, tortured, and even executed.
A few years ago, a nearby tribe, angry that people had come to their homeland to look for gold, cut off all water into and out of the mines. The goldfields are on the edge of the Sahara, and as the miners approached death from dehydration, tribal skirmishes erupted. Dozens of men were killed. But Abdul-Aziiz is going.
I want him to stop for two reasons. First, I think what he is doing is dangerous. But second, I believe that even here, if he makes good, wise decisions and works hard, he will be far more successful than if he pursues get-rich-quick schemes.
This is my conviction for us too.
Get Saved Quick Schemes
It isn't that God never moves quickly. In fact, there is a man here (I'll call him Abdullah) who became a believer when two short-term missionaries, who didn't speak his language, handed him a Bible. The next day, having found his way to the Sermon on the Mount, Abdullah met them and declared that he would take the message to his people. Already seething with anger at the prevailing religious system after nine of his cousins were buried in a shallow grave by men claiming to be Islamists, he wanted something else. Last time I saw him, Abdullah told me he'd become an evangelist, and had led a number of people to Christ. But his story isn't the norm.
Instead, far more men wrestle deeply with questions and personal struggles as they consider the claims of Christ, just as our friends do in the West. It's only the questions that are different.
Here, instead of "Can Christianity really be the only way?" people struggle with, "Do Christians worship three gods?" Instead of worrying, "Why would a loving God place restrictions on my sexual life?" people worry, "Does God really want me to embrace Christian teaching when I may shame—or even lose—my family in doing so?"
And people need wise, patient, loving help through these struggles, as they always do in deeply personal struggles. They need to speak to people who understand their struggles and the sociocultural context that makes these struggles difficult, with people who know the nuances of their language.
And here's my concern: as a wider missions community, we are ready for men like Abdullah, for the fruit that is so ripe it is ready to fall off the tree. We're ready to strike gold. But we're not trained or prepared to work slowly with men who have questions, and problems to work through.
We're poorly equipped for the slow, plodding work of teaching and discipleship.
"Vision" is Cheap
The organization I work with has recently embraced the 10/10 vision, praying for 10% of the Muslim world to come to Christ in the next ten years. I'm happy to pray for this, but I've heard people talk about letting this hope drive our ministry approach as well. I understand the urgency! People are lost in sin, and people matter.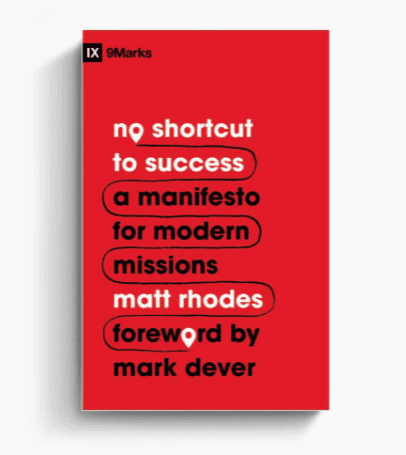 But if the work actually is slow—if a few hundred people probably can't do it in 10 years—then we should plan to dig in, find ways to send more people, rather than pretending we'll get rich quick in the goldfields.
It took approximately 300 years before Christians made up 10% of the Roman population. I don't think that the apostles' ministry was lacking because they did not accomplish this in 10 years. Instead, I praise God that His message did spread throughout Rome, and I imagine that the apostles' church took time to spread because God was building something strong enough to last.
The LORD your God will clear away these nations before you little by little… lest the wild beasts grow too numerous for you. (Deuteronomy 7:22)
Might our efforts to catalyze huge people movements to Christ so quickly interfere with the solid, lasting work the apostles modeled? I fear real, durable movements may be lost. In our efforts to see rapid results in a few Roman cities, we fudge the numbers, grow things too quickly, and lose the chance to really affect the Roman Empire.
Can I take you back to Christ's commissioning of His disciples? In Acts 1:8-9, he sends them out in the power of the Spirit to the ends of the earth. As Acts unfolds, they find just how costly that will be. James and Stephen are martyred. Paul suffers sickness, jailing, shipwrecks, riots, and stoning. The suffering is undeniable. But the human cost doesn't deter them.
Let it not deter us either. It will take time. It will take people going. But we know the great reward of our work. You are my joy and my crown, Paul writes. Lost humans are the reward we long for. How can we not be inspired by such a reward, to love people in patient, human ways? As our humanity is completed by our coming together in one body in Christ, we can only rejoice.
Conclusion
If these posts have piqued something in you—interest? curiosity? disagreement? anger? may I suggest you consider reading No Shortcut to Success: A Manifesto for Modern Missions? This really isn't about self-promotion: it's about you thinking about ideas that—if right—may be important to our success in missions. They're ideas that governed much of the missionary enterprise for generations.
And if these ideas are correct, they may really need to be promoted now, since some of today's widely influential missions books have dismissed them outright and have even accused them of evidencing stubbornness against God[1] and of being used by Satan himself![2] Such extreme statements do little to encourage curiosity, open exploration of the scriptures. This only deepens my concern that many popular, current approaches to missions may be poorly thought out.
You may disagree with me. But even if I am wrong, you can only participate in the missionary endeavor in more well-rounded ways after engaging with a set of ideas that have been largely forgotten for so long that for many, they will seem new again.
---
[1] In Church Planting Movements: How God Is Redeeming a Lost Word, David Garrison writes that those who fail to embrace his ideas are "like an obstinate goat that puts itself at cross purposes with its master's will."
[2] David and Paul Watson, in Contagious Disciple Making, describe traditional church planting methods as "extraction methods… in our opinion, Satan is at work in these methodologies."