In a recent training on narrative theology, I assigned participants the task of crafting stories that reflect the grand narrative in a biblically faithful and culturally meaningful way. The stories should do two things:
1) preserve the inherent structure of the Story
2) consider significant themes or motifs for their context
One group presented the following idea, which I develop a bit for clarity. I (and they) would be interested in your feedback.
Clothed with Honor and Shame
A student working with Muslims wanted to develop a story that takes honor and shame seriously. As a motif, he explored the link between clothing and honor-shame. After verbally sketching several passages that use clothing in this way, I encouraged him to try it out.
His group decided to craft the story using a chiastic structure. A chiasm has the basic form A, B, C, B', A', which A/A' and B/B' have some corresponding relationship. The middle line, C, is the central idea of the chiasm. This structure is pervasive in ancient literature and in oral cultures throughout history. (Previously, I suggested the grand biblical narrative fits within a natural chiasm.)
Here is what they came up with.
Story Point A
Genesis 2–3 uses a few related images to contrast Adam and Eve condition before and after their sin. Prior to the fall, they were naked and without shame. After eating the forbidden fruit, they not only hide but also cover themselves with fig leaves. God eventually gives them clothing made from animal skin.
Story Point B
The group made an interesting choice for the second plot movement in their story. They recounted the Joseph story, focusing on the coat given to him by his father, Israel. While Joseph might not be as fundamental a character to the overall narrative as others, his account conveniently links the stories of Abraham and the Exodus. One makes this connection primarily during story transitions.
The coat in Joseph's narrative is replete with meaning. Not only does it signify his favored status among Israel's sons; it is the bloody testimony given to his father, suggesting Joseph has died. As we know, he eventually puts on royal attire while serving in Pharaoh's house. Joseph saves his family from famine, moving them to Egypt, where they will become a great nation whom God rescues from slavery.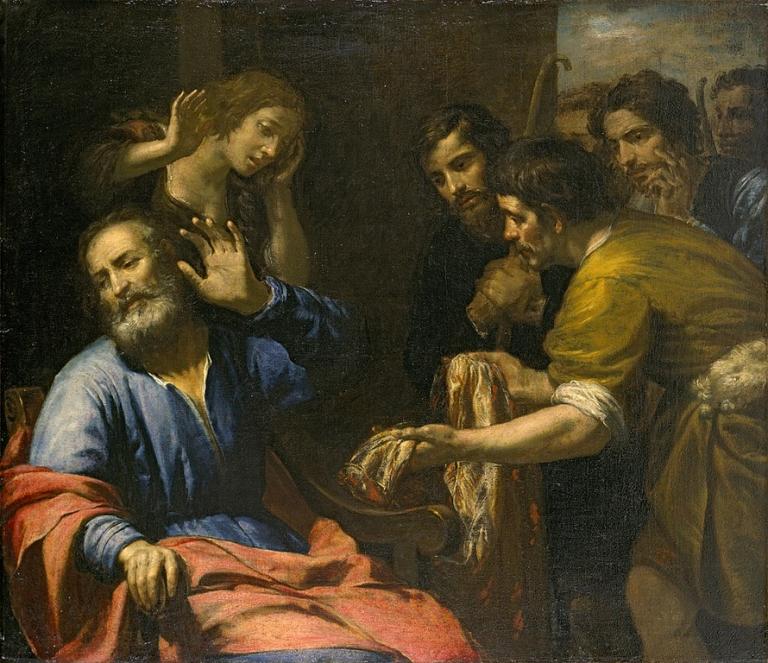 Story Point C
The next scene in the story is no less creative. They recount the Exodus and Israel's movement into the promised land by focusing on Israel's call to be a "kingdom of priests." A number of smaller episodes can be used to explain how Israel's priests were set apart ….
Story Point D
Next, we come to a passage prophesying the coming Davidic king. In Zech 3:1-8, the prophet writes,
Then he showed me Joshua the high priest standing before the angel of the Lord, and Satan standing at his right hand to accuse him. 2 And the Lord said to Satan, "The Lord rebuke you, O Satan! The Lord who has chosen Jerusalem rebuke you! Is not this a brand plucked from the fire?" 3 Now Joshua was standing before the angel, clothed with filthy garments. 4 And the angel said to those who were standing before him, "Remove the filthy garments from him." And to him he said, "Behold, I have taken your iniquity away from you, and I will clothe you with pure vestments." 5 And I said, "Let them put a clean turban on his head." So they put a clean turban on his head and clothed him with garments. And the angel of the Lord was standing by.

6 And the angel of the Lord solemnly assured Joshua, 7 "Thus says the Lord of hosts: If you will walk in my ways and keep my charge, then you shall rule my house and have charge of my courts, and I will give you the right of access among those who are standing here. 8 Hear now, O Joshua the high priest, you and your friends who sit before you, for they are men who are a sign: behold, I will bring my servant the Branch.
The combination of the clothing motif with the priesthood them naturally connects with the prior story points. However, for this passage to work well, the storyteller will need to spend more time explaining (1) the promise God made to David about a coming king, and (2) Israel's historical context such that this prophecy ever emerges. If done well, one does not need to linger on this passage but can let it simply serve (a) as a connective framework for the larger story, and (b) to continue the clothing imagery.
The Climax of the Chiasm
Story Point E
Christ is the centerpiece of the chiasm because he is central to the grand biblical story. Of the many possible stories to choose from, the group chose John 19 for two reasons.
First, John 19 gives an ironic depiction of Christ as king.
[19:2] And the soldiers twisted together a crown of thorns and put it on his head and arrayed him in a purple robe. [3] They came up to him, saying, "Hail, King of the Jews!" and struck him with their hands. [4] Pilate went out again and said to them, "See, I am bringing him out to you that you may know that I find no guilt in him." [5] So Jesus came out, wearing the crown of thorns and the purple robe. … [15] Pilate said to them, "Shall I crucify your King?" The chief priests answered, "We have no king but Caesar."
The scene is powerful and provocative. I especially like the fact it focuses in on Christ's kingship. As I've explained on this site and in
One Gospel for All Nations
, "kingdom" is (one of) the fundamental framework of the biblical gospel. The gospel is a royal declaration first and foremost.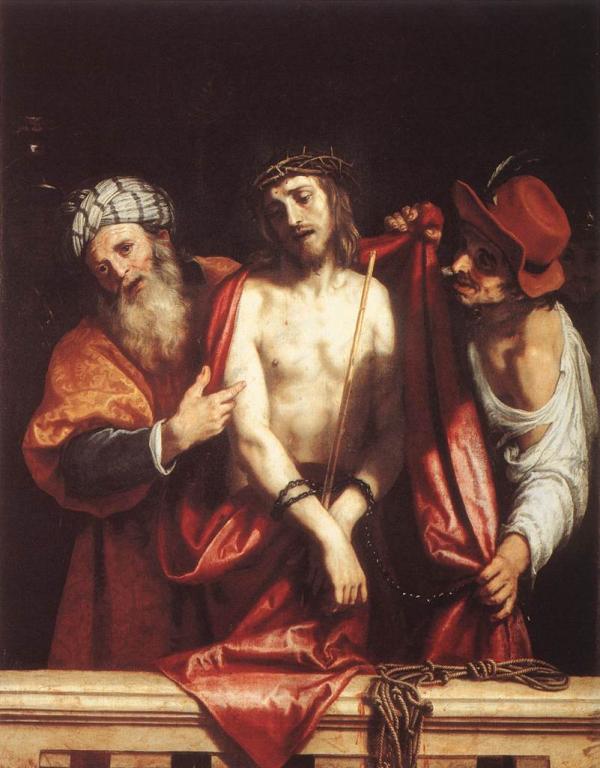 A second reason for using John 19 comes in vv. 21–24.
So the chief priests of the Jews said to Pilate, "Do not write, 'The King of the Jews,' but rather, 'This man said, I am King of the Jews.'" 22 Pilate answered, "What I have written I have written."

23 When the soldiers had crucified Jesus, they took his garments and divided them into four parts, one part for each soldier; also his tunic. But the tunic was seamless, woven in one piece from top to bottom, 24 so they said to one another, "Let us not tear it, but cast lots for it to see whose it shall be." This was to fulfill the Scripture which says, "They divided my garments among them, and for my clothing they cast lots."
The dividing of his garments is a poignant illustration of the shame Christ endures, despite his being king.
Clothed in Glory
Story Point D'
At this point, I would probably deviate from the proposal of the students. I'll first explain their proposal, then give mine. The students suggest using Luke 9 (the transfiguration) and John 17:22 (Christ's high priestly prayer).
Luke 9:29–31, 35 states,
"And as he was praying, the appearance of his face was altered, and his clothing became dazzling white. [30] And behold, two men were talking with him, Moses and Elijah, [31] who appeared in glory and spoke of his departure, which he was about to accomplish at Jerusalem. … [35] And a voice came out of the cloud, saying, "This is my Son, my Chosen One; listen to him!"
John 17:22, says,
"The glory that you have given me I have given to them, that they may be one even as we are one."
These passages well fit the imagery of the overall presentation. My uncertainty about using them stems from 2 concerns.
1) These passages turn the narrative back in time
2) We forfeit the best opportunity to highlight the resurrection, which is an essential aspect of a full gospel proclamation.
Naturally, then, I'd prefer focusing on the resurrection. Several texts refer to the resurrection as Christ's glorification (e.g., John 12:16; Acts 3:13; 1 Cor 15:43; cf. Col 3:1–4).
Furthermore, one need not entirely set aside the clothing motif (though we should never let literary images get in the way of preaching the resurrection). Multiple texts link resurrection with our "putting on" of some glorious aspect of salvation.
Story Point C'
In fact, a few of these passages are mentioned in the next point in the chiasm concerning the church. Here are several supporting verses:
1 Cor 15:53,
"this perishable body must put on the imperishable, and this mortal body must put on immortality"
2 Cor 5:3–4,
"For in this tent we groan, longing to put on our heavenly dwelling, 3 if indeed by putting it on we may not be found naked. 4 For while we are still in this tent, we groan, being burdened—not that we would be unclothed, but that we would be further clothed, so that what is mortal may be swallowed up by life."
Col 3:3–4, 9–10,
"For you have died, and your life is hidden with Christ in God. 4 When Christ who is your life appears, then you also will appear with him in glory.… 9 Do not lie to one another, seeing that you have put off the old self with its practices 10 and have put on the new self, which is being renewed in knowledge after the image of its creator."
Given the last phrase, I might add Rom 8:28-30. Also, since baptism is a visual reenactment of Christ's death and resurrection, I include Gal 3:27, "For as many of you as were baptized into Christ have put on Christ."
Garments for the Ultimate Banquet
Story Point B', A'

The final two points in their chiasm both cite Revelation.
Christ's Return  Rev 1:12-16; 19:11-13, 16(// Joseph's royal garments, Gen 41:39-42)
New Jerusalem (Rev 21: 3-4; 22: 10-11, 14; Banquet of Lamb, Rev 19: 5-8)
I'd prefer they use only one of the two, not both. Here's why. First, one is prone to leave the narrative and just start teaching doctrinal points of eschatology. Second, the two scenes are less distinct in that Christ's return immediately precedes the final banquet of the Lamb.
They seem to have the Joseph story in mind, which I like since it builds on and reinforces the prior episode.
In short, I think this story flow and structure has tremendous merit, but I also see room for improvement. What would you keep or adapt?