Today's post comes from Nicholas Romanin, who reviews a new book, Grace to the City: Studies in the Gospel from China. It compiles sermons and prayers from pastors in China.
He is the Midwest Area Director for China Outreach Ministries. at Purdue University. Having served in East Asia for several years, he and his family love to reach out in hospitality, grace, and truth to Chinese international students.
---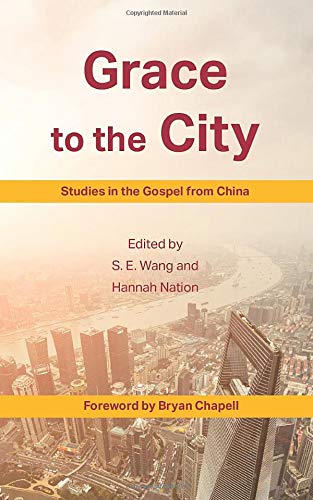 Grace to the City, edited by S. E. Wang and Hannah Nation, is a breath of fresh air to Western Christendom. It's not just a book for those serving in a Chinese context; it is for every Christian.
For hundreds of years, the West has been the primary source for theology and Christian thought. Most missions movements having emanated from the West, bringing with them Western thought and Western interpretations of scripture. In many cases, it is the Western church that is looked to for wisdom when young, majority world churches encounter struggles and questions.
Certainly, there is much to say for the valuing the maturity and wisdom gained by Western theology's persistence over time; yet, it has two potential shortcomings. For one thing, theology is understood and seen through a Western philosophical lens. For another, as the West has enjoyed relative prosperity over the years, the church's vigor has waned and, in some ways, grown stale and comfortable.
In Grace to the City, Wang and Nation compile sermons from five house-church pastors from China. These sermons give a glimpse of the theology of the church in China. It is a church facing governmental and societal pressure, harassment, and persecution. It is a church striving to survive and grow in a society not governed by Christian principles and where Western principles of justice and integrity take a back seat to harmony and a desire to serve expectations in relationships. It is a church preaching the gospel to people that find claiming oneself as a Christian to be an unpopular decision.
This book is a window into a movement of the Body of Christ that is counting the cost to follow Him! This is an encouragement because we see the elements of an unstoppable movement of God, and the depth of faith of a people risking it all for to call Jesus their own.
Grace to the City brings us face to face with the cost of following Jesus. It demonstrates a purpose for suffering, the weight of God's grace, and true faith and hope in things that we cannot see. This book reveals people truly in love with Jesus because there is nothing and no one else to give comfort in our fallen and broken world.
In a time when Christianity in the West is comfortable and often tainted with the prosperity gospel, perhaps it is time for us to receive ministering from the Body of Christ in China!
Grace to the City is a translation of five sermons originally presented in Chinese. Therefore, most of the book's content is directly from these Chinese pastors, including their prayers. For the benefit of the reader, Wang and Nation include short biographical notes before each sermon. They also include questions for reflection at the end of each sermon.
When you read it, you will immediately see the benefit of these questions. The sermons are incredibly challenging. They will challenge your notion of your own inherent "goodness" in your pursuit of God. They will challenge your comfort and how you view suffering. They may even challenge your view of your purpose or the church's purpose on this earth.
As a final note, Grace to the City serves to unite us to the global church. Since the sermons were simply translated, not rewritten through a Western lens, we get a picture of the culture of the church in China. Getting to see this can help us to identify with our brothers and sisters in East Asia in a deeper way. The book can incite us to rejoice with them in the movement of God. We are moved to weep with them when persecution happens, all the while lifting them up in prayer.
The book is not long. It's a quick read, but it has a depth that will draw you to reading it again. This would be an amazing book for a small group to study and wrestle through together. May it bless you!