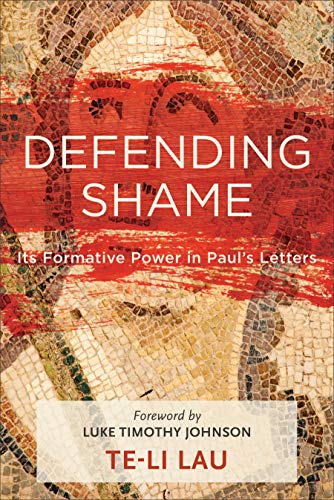 I might have found my new favorite honor-shame book. The title of Te-Li Lau's new book is Defending Shame: The Formative Power in Paul's Letter. However, he does far more than defend shame as a topic worthy of consideration; he demonstrates the pervasive presence and influence of shame in Paul's writings.
This first post introduces you to the book. The coming articles will highlight a few of Lau's key ideas and observations.
How Does Lau Defend Shame's Honor?
What does Lau attempt to accomplish? He explores several important questions throughout this book. For instance,
What is the relationship between shame and moral formation?
How does Paul envision his shaming rhetoric to function?
How do Paul's religious convictions affect his use of shame?
He summarizes his project in this way:
My interest lies in the ethical significance of shame, not so much in the phenomenology, sociology, or psychology of shame. These other approaches will be examined only insofar as it helps elucidate the rationale underlying Paul's use of shame for Christic formation. I examine not only how Paul uses the category of shame to inculcate a Christian identity and ethos but also how and why he shames others when they fail to conduct their lives in a manner worthy of the gospel" (p 10).
Most books relating honor, shame, and ethics come from philosophers and historians; this is the most extensive treatment by a theologian on the work of Paul.
What's in the book? 
Foreword by Luke Timothy Johnson
Introduction: A Fractured Understanding of Shame

Part 1: Framework
1. Definitional Background
2. Greco-Roman Backgrounds
3. Jewish Backgrounds

Part 2: Exegesis
4. Paul's Use of Retrospective Shame
5. Paul's Use of Prospective Shame
6. Constructing Paul's Use of Shame

Part 3: Cultural Engagement
7. Contemporary Contribution
8. Contemporary Challenges
Defending Shame divides into three sections. In Part 1, he outlines the framework and background for the discussion. This includes key definitions, presuppositions, and historical background. When I jumped into this section, I expected to be bored, having already studied so much previous concerning honor and shame. Wow, was I wrong!
In Part 2, Lau engages Paul's letters. He specifically focuses on interpreting 1 Corinthians, Galatians, Philippians, and Philemon, though he touches on other letters here and there. In Part 3, he compares and contrasts Pauline shaming with contemporary and ancient voices. These include researchers like Brene Brown and John Braithwaite as well as Chinese philosophers like Confucius and Mencius.
Who is this book for?
Lau has written a scholarly book. It is not so technical so as only to be helpful for a select few scholars. Still, it's not a fast read simply because of its density. I found myself having to stop again and again because I could not cram another idea into my brain. I needed to let them simmer in my mind. Defending Shame is not terribly long. He does not waste one of its 233 pages.
Unfortunately, I suspect that many readers won't get past the first section. It will likely scare off some readers who are uninterested in history or theoretical background. Others will wonder whether one needs to spend such time on Greco-Roman and Jewish background. As I mentioned, even I was tempted to skip it. I'm so glad I did not. Though not quick or easy at times, Part 1 illuminates so much of the underlying logic of shame. That lens opens mental doors when we turn to Paul's letters.
What about Lau's presentation? He provides helpful summaries and clearly identifies his key ideas. In certain chapters, a few graphs and charts capture the essence of his thinking. His vocabulary is rich, though some people will prefer he use simpler terms in places. Stylistic preferences aside, Defending Shame is a substantive treatment on a long-neglected subject.
---
In the coming posts, I will highlight several key ideas and quotes from the book, one section at a time. In the meantime, here's an excerpt of Defending Shame.