It's official! Seeking God's Face: Practical Reflection on Honor and Shame in Scripture is released today! I previously introduced the book and noted some of the endorsements. Last time, I posted an excerpt from it.
Today, I will elaborate further concerning why we wrote the book and how it can prove useful to readers. First of all, it's neither a typical academic nor a popular-level work. It's a true hybrid.
Reasons for Seeking God's Face
The book has 101 practical reflections. Why so many? And what do you mean by "practical reflections"? Is there a need for this book?
For the past decade, the conversation around honor and shame has largely been among missiologists and some theologians. Although Jayson Georges' work presents these ideas at a popular level, it generally focuses on the missionary community. By contrast, I've taken a more academic approach, appealing to theologians and missiologists, those who serve as "gatekeepers" for the larger church.
What still needs to be done? Getting the message to a general audience while still being helpful to people already familiar with the honor-shame conversation.
In part, this is what my co-author, Ryan Jensen, and I attempt to do in this work. Even among those already conversant with honor and shame, much more needs to be accomplished. First, few people grasp just how expansive or pervasive these topics are in Scripture. This is one reason we have 101 sections.
We wanted to have sections from every part of the Bible, even making sure to include a representative sample from wisdom literature and the minor prophets (not just the "easy texts"). In fact, writing the reflection on Ecclesiastes was one of my favorites.
No one will finish this book and still think that honor and shame influence only a narrow set of texts.
Is Seeking God's Face Practical?
What are "practical reflections"? In one correspondence with Ryan, he wrote this:
In my Ph.D. studies, I read a lot about honor and shame. This existing literature really opened my eyes to the reality of honor-shame in the Scriptures. However, thinking about and writing these reflections for about a nine-month span reinforced not only the prevalence of the topic and its importance to help us best understand Scripture but also its practical implications for our personal spirituality.

For me, it wasn't just trying to write an entry and provide some practical application as I noticed it in the text. Instead, almost all of my reflections came out of my daily reading of Scripture when something was impressed on my heart from the Spirit. I would often meditate on it for a couple of days and really think about how it worked in my personal life before writing the full reflection.

Going through this process helped me to see the practical implications that the world of honor and shame in scripture has for each and every follower of Christ, regardless of if they come from a predominantly honor-shame culture or not.
Ryan came to me with an idea for writing a "devotional." I wasn't interested because, personally, I'm not a fan of devotionals. At the same time, I saw his point. Something else needed to be written that helped people consider how honor and shame impact the heart and hands.
So, we merged genres, combining the brevity and practicality of a devotional but with theological substance. We then tested it with two sizable focus groups and applied their feedback. Hopefully, you'll find Seeking God's Face edifying for the head, heart, and hands.
This book will be useful in a personal, missional, and academic setting. Just by looking at the variety of endorsers, you can see the book's range of appeal and applicability.
More Endorsements
I previously posted positive blurbs about the book from Brandon O'Brien, Lucy Peppiatt, Tom Steffen, and Jim Mullins. Here are a few more endorsements.
Seeking God's Face will help you to see the Bible in a new light by bringing out the themes of shame and honor where you didn't see them before. In addition to explaining the meaning of numerous passages in the Old and New Testaments, the book encourages readers to reflect on ways they have shamed God or others, to repent from dishonoring behaviors, and practice honoring God with our lives. These contemplations on a biblical worldview of shame and honor can serve to correct any culture's practices that dishonor others.
Kenneth Nehrbass, Ph.D., Associate Professor of Global Studies, Rawlings School of Divinity, Liberty University
What Wu and Jensen have done in this helpful devotional is to put the Bible's own discussion of these topics in front of the reader while prompting meaningful, personal reflection and application. Before you make up your mind on the issues, work through this devotional volume and take time to reflect on the Bible's own presentation of these important elements of human existence.
Matthew Bennett, Ph.D., Assistant Professor of Missions and Theology, Cedarville University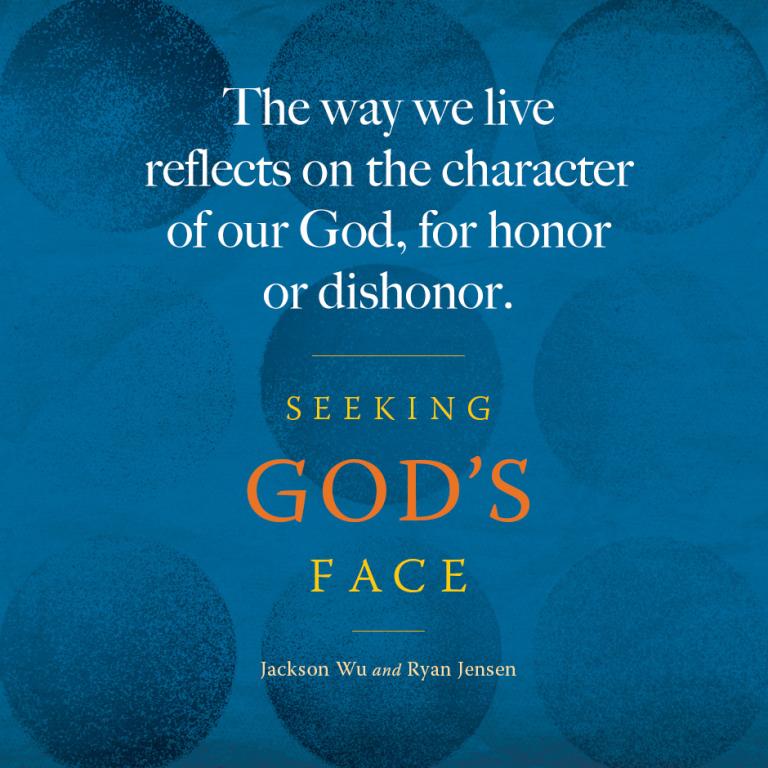 … As a scholar and pastor from the Majority World, I highly recommend this book to people who struggle with the daily experience of shame.
Patrick Chan, General Secretary, Hong Kong Campus Crusade for Christ.
…Written in a devotional format, it has the breadth of research and careful exegesis that Wu is known for. They show that this deeper understanding should then make a difference in our daily lives, our communities, and our relationship with God.
Kiem-Kiok Kwa, Lecturer, Biblical Graduate School of Theology, Singapore
Seeking God's Face will inspire new reflections on honor and shame, whether you are a veteran or rookie to this theological discussion.… I found myself sitting forward in my office chair to absorb their insight and then sitting back to reflect on what it means for my life.

The further I went in this book, the more I appreciated the beautiful blend of theological depth and psychological honesty. I recommend Seeking God's Face for personal devotion or group study on this important biblical concept.
Chris Sneller (Ph.D., King's College London) Director of Innovation, Bridges International; Lecturer in Missional Theology, Houston Baptist University
Few resources on this topic exist to equip the Church for such ministry contexts. And those available are often academic in nature and beyond the reach of most believers.

Wu and Jensen are to be commended on providing the Church with a very helpful, user-friendly work. Seeking God's Face is a creative and innovative piece of mission literature…. Part training manual, part practical guide, this book assists readers with making disciples of all nations—particularly the majority who hold honor-shame value systems.
J. D. Payne, Ph.D., Missiologist, Professor of Christian Ministry, Samford University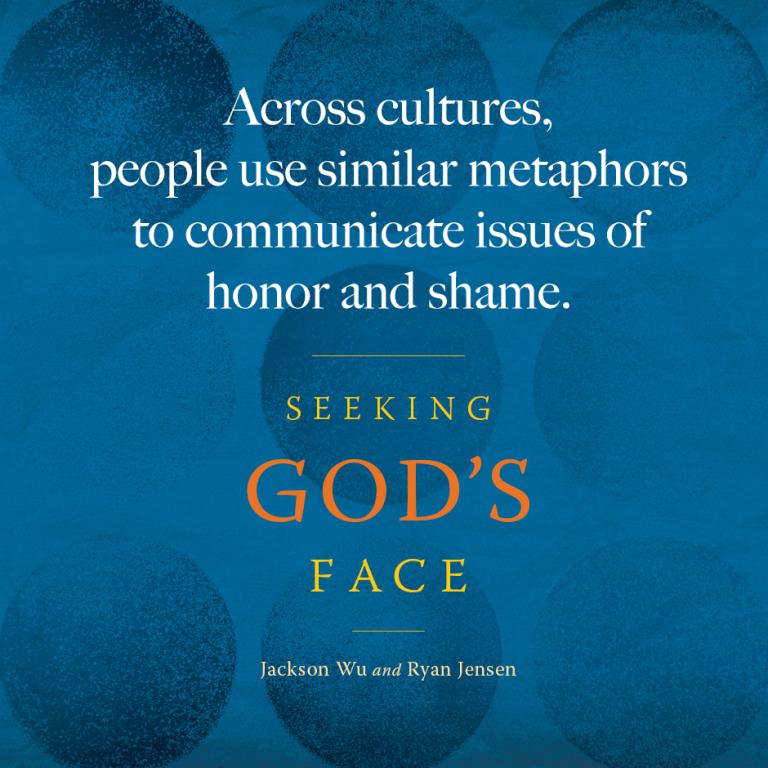 While there are many devotions on the shelves, I recommend Seeking God's Face for your spiritual mirror to help you walk in spiritual honor before the Lord and the world in the face of honor and shame.
Haggai Alhamdu Habila, Pastor/Chaplain at Living Spring Fellowship, Puyallup, WA
Working each day through Seeking God's Face has deepened and enriched both my personal faith and my cross-cultural Bible-teaching ministry by opening up new vistas on familiar Old and New Testament passages.

In their introduction, Jackson Wu and Ryan Jensen state that they intend this set of 101 reflections to "affect our head, heart, and hands."

I can vouch that this is wonderfully true, …
Chris Howles, DIS, Head of Theology Uganda Martyrs Seminary Namugongo. Founder of www.fromeverynation.net
I must confess, I've been new to learning about honor and shame dynamics the last few years. Yet I've had no greater teacher than Jackson Wu. These dynamics are everywhere in Scripture–and in culture today, blind as we may be to them. Seeking God's Face will help you have "eyes to see" these powerful dynamics in the biblical story, in your own life, and in society around you today.
Joshua Butler, Author of The Skeletons in God's Closet and The Pursuing God
This collection of essays, based on critical texts from both the Old and the New Testaments, is beautifully devotional in nature. At the same time, Seeking God's Face not only provides its readers with critical insights into honor and shame, but it does so in a manner that is easily accessible and useful to pastors, scholars, and lay people.

It also demonstrates how a clear understanding of honor and shame can deepen our understanding of important biblical texts, as well as their function within the broader narrative of Scripture. Frankly, I am amazed that the authors have managed to accomplish so much in this delightful, easily readable, work!
Thomas J. Sappington, Th.D., Associate Professor of Intercultural Studies, Biola University
"In Seeking God's Face, Jackson Wu and Ryan Jensen dispense the myth that the Bible is confusing, out of date, and inferior to Enlightenment reasoning. This volume offers a grand narrative of 101 scriptural reflections through the lens of honor and shame that reveals a repeated cultural pattern that challenges our biased Western views and nudges us toward new ways of Christian living and growing in our love of the blessed Trinity."
Robert Gallagher, Ph.D., Professor of Intercultural Studies Emeritus, A. Duane Litfin, School of Mission, Ministry, & Leadership, Wheaton College