There are times when it is best to drop the content calendar and discuss what everyone is discussing. It was my intent to be in the middle of a brief series of writings on communion at this point. However, there are few churches that are gathering, and if they have started, some states are asking them to stop again. So discussing communion would only pour salt in the proverbial wound. What is a prudent response to state mandates? I've found that prudence is a virtue that is a fuzzy one, often forgotten in our age. With this writing, I hope to share glimpses of prudence in action more-so than in definition, which I believe is an apt way of considering this virtue.
masks
The Center for Infectious Disease Research and Policy recently released an article on the efficacy of masks in preventing the spread of COVID-19.[1] The co-authors, Lisa Brosseau and Margaret Sietsema, both hold doctorates and teach at the prestigious University of Chicago.
Dr. Brosseau and Dr. Sietsema did not just conduct a study. They did a meta-analysis in which they collected data from over 50 professional articles on the topic of masks.
In short, their conclusion is that the greatest way that masks are of assistance is when a person is wearing a mask who has a communicable sickness. Therefore, the said sick person does not spread the sickness to others, or has a less chance of doing so.
They discovered no evidence to conclude that current mandates for everyone to wear masks in public actually slow or stop transmission.
On the other hand, they argue that if everyone wears masks, thinking they are going to flatten the curve, when there is no scientific evidence to believe so, then everyone will have a false sense of security. The general populace may wear masks thinking they're safe. So they may make more trips than necessary to town or stop practicing social distancing.
Michigan power plays
In Michigan, we are facing further Executive Orders from Governor Gretchen Whitmer. At the moment, our State Legislature is appealing some of her rulings in court and final decisions are pending. According to laws set in motion in 1945 and 1976, the Michigan Governor has the right to issue Executive Orders under a State of Emergency, but those orders are limited to a 28 day window. After that time, which passed in April, the Governor's office must collaborate with the Legislature in further law-making initiatives.
The power play is that the Governor's office has continued to operate in this fashion. So the Legislature has turned to the Michigan courts in an attempt to re-establish the Constitutional balance of power.
With that as a backdrop, the most recent orders have mandated mask-wearing in all public buildings and large outdoor gatherings
There have been some other Sheriff offices that have refused to enforce the Governor's orders this year. However, now a very influential Sheriff office has refused. Saginaw is a city that is really on the north end of the Toledo-Detroit metroplex.
1) The Saginaw Sheriff claims that the Governor's orders do not qualify as law, as reported by a Detroit news outlet.[2] 2) The Sheriff contends that enforcing this mask order places an undue burden on the Deputies, especially since violations are to be processed as misdemeanors. 3) Furthermore, if someone has a medical condition that prevents him from wearing a mask, the Sheriff cannot question him as to what condition he has, because of HIPAA laws.
Therefore, the Saginaw Sheriff is withdrawing support for the current Executive Orders regarding masks.
Kentucky power plays
Recently, Kentucky courts basically passed a restraining order severely curtailing Governor Andy Beshear's ability to issue any further Executive Orders.[3] This includes the Governor's ability to issue orders about statewide use of masks.
In fact, the ability to issue statewide orders has been suspended. The court is requiring the Governor's office to issue localized Executive Orders, if any. The Governor is to be specific about what regions are affected by any new orders and why.
If I may offer an opinion, this seems to be a clear win for Kentucky, at the very least in the area of balance of power. Our National and State Constitutions are dependent upon the balance of power between our three branches of government.
In Michigan's history before our current Governor, the majority of Executive Orders were localized as well (i.e. think of local severe storms or other natural catastrophes). Kentucky is actually returning to the genesis and true intention of Executive Orders.
exercising Christian prudence
The Michigan Executive Order in question does in fact require masks in Michigan, in about every setting.[4] However, there are certain privileges that the church enjoys.
For Christian leaders who are wondering about the new Michigan "law," see page 4, number 2, point i. Also see page 4, number 6 (Executive Order No. 2020-147 – Masks). We are still exempt as religious institutions. This merely recognizes what cannot be altered. Church rights are protected by the Constitution, not a current leader's declarations.
Does that give us Christian leaders a free hand? By the Governor's Executive Order, which some do not count as law anyway at this point, we do indeed have more freedom. However, freedom does not preclude prudence.
If we want to make our congregants feel comfortable enough to return to church, even if we do not agree with current stipulations, prudence would suggest that we render our due diligence.
prudence among civic leaders
Governor John Bel Edwards of Louisiana has called a prayer vigil.[5] He has asked everyone in Louisiana to consider fasting and praying . . . yes, both fasting and prayer. He takes time to explain his decision, but I must ask the question, why do our leaders feel like they have to explain such declarations?
It was not uncommon in recent years for civic leaders to call upon their State or the USA to set aside a season or a day to prayer. We used to hear our leaders call for a Solemn Assembly, a day of prayer for some pressing need. I certainly applaud Gov. Edwards. However, I would also ask, why are not seeing more of this?
Lee Chatfield, Speaker of the House of Representatives, continues to be a voice of prudence in Michigan. He leads our Legislature in appealing our Governor's State of Emergency powers.
Speaker Chatfield contends that our balance of power . . . is out of balance.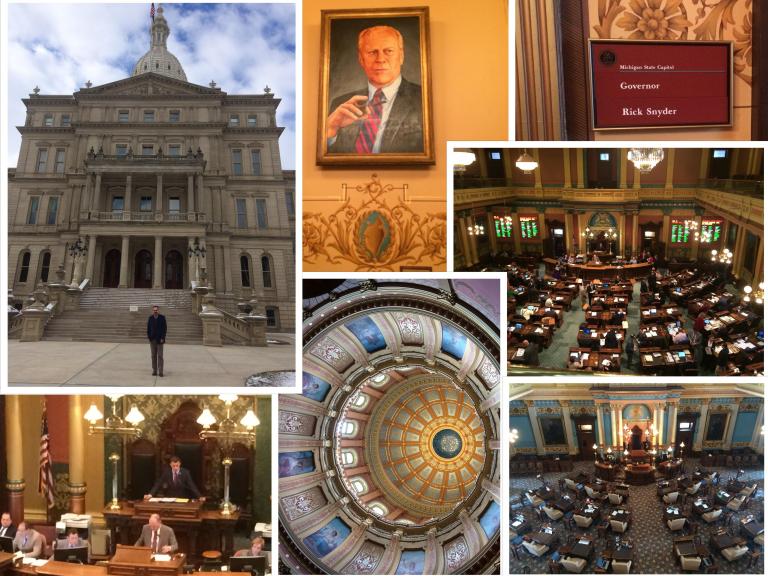 Even though the recent ruling on masks seems to be a logistical nightmare that Speaker Chatfield does not support legally, he is wearing masks in public for the sake of others.[6] He does not cooperate because of his interpretation of Michigan law.
Instead, he offers many allusions to the Golden Rule as his motivation for cooperating with the mask mandate. He's treating others as he would like to be treated. If it makes people uncomfortable to see him without a mask, he will wear one for their sake. However, he believes mask mandates should be a choice for individuals and businesses.
At the same time that Speaker Chatfield is wearing masks in public so people are comfortable, the Legislature that he leads is fighting to protect our Constitutional freedoms in Michigan.
That is prudence in action.
---
Pastor Jared Ingle
Pastor, Long Lake Friends Church
Director, JC Ingle, Inc.
Traverse City, Michigan
notes:
[1] Lisa Brossea and Margart Sietsema,
"Masks-for-all for COVID-19 not based on sound data,"
Center for Infectious Disease Research and Policy
(April 1, 2020), accessed July 13, 2020.
[2] Courtney Bennett,
"'Governor's order regarding masks is not a law,' Saginaw County's Sheriff's Office says,"
Sinclair Broadcast Group: NBC25NEWS.com
(July 13, 2020), accessed July 13, 2020.
[3] Web Staff,
"Scott Circuit Judge grants statewide temporary restraining order against Gov. Beshear,"
Scripps Local Media: WLEX-TV
(July 9, 2020), accessed July 16, 2020.
[4] Governor Gretchen Whitmer,
"Executive Order No. 2020-147 – Masks,"
State of Michigan, Office of the Governor, Lansing
(July 10, 2020), accessed July 13, 2020.
[5] Daniel Villarreal,
"Louisiana Gov Calls for 3 Days of Fasting, Prayer During Lunch Over Covid,"
Newsweek
(July 16, 2020), accessed July 16, 2020.
[6] Roop Raj,
"State Speaker Lee Chatfield says mask requirement should not be mandatory,"
Fox Television Stations: FOX2 (July 16, 2020), accessed July 18, 2020.