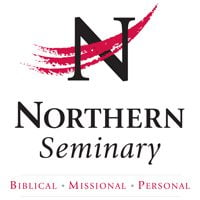 I am deeply honored that Northern Seminary has chosen to name me the Julius R. Mantey Professor of New Testament. I want to offer a few comments about Professor Mantey and I, but first the Northern announcement:
Northern Seminary is pleased to announce the appointment of Dr. Scot McKnight, Professor of New Testament Studies, to the Julius R. Mantey Chair of New Testament.

The prestigious position was established to honor a New Testament professor making noteworthy scholarly contributions to the Church. The first appointee was Professor of New Testament, Dr. Robert Guelich, in 1983; he was immediately followed in 1984 by Professor Dr. David Scholer, who held the role for many years.

Dr. Scot McKnight will be the third appointee of the chair. He has taken upon himself the task of constructive New Testament theology, making that scholarship accessible to the church and educating pastors to do the same.

Dr. Julius R. Mantey was hired as Professor of New Testament and Greek at Northern in 1925. His Greek scholarship was revealed at Southern Baptist Seminary under A.T. Robertson, and his Manual Grammar of the Greek New Testament, co-authored with H.E. Dana, was utilized as a textbook in numerous seminaries for over 60 years. After 35 years of preparing ministers and serving Northern, Mantey retired in 1960. Mantey's "Dana and Mantey" was Dr. McKnight's first grammar of Greek syntax when he was in college.

McKnight has published more than fifty books and has received numerous awards. This fall, McKnight will launch a newMaster of Arts in New Testament program at Northern. This program will provide the opportunity for students to study the hermeneutics of New Testament theology within the 1st Century context.

McKnight describes how Julius Mantey has influenced him:

"When I was a college student my Greek professor recommended that we all buy and read "Dana and Mantey" as an introduction to Greek syntax, which I did – underlining throughout the textbook. As a young professor tasked with teaching Greek syntax the first time, I wrote up my own notes on syntax and relied heavily upon Dana and Mantey. I can say that Dana and Mantey formed my "syntax" mind! I am deeply honored to be named to the Mantey Chair.

My aim at Northern as a New Testament Professor is to teach students how to understand the New Testament in the context of the 1st Century world so they can pastor, preach, and lead in the church in a more responsible-to-the-Bible manner. That means, learning about Judaism and about the Greco-Roman world as the contexts in which the New Testament itself was formed. At the heart of that, of course, is studying the New Testament in Greek. But all of this is done with a view to the church – to empowering students to become more alert to the multi-cultural contexts of the New Testament so they can relate the Bible to our own multi-cultural contexts."

It is for his scholarship, aptitude, and commitment to equipping the Church to comprehend and apply New Testament doctrine that Northern Seminary proudly appoints Dr. Scot McKnight to the Julius R. Mantey Chair of New Testament.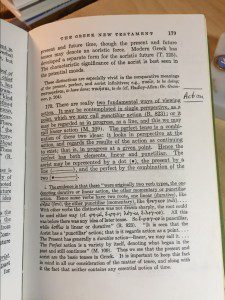 Here is my copy of the famous syntax grammar called "Dana and Mantey," bought when I was a college student, read as a college student, read again as a seminary student (used as a text by Norm Ericson), and then I devoured it again when I first taught Greek Exegesis I as a graduate assistant.
There's a story behind all of this. As a high schooler, fresh off a "conversion-like" experience at a church camp, I asked my youth pastor how I could learn Greek. He gave me an introduction to Greek and I worked through most of it my senior year. Then off to college where I was told — as a 1st year student — that I had to wait until I was a sophomore to take Greek.
I did, and we worked our way through Crosby and Schaefer with our professor, Benjamin Chapman. Then we did a course on Greek Syntax where I read Dana and Mantey the first time, we did our best to read portions of Blass, Debrunner and Funk. Our professor was into reading the Bible and not reading grammars so by the time I got to seminary I had read Mark, John, Romans-Colossians, and the letters of John. But the only "syntax" that stuck in my head was what I had gleaned from the accessible syntax of Dana and Mantey.
In seminary we used Dana and Mantey in our exegesis class, the categories of syntax stuck deeper into my thinking, and then I took a few more Greek based NT courses, including a masterful exegesis of 2 Corinthians with Murray Harris. I had by the time I was done with seminary acquired and used all the major syntax grammars.
But upon graduation I was asked to teach Greek Exegesis I and II at TEDS and I spent hours each day in the Fall absorbing the grammars, composing and typing up syntax sheets for my students. That experience of teaching syntax, still quite heavily rooted in Dana and Mantey though we did not use the eight-case system.
PhD at the University of Nottingham and then I was asked to be an adjunct at TEDs, that adjunct-ship turned into a tenure-track position, and I became a scheduled exegesis professor — including doing my time with the "F" troop of exegesis. Over time I worked my notes into a long, long handout on Greek Syntax and at the same time I was embracing more and more the aspectual theory of the verbal system in Greek syntax.
All this to say, when I was told that I would be named the Julius R. Mantey Professor I said to myself, "The man has been with me for more than forty years!" That I get to be flanked by Bob Guelich and David Scholer just magnifies my gratitude.
Thank you Northern Seminary!