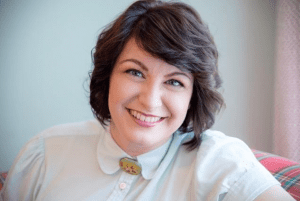 From Jonathan Storment: It is my pleasure to introduce to you over the next three weeks, one of my favorite people in the world. Nika Maples is the most joyful, Jesus-like person I know, and her story is incredibly powerful.
She's been named the Texas teacher of the year, given Ted talks, and (less notably) we've co-preached together, She has a real gift to minister to people through her testimony, because she embodies James 1:2-4 to a tee. Nika has just released a great new book called Hunting Hope, and since many of you on here might not have heard of her before, I wanted to give a brief introduction to who she is and why you should pay attention. She is smoking what she is selling. Well, that's enough from me…Here's Nika:
The End of Chapter One
By five years old, I knew what I wanted to do with my life.
It started with a poem.
Then I wrote a play.
By ten years old, I was writing "books" on the typewriter in my room, and a stack of papers rose higher and higher on the corner of the desk. I had typed Chapter One at the top of every page, but I'd tire of the first story by the time I got to the bottom, and I'd start writing a new story. No one told me how hard it would be to make it to the second or third page, much less how hard it would be to make it to Chapter Two.
Don't ask me how I felt so sure, but I knew I would live the rest of my life as a writer. There is a scene in the film classic Chariots of Fire in which Eric Liddell says, "God made me fast. And when I run, I feel His pleasure." That is what I knew about myself. God made me a writer. And when I write, I feel His pleasure. Undeniably, I sensed the warmth of His favor, the assurance of His smile.
In high school, my pursuit of writing found a specific shape: I would become a journalist, I decided. Later, in college, I declared broadcast journalism as my major. I didn't know it yet, but that would be one of the last decisions I would make in the section of my life I now call Chapter One.
No one told me how hard it would be to make it to Chapter Two.
In the middle of my sophomore year, strange symptoms such as periodic blindness, dizziness, and slurred speech gradually increased until one Wednesday night in March when I fell facedown on the carpet, completely paralyzed. I'd had systemic lupus from age 12, and at age 20, it caused an injury to my brainstem that left me without the ability to speak, swallow, blink, or move.
During my stay in the ICU, my mind raced as I kept thinking about the miracles of Jesus.
"Pick up your mat and walk," I was sure He would tell me. Every day, I just knew it would be the day. As the nurses came in to take my vital signs and give me an injection of blood-thinner to prevent clotting, I waited for the moment that the Lord would make my muscles move.
But each day wasn't the day.
Without the ability to speak to friends and family, I spoke a lot to God.
He did not speak a lot to me.
The gift of His presence is indescribable. I knew with a deep knowing that He was with me in the hospital, though I did not have a much more than just a sense of it. Because He was with me, I knew anything was possible. I did not want to believe that I was going to face illness and paralysis forever. He had to do something! He had to! He was the only One who could! My faith was alive and kicking, even when my body was not.
I overheard doctors telling my parents that I may never walk or talk again. I might not recover my sight. The type of brainstem injury I had endured left little possibility of rehabilitation, they warned.
The situation was hopeless. That's what they said without actually saying it.
The days wore on. I spent plenty of time asking God why He wasn't healing me instantaneously. The faith I felt in my heart seemed much bigger than a mustard seed, which was all I thought I needed. But I wasn't seeing any movement of the mountains in my way, and it felt like a default on a promise. Eventually, I started asking Him why the brainstem injury had happened at all.
Questions like "Why did this happen?" and "When will it end?" can be distractions to us during a crisis. We want to know who we should blame: the enemy, humanity, or Deity. But by retaining the right to blame, we are trying to maintain– or regain– control. Questions about suffering are questions about sovereignty. Either God is in control, or He isn't. And if God is in control, then what we know about God matters more than what we know about our circumstances. The whole of it is a mystery.
I surrendered to the mystery, what else could I do?
And there in the surrender, one echoing grief was the loss of my writing. I could no longer use my hands. I could not even use my mouth to dictate my thoughts to someone who could write them down for me.
What happened to the favor I felt from the Lord, I wondered? Was the call to write just a joke? Is the next level of godliness in my life only going to be achieved by sacrificing this thing that I love so much? Did I love writing more than I loved God, was that the problem? Must I learn to stop loving it now?
I was hesitant to leave my Chapter One.
But the Author of Life was already writing a good outcome into my Chapter Two. "Forget the former things; do not dwell on the past," He seemed to whisper to me. "See, I am doing a new thing! Now it springs up; do you not perceive it?" (Isaiah 43:18-19 NIV) I could not get away from one nagging thought: Maybe it doesn't matter what causes suffering in our lives nearly as much as it matters what suffering causes in our lives. I had to let go of the right to blame someone or something for what had gone wrong in my life and just let God make something good of it.
Reluctantly, I turned the page.
You can connect with Nika @NikaMaples and You can sign up for monthly encouragement from her at www.nikamaples.com.