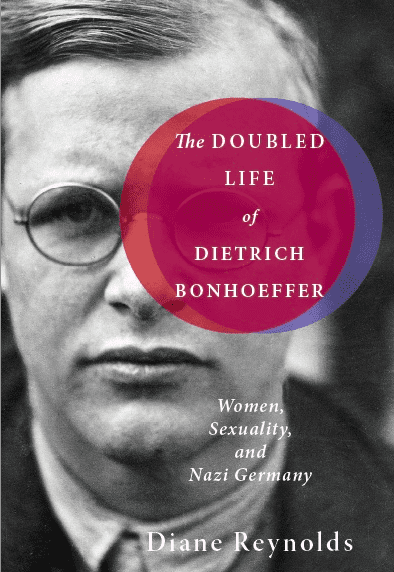 Bonhoeffer for today: He is relevant but is he known? by Diane Reynolds
A $9.99 kindle edition of The Doubled Life of Dietrich Bonhoeffer can be found at http://www.amazon.com/Doubled-Life-Dietrich-Bonhoeffer-Sexuality/dp/1498206565/ref=sr_1_1?ie=UTF8&qid=1460760035&sr=8-1&keywords=the+doubled+life+of+dietrich+bonhoeffer. For a limited time (April 8-30, 2016) Wipf and Stock Publishers is offering 40%-off retail from their website. Just use discount code DOUBLEB atwww.wipfandstock.com.
To enter a drawing for a free copy of The Doubled Life of Dietrich Bonhoeffer, please email Chris Graham at cgraham@wipfandstock.comand include Jesus Creed book giveaway in the subject line. Three winners will be chosen on April 30, 2016.
I am surprised at how many of my students under the age of 30 have never heard of Dietrich Bonhoeffer. On the whole, when I mention Bonhoeffer, they look at me blankly, and when I say "German theologian," they glaze over and tune out. So I wrestle with the question of how we can persuade younger people that Bonhoeffer is relevant for the 21st century.
In my research, I have been struck by how little the world of religion has changed between Bonhoeffer's time and our own. When Bonheffer decided to become a theologian in the early 1920s, his father and older brothers derided that decision. The Bonhoeffers were a family like the Kennedys, meant to make a difference in society, and in that context, becoming a theologian seemed a waste of talent. The church appeared, then as now, to be dying, its place in the civic discourse largely irrelevant.
As Barry Harvey outlines in his book, Taking Hold of the Real, Bonhoeffer faced the same "world come of age" that we live in today, in which a worship of technology pushes theology to the margins. This is a discounting of God's presence in the world that Bonhoeffer fought against vigorously.
God is in the center of the village, Bonhoeffer insisted, Christ the only reality in the midst of a world of illusion. Yet today, we face the same battle he did to infuse a marginalized church with meaning.
Bonhoeffer also fought against mistaking the institutional structure of the church for the church itself. He wrote "the church is nothing but that piece of humanity where Christ has really taken form." How do we today discern where Christ has really taken form?
Resisting the almost magical pull to conform the church to the world's values and vision is also still a battle we fight today. If the Nationalist Socialists wanted to Aryanize the German Church to align with its culture's dominant values, we sometimes want to make the pastor a CEO. If growth is society's goal, we want churches that grow, no matter how illusionary that growth might be.
Bonhoeffer calls us back to our true mission—at the center of the village, but in a role of serving the village, not controlling it.
I would argue that Bonhoeffer's ability to engage with the Other, if imperfectly—through Harlem blacks, in the women he was close to—formed his vision of a church transcending parochialism, but we today still struggle deeply with such schisms as racism, nationalism and sexism in the church.
Bonhoeffer was one of the first to name Hitler's falseness and demagoguery, and today we arguably confront a similar rise of nationalist, demagogic and xenophobic leaders across the western world. How should the church respond to this?
One way to engage students might be with the critical choices Bonhoeffer made in real life and real time, such as whether his participation in the Hitler assassination plot was consistent with who he thought he was: what do we do in reality to respond to the challenges around us? How does our self-image align with what we are called to do? Bonhoeffer made a series of seemingly stunning decisions: to return to Nazi Germany rather than study with Gandhi in India, to return to Germany scarcely two months before World War II when he was safe in Manhattan, to get involved in the assassination plots against Hilter when he was a pacifist: How did he make these kinds of choices? How do we discern our own paths?
Andrew Root has an interesting book out on called Bonhoeffer as Youth Worker and he raises some of these questions.
I often feel personally uneasy at some of the theological turns Christendom seems to make as it tries, often for good reasons, to align itself with worldly power. Bonhoeffer can speak to this, but how can we best speak of Bonhoeffer?