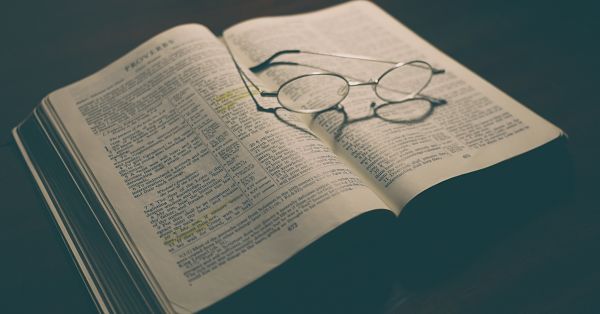 In the Shin/Sin section of Psalm 119, that is verses 161-168, we find a subtle shift of mood and tone. The psalmist is resolute and determined, but now a tranquility and peace hangs over the psalm.
He's peacefully resolve to …
Tremble at the word. And what a contrast in the opening lines of this section (v. 161): "Rulers" may persecute me without cause, but my heart trembles at your word.
Who knows who those rulers were — they were chiefs or princes or captains. Someone with power, someone who could persecute the psalmist. Think some significant, powerful leader who abuses his power to overwhelm the pious.
And when those rulers are staring him down, the psalmist finds repose, rest, tranquility, and peace — because he does not fear them. He fears God.
His heart stands in awe of God's words. The word "stands in awe" is sometimes translated "dread." Once again, a subtle deconstruction of his opponents: he does not fear their power; he dreads the quiet word of God.
The psalmist's tranquility is palpable … chiefs are chasing him but he's found repose in knowing God. He's not only peacefully resolved to tremble at God's word, he's peacefully resolved as well to rejoice in God's promise.
His little analogy is potent: he rejoices in God's promise "like one who finds great spoil."
I'm reminded of the parables of Jesus: the one who finds a pearl of great price, the one who finds a treasure hidden in a field. The psalmist rejoices in God's promise — while he finds peace in spite of persecution — the way one rejoices in finding a great spoil.
I can't say I've ever found great spoil, but one time walking away from a certain baseball game in a certain city called Chicago, Kris and I found some money on the pavement. We were in a madrush of the thousands pouring out of the stadium to the parking lot and I feared even bending over to pick it up. But, I did. A minute or so later we realized it was a 100 dollar bill. We rejoiced and laughed.
So too the psalmist rejoiced in God's promise when the mad rush of opponents were surrounding him. He bent down in their midst, picked up the promise of God's covenant love, and found himself at peace — forgetful of the supposed fear the opponents were seeking to evoke in him.
With princes breathing down his neck, the psalmist finds peace and is resolved to tremble at God's word and to find joy in God's promise. How does he do so? I suspect this is how:
He's peacefully resolved to love the law, the Torah. "I hate and abhor falsehood; but I love your law" (163). It is not clear why he contrasts his love for the Torah with hating falsehood, but it is not out of character — in fact, it is in character — for him to be contrasting his own love with the wickedness of his opponents. They hate and abhor Torah and they love falsehood.
So much does the psalmist love the Torah that he says this:
"Seven times a day I praise you
for your righteous ordinances" (119:164).
This is the origin, or should we say the text on which the practice was pinned, for the early Christian practice of praying seven times a day, for the seven hours of prayer. I have introduced this practice in my Praying with the Church.
The Office of Readings (formerly Matins), major hour
Morning prayer (Lauds), major hour
Midmorning prayer (Terce)
Midday prayer (Sext)
Midafternoon prayer (None)
Evening prayer (Vespers), major hour
However you practice these, or whatever you think of the practice, the psalmist evidently praised God seven times a day — is he exaggerating? is referring to a discipline? We don't know, but we do know that the Church has for at least 1800 years found its way to set apart times during the day to refocus on God, to sing God's psalms, and to pray as a community.
Night Prayer (Compline)
The psalmist is at peace and resolved to tremble at God's word — not the princes of his day — and to take his joy in the promises of God — not the strength that comes from association with powers — and to love God's law — not falsehood. So, in 119:165 the psalmist announces his discovery:
Great peace have those who love your law;
nothing can make them stumble.
Shalom rav — great peace. He's found it. He lives in it. He knows it. In spite of the world around him, he has found God's great peace. Those who love (ahev) the Torah find great peace.
The image is slightly shifted: those who have this great peace cannot stumble because their steps are guided by the Torah that guides into the good ways of God.
Those whose lives are resolved toward God's word and promises and Torah discover that their resolution finds peace. These folks aren't wondering what to do; they know what to God wills. They find that peaceful.
The psalmist has found peace but he has not found that peace in the security of knowing he's no longer persecuted nor in the security of being "in the know" with the right people. He's found peace, great peace, because he's found the path of life — to walk in Torah. This leads him to peaceful resolutions …
And Psalm 119:166-168 are a string of resolutions he has made in peace:
I hope for your salvation, O LORD,
and I fulfill your commandments.
My soul keeps your decrees;
I love them exceedingly.
I keep your precepts and decrees,
for all my ways are before you.
Resolved in peace to:
1. Hope for God's salvation — which is surely earthly liberation.
2. Keeping God's decrees.
3. Keeping God's precepts.
His life is an open book before God: "for all my ways are before you." That is, "all my ways" are "conspicuous" or "straightforward." He lives his life before God with the windows open, the doors open, and in a glass house.