Matthew Bates's awesome book Salvation by Allegiance Alone pressed into the solas of Reformation theology by suggesting that "faith" connotes "allegiance" as well, though all the Reformation offered us is present in his term "allegiance."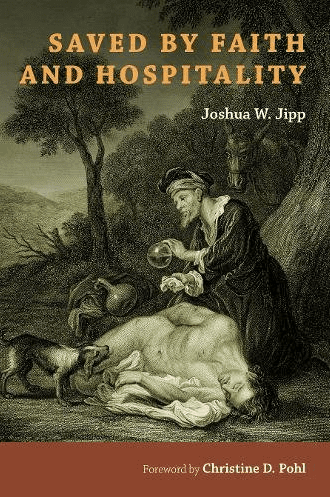 Now comes Joshua Jipp, Saved by Faith and Hospitality.
This is the year of evangelicalism's challenge to sola fide, not because "faith" is wrong but because "faith" has been reduced and the dynamic at work in God's redemptive grace in us has become inert:
Faith that doesn't work is not faith.
Faith that isn't faithfulness isn't enough.
Faith that isn't allegiance denies the Lordship of Christ.
And faith that isn't hospitality isn't what the Bible means by grace and faith.
Rom. 12:13 Contribute to the needs of the saints; extend hospitality to strangers.
Heb. 13:2 Do not neglect to show hospitality to strangers, for by doing that some have entertained angels without knowing it.  3 Remember those who are in prison, as though you were in prison with them; those who are being tortured, as though you yourselves were being tortured.
1Tim. 3:2 Now a bishop must be above reproach, married only once, temperate, sensible, respectable, hospitable, an apt teacher,
Titus 1:8 but he must be hospitable, a lover of goodness, prudent, upright, devout, and self-controlled.
1Pet. 4:9 Be hospitable to one another without complaining.
Hospitable faith has something to say about racism, about white nationalism and white invisibility, about immigration, about incarceration, about theological differences, and about ecumenical efforts to reconcile.
In some ways Jipp's "hospitality" is John Barclay's "grace." (See Barclay, Paul and the Gift.)
Here is Jipp's summary, re-formatted for ease:
A simple but no less profound theme has emerged in my examination of the scriptural teachings on hospitality to strangers:

God's hospitality to us necessarily results in and creates hospitality to others. Divine hospitality elicits human hospitality.
The singular foundation for our identity is God's act in Christ of extending welcome, hospitality, and friendship to us.
This divine welcome, a welcome to us without consideration of individual or collective social worth or merit, draws us into the life of God and makes us God's family and friends.
This divine welcome transcends the boundaries and limitations of both our societal and ecclesial expectations in such a way that God's people bear an identity that is, by the world's standards, stigmatized, since it includes people who would ordinarily be outcasts, marginalized, or considered less valuable or worthless.
In other words, God's hospitality creates a community that embodies this hospitality both in its social composition and in its practices of continuously seeking opportunities to extend God's welcome to whoever are the strangers, the outcasts, the vulnerable, and the stereotyped in our context.