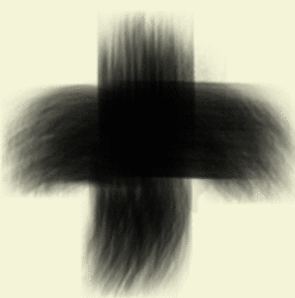 Last weekend, late on a Saturday night our family dog, Moses, began to die.
We've had Moses (a golden retriever) for almost 15 years. Almost as long as Leslie and I have been married, moving from jobs in Ft. Worth to Abilene, and through the birth of 5 kids, Moses has been in the background of our lives. He was the best dog we could've asked for, and so when he started struggling to breath last Saturday night it was incredibly sad.
Being a preacher's kid means my kids go to lots of funerals and funeral homes. Our kids are not stranger to grief and loss, but this was the first time that death was going to hit them so closely.
So before we went to the vet, our family gathered around Moses, and shared our favorite memories of him. After a few tearful and happy-sad minutes, we prayed and thanked God for the gift that Moses had been to our lives and then we took Moses for his last road trip.
I wasn't planning on writing about this, it feels too intimate and awkward and fresh, not to mention, in light of other people's suffering, petty.
But my kids said something during the middle of all this that I thought was insightful, not because it was so profound, but because it is so common. They said something along the lines of, "we don't want another dog if it means having to go through this again."
Ash Wednesday and the Avoidance of Death
So today is Ash Wednesday…and Valentine's Day. Both days have their own awkwardness, in very different ways. Both days open up wounds in people for different reasons, and yet both days are connected.
There's a reason that every Christian wedding asks the couple to consider their death. Worked into our vows, the couple repeats after the minister that they will love each other till Death do us part.
Having been in ministry for 16 years now, I've done plenty of both weddings and funerals, and the most powerful moment in either of these ceremonies is standing at the coffin of a deceased brother or sister watching their spouse say a final goodbye.
It's powerful because you know what is behind that goodbye. It's years of compromise and sacrifice and service and joy and love and loss and now great, great heartache.
Turns out the addition of "Till death do us part" is relatively new-at least in terms of church history. Added in 14th century in the Book of Common Prayer, and ever since people have been making this rather morbid sounding promise in what is otherwise a moment of great happiness.
But I think the church, in Her wisdom, added this promise for good reason. The Church was trying to help young lovers realize the weight of what they were doing. Admitting their death, and pledging their loyalty until then, helped to bring clarity and gravity to what was really happening here. Death has the ability to bring life and love into focus.
Acknowledging that "from dust we are and to dust we will return" is to admit that we aren't God. That we are human, and in our humanity we are vulnerable created beings who are dependent on God for our life both now and in the age to come.
When Death Falls in Love
The Lutheran pastor Andrew Root talks about this extensively in his great book The Promise of Despair. Root points out that Christians, because of the Cross, are called to have a different relationship with death. "The disciple then is not the one who loves death, but who freely enters death to find its Lord. And upon entering death discovers the beauty of life."
Root isn't saying that death is good. In Christian theology it is the last enemy to be defeated, but until then, Christians are not to be afraid of death. We are called, Root says, to love in the face of death.
But that love is costly. And the true cost of love is death. More precisely, it is the ache of separation that death leaves in it's wake.
A good friend of mine said that after his father died, the best grief counseling he received told him that his grief was really his love for his father that he was unable to express because of the separation of death.
This is why spouses weep as they say goodbye to their loved one. They have practiced for decades to cultivate the kind of love that the Church calls a sacrament and now they can't express it.
The true pain of death is that we are separated from the ones we love.
Maybe this is why the apostle Paul, someone who was not unfamiliar with the pain of death, when trying to unpack the Gospel to the church in Rome, wrote this in his most famous letter"
"For your sake we face death all day long."
Which seems dramatic. Why would anyone be willing to do that?
[Because} I am convinced that neither death nor life, neither angels nor demons,[k]neither the present nor the future, nor any powers, 39 neither height nor depth, nor anything else in all creation, will be able to separate us from the love of God that is in Christ Jesus our Lord"
Paul knows that love can conquer death. But love in the words of Andrew Root, is only able to conquer death if love goes through death. Love is only able to conquer death by dying.
And since God was willing to meet us there, we will never be alone. We can never be separated from the love of God, which is what all other loves are only a distant echo of.
And since it was God who died, it was God who broke death. So since the first Easter morning, the whole world has waited for the final Resurrection.
When Death falls in love