It's Lent so it's a good time to repent, to turn from our sins and to receive the grace of God's transformative forgiveness. It's also a good time to turn to 1 Clement's call to repentance. Eleven observations about repentance based on 1 Clement.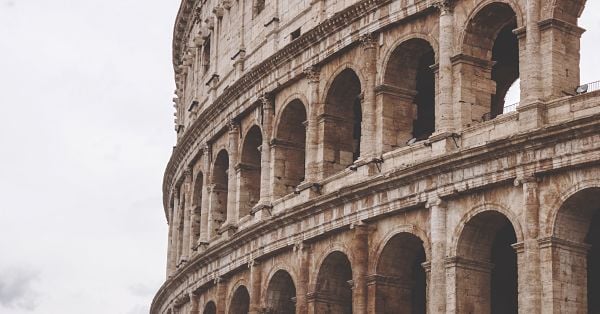 Our series on the Friday With Our Fathers (FWOF), using Michael Holmes, The Apostolic Fathers.
1 Clement 7:1–8:5 is a call to repentance, and is instructive on what repentance is and what it accomplishes in the grace of God.
The Roman Clement, writing to the divisive Christians in Corinth, turns to their need for repentance from their divisive sinfulness. It is (1) God's will for them to turn from sin. What we see here is that repentance is (2) for all.
1Clem. 7:1    We write these things, dear friends, not only to admonish you but also to remind ourselves. For we are in the same arena, and the same contest awaits us.  2 Therefore let us abandon empty and futile thoughts, and let us conform to the glorious and holy rule of our tradition. 3 indeed, let us note what is good and what is pleasing and what is acceptable in the sight of the one who made us. 
This repentance grace (3) comes to us from the cross of Christ, and that cross has "won for the whole world the grace of repentance." Repentance is prompted, so it seems, (4) by contemplating all over again what Christ has done for us.
4 Let us fix our eyes on the blood of Christ and understand how precious it is to his Father, because, being poured out for our salvation, it won for the whole world the grace of repentance. 
And here Clement turns to his focus: (5) the history of repentance in the biblical story. God grants repentance to those who turn to him. He turns to Noah and Jonah and then, in 8:1, to the "ministers" (leitourgoi).
5 Let us review all the generations in turn, and learn that from generation to generation the Master has given an opportunity for repentance to those who desire to turn to him.  6 Noah preached repentance, and those who obeyed were saved.  7 Jonah preached destruction to the people of Nineveh; but those who repented of their sins made atonement to God by their prayers and received salvation, even though they had been alienated from God.
Repentance in 7:7 is seen as (6) making atonement (
exilasanto ton theon
; a 3d p plural aor middle of "make atonement" or "propitiate") (7) by way of prayers (Sinner's Prayer anyone?!). Those who repented, further, (8) "received salvation" in spite of their alienation.  Pauline type of language then closes of chp. 7.
We turn to chp. 8. Both (9) the ministers and (10) God want repentance; God is not an ogre but God wants to show mercy to humans, to all humans.
First, the ministers. Are they Noah and Jonah or contemporaries? That he moves next to prophets, I suggest the priests of the temple (see 41:2), but I'm not sure. Anyone?
1Clem. 8:1    The ministers of the grace of God spoke about repentance through the Holy Spirit; 
Second, God, and here Clement cites three texts (Ezek 33:11 probably but not all that clear in source; then Isaiah 1:16-20; I add numbers in brackets):
2 indeed, the Master of the universe himself spoke about repentance with an oath:

[1] "For as I live, says the Lord, I do not desire the death of the sinner so much as his repentance." He also added this merciful declaration: 

3 [2] "Repent, O house of Israel, of your iniquity; say to the children of my people: 'Though your sins reach from the earth to heaven, and though they be redder than scarlet and blacker than sackcloth, yet if you turn to me with your whole heart and say "Father," I will listen to you as a holy people.'?" 

4 And in another place he says this: [3] "Wash and be clean; remove the wickedness from your souls out of my sight. Put an end to your wickedness; learn to do good; seek out justice; deliver the one who is wronged; give judgment on behalf of the orphan, and grant justice to the widow. And come, let us reason together, he says: even if your sins are as crimson, I will make them white as snow; and if they are as scarlet, I will make them white as wool. And if you are willing and listen to me, you shall eat the good things of the earth; but if you are not willing and do not listen to me, a sword shall devour you, for the mouth of the Lord has spoken these things." 
Ministers and especially God desires (or wills) for humans to repent from their sins. In fact, (11) it is part of the divine plan for humans to repent.
5 Seeing, then, that he desires all his beloved to participate in repentance, he established it by an act of his almighty will [esterixen to pantokratoriko boulemati autou].
Lent is a time of repentance; it conforms to the divine will.