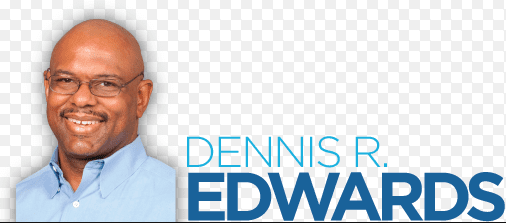 I am so excited to be able (finally) to announce this great great news, a colleague in the New Testament department at Northern!
Lisle, Ill.— March 18, 2018 — As part of Northern Seminary's continuing expansion, veteran pastor/author/church planter Rev. Dr. Dennis R. Edwards will join the faculty in Fall 2018 as Associate Professor of New Testament.
Dennis is a prominent Evangelical Covenant pastor, most recently serving in Minneapolis. A native of Queens, New York, he has pastored in major metro areas including New York City and Washington, D.C.
"Dennis brings a pastor's heart and a scholar's mind to the significant work of theological education. I'm thrilled our students are going to have the opportunity to learn from someone who understands the daily rigors of pastoral life and the important work of biblical preaching and teaching," said Northern's President and Professor of Pastoral Theology and Preaching Bill Shiell.
New Testament students will benefit from his fresh perspective. According to Scot McKnight, Julius R. Mantey Chair of New Testament, "Dennis brings nearly 30 years of pastoral experience, a PhD in New Testament where he specialized in the letter of James, a splendid commentary on 1 Peter in the Story of God Bible Commentary, and the gift of prophetic teaching. Northern is not simply adding a new professor but leaping into a new order of seminary education."
His training is broad and extensive. Dennis holds an M.Div. from Trinity Evangelical Divinity School, and has done post-graduate studies in Theology at Fordham University. He holds a Ph.D. in Biblical Studies from The Catholic University of America, Washington, D.C., and has been on the adjunct faculty of Bethel Seminary, North Park Seminary, and St. Mary's Ecumenical Institute (where he was a distinguished lecturer). He has pastored in urban settings and is committed to racial justice and compassionate ministries.
Dennis is eager to begin this new chapter of ministry. "It's with excitement that I anticipate joining the Northern Seminary community on a full time basis. I am honored to bring my education, experience, and curiosity to the Northern team. Northern Seminary is an environment where the interchange of ideas and the sharing of experiences in the service of Jesus Christ leads to the formation of people who will make a lasting impact for good in the world."
David Fitch, Betty R. Lindner Chair of Evangelical Theology, adds, "Dennis Edwards typifies what a Northern Seminary professor is: a premier biblical scholar, an experienced pastor/church planter and a national leader engaging the social moral issues facing the church today. I'm so glad to welcome Dennis to the faculty of Northern Seminary."
Dennis and his wife Susan have established a loving family including their four children. Previously ordained in the Mennonite Church, and now the Evangelical Covenant Church, Dennis has been Senior Pastor of the Sanctuary in Minneapolis, Minnesota.
Northern Seminary was founded in 1913 and continues to offer an educational context that is international, interracial, and intercultural. The Seminary educates students to lead the church and engage the world.