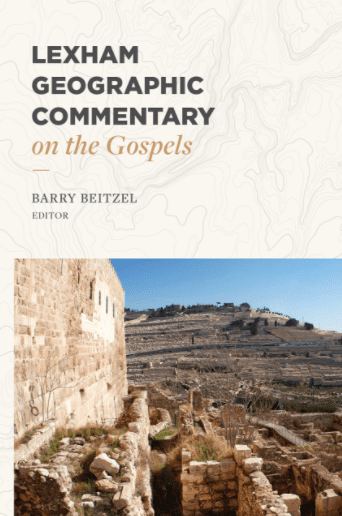 Bible scholars tend to be experts in languages and they focus on texts. But, but, but … there are other groups of Bible scholars who, as one of my old colleagues liked to say, get dirt under their nails. He then said, "I only want ink on my fingers." He was saying textual study is far more important than archaeology or geography.
Now that's where I want to begin. Lexham Press has a new book for those who love Jesus and Gospel studies: The Lexham Geographic Commentary on the Gospels, edited by my former colleague Barry J. Beitzel. This is quite an accomplishment.
Not easy to describe accept to say that all things geographical are covered here … right through all four Gospels… beginning with the birth and birthplace of Jesus … by a host of top notch scholars each intent on clarifying geography as it impinges upon the text of the Gospels.
I liked the chp on "Ministry in the wilderness" by Aubrey L. Taylor and "Locating the Baptism of Jesus" by Benjamin A. Foreman, who locates the baptism "northeast of the Sea of Galilee" in the Golan Heights.  There's a wonderful chp on domestic architecture in Capernaum by Elaine Phillips, and Carl Laney has a chapter on fishing in the Galilee, and plenty of material on Jerusalem for Holy Week sermons and teaching. And all kinds of pictures and maps and diagrams in color.
Mercy, one gem after another can be found in this book and I hope every seminary, every Christian college and every church library gets a copy.