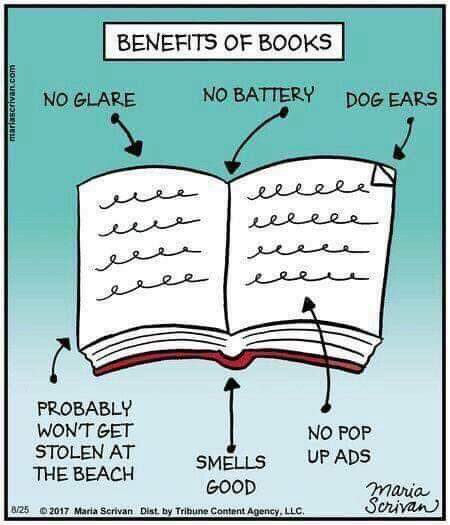 A book-loving family we are. (Thanks Ben.)
The little Puritanism we all need:
There was only one way to "avoid this shipwreck," in Winthrop's words: "We must delight in each other; make others' conditions our own; rejoice together, mourn together, labor and suffer together, always having before our eyes our commission and community in the work, as members of the same body." Doing that would encourage discovery that God would "command a blessing upon us in all our ways." Massachusetts could be made an example, not of a free and blessed people, but of what happens to a people who choose selfishness over love.

"For we must consider that we shall be as a city upon a hill. The eyes of all people are upon us. So that if we shall deal falsely with our God in this work we have undertaken, and so cause Him to withdraw His present help from us, we shall be made a story and a by-word through the world….[causing prayers] to be turned into curses upon us till we be consumed out of the good land whither we are going."

The Puritanism we might need more of includes some points Winthrop makes:

That diversity exists to draw us together in need and for common good.

That individuals differ significantly but our corporate identity matters very much.

That we are in this together for a high purpose.

That giving in to selfishness is may wreck the whole thing.
Bobby Ross Jr., James Macdonald, and TED:
(RNS) — For six years, two bloggers at a website called The Elephant's Debt have raised questions about an influential evangelical pastor and his Chicago-area megachurch, criticizing his leadership style and the church's finances.

Now, claiming that reputation-harming "false information" published by the bloggers caused 2,000 people to leave the congregation, pastor James MacDonald and Harvest Bible Chapel are fighting back — with a defamation lawsuit.

The suit names the bloggers, their wives and a freelance reporter writing about the church for a major evangelical magazine.

"We are indeed living in an age of rage, fueled by 'fake news' where the presumption of innocence has almost universally given way to the presumption of guilt," MacDonald wrote recently in explaining the lawsuit to the church's friends, including its 12,000 attendees at seven locations in Illinois.

"No more sitting by doing nothing while digital attackers ravage the body of Christ," the pastor added later in the online statement. Through a public relations firm, MacDonald declined an interview request from Religion News Service.

In a number of posts over the years, bloggers Ryan Mahoney and Scott Bryant have cited what they characterize as the "low character," "greed" and "love of money and power" of MacDonald, founding and senior pastor of Harvest Bible Chapel, which is based in Rolling Meadows, Ill. Mahoney is a former teacher at the church-affiliated Harvest Christian Academy. Bryant is a former Harvest Bible Chapel member.

The church disputes the way the bloggers have characterized MacDonald and their allegations about the church's finances. The lawsuit claims Mahoney left the church after his Harvest Christian Academy contract was not renewed because of his criticism of MacDonald's sermons. Bryant, the lawsuit claims, left "after being declined a teaching opportunity he repeatedly pursued." …

However, Roys has been working on an as-yet-unpublished investigative piece for World magazine, its editor-in-chief, Marvin Olasky, confirmed. That evangelical news magazine, published every other week, has roughly 65,000 paid subscribers.

"At World, we don't talk publicly about specific investigative stories until they're published, because we put them through intensive fact-checking and some fall by the wayside," Olasky said in an email to RNS. "We've run close to 100 investigative stories over the years and have never been sued, through God's grace, and we hope to maintain that record. Please pray for us.

"In general, with great numbers comes great responsibility," he added. "We regularly get reports from readers about problems in local churches, but we only take a deep look into concerns at megachurches."

The plaintiffs asked a judge for a restraining order to stop the defendants from publishing information about MacDonald and the church while the lawsuit moves forward.

"Defendants' false and defamatory statements have a negative impact on Plaintiffs' ability to convert new persons to the faith, maintain their congregation and raise the funds necessary to operate," the petition claims.

The judge denied the request.
Cults are systems of social control. They are insular but often evangelical organizations whose aims (be they money, power, sex or something else) are rooted in submission to a dogma manifested by an authority figure: a charismatic preacher or, say, a tenured professor. The relationship between shepherd and sheep is couched in unwavering commitment to a supposedly noble, transcendent cause. For the Living Word Fellowship, that meant "the Lordship of Jesus Christ"; for academia, "the production of knowledge." In both cases, though, faith ultimately amounts to mastering the rules of the leaders, whose infallibility — whether by divine right or endowed chair — excuses all else.

Looking back, the evidence was everywhere: I'd seen needless tears in the eyes of classmates, harangued in office hours for having the gall to request a letter of recommendation from an adviser. Others' lives were put on hold for months or sometimes years by dissertation committee members' refusal to schedule an exam or respond to an email. I met the wives and girlfriends of senior faculty members, often former and sometimes current advisees, and heard rumors of famed scholars whisked abroad to sister institutions in the wake of grad student affairs gone awry. I'd first come in contact with such unchecked power dynamics as a child, in the context of church. In adulthood, as both a student and an employee of a university, I found myself subject to them once again.

One department chair, who had trained as a community organizer in the 1960s, threatened to use the Freedom of Information Act to read graduate students' emails; she could have, too, since we were technically employees of the state. Elsewhere, a senior colleague propositioned my friend for a sex act I cannot name in this newspaper before the first semester at her new job had even begun; after she complained to her boss, she was removed from her position under other pretenses. I've seen grad students expected to put $16 whiskeys for their advisers on nearly maxed-out credit cards at the hotel bar of an academic conference. It's not unusual for academic job seekers to spend 10 percent of their annual income — the amount of a tithe — attending a single conference for an interview (including airfare, lodging, registration fees and incidentals). A peer of mine was even directed by her adviser to write a doctoral dissertation renouncing the subject of her master's thesis, a philosopher whose views do not align with the adviser's own. It should come as no surprise that the professor who made that demand is a white male alumnus of the Ivy League, and the student an immigrant from a working-class background.
When I was in college I was a religion major sure that seminary and ministry were my call. Knowing this, a professor assigned me (extracurricularly) Thielicke's A Little Exercise for Young Theologians (Eerdmans, 1962). It is still one of the most significant books I have read. I assign it to every seminary class I teach. It should be required reading for every theology student. Thielicke presents an image of the first-year seminarian home on break and asked to preach at his home church. The student, enamored with all he has been learning about God, wants so much to share what he has been learning so everyone can be dazzled by God. But in his excitement, the young theologian stays in the ethereal and uses all of his new and exciting vocabulary words. The result is that he does not so much dazzle as dizzy the congregation. Worse, the young theologian has forgotten one very important thing – the congregation, in their long experience of faithfulness, has a lot more wisdom and deep understanding of faith than he does. Thielicke says that the seminarian is left standing in the pulpit looking like a child in his father's suit, not yet grown into his theological britches.
Cardboard or anything but plastic!
Packaging designer Ryan Gaither believes in the power of cardboard.

At the Swedish-owned BillerudKorsnäs design lab in Portland, Oregon, he's laid down a massive sheet of it, as big as a king-size bed.

He flips the switch on a machine that zips around the cardboard, stabbing and cutting it like a robotic exact-o knife.

"Basically anything we create, any design we're looking to validate, we cut out with this machine," he says. "This lets us know if we're on the right track or on a fool's errand."

When it's done, he folds the resulting cut-out into a three-dimensional shape that's designed to replace the plastic foam end caps companies use to ship laptop computers. Gaither says inventions like this are helping the company build a growing customer list.

"I think now people are more concerned about the impact plastics are having on the environment," he says. "Paper packaging is a much more renewable resource. It biodegrades."

The growing number of campaigns to ban plastic waste are putting pressure on companies to find alternatives – not just for straws, but for all kinds of plastic packaging. So BillerudKorsnäs tests out products they hope to sell in the budding market for plastic replacements.