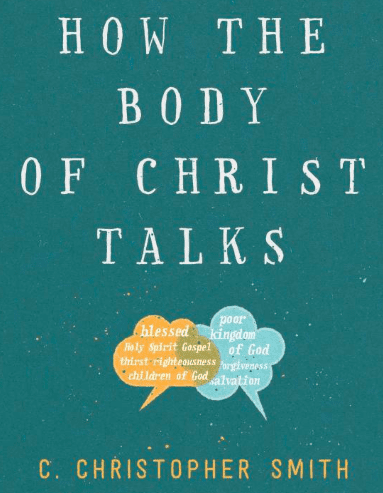 Last week I (re)posted on the art of conversation in preparation for this week's post on C. Christopher Smith's wonderful new book, How the Body of Christ Talks: Recovering the Practice of Conversation in the Church. The evangelical church's conversational style can be simplified to the term didactic while the mainline's approach is dialogical, and Smith and his church are seeking to embody the recovery of conversation as how the church can better be a body.
Let me ask you to think about doing this for one week: every time you are watching a talk show or even the news on TV and someone talks over someone else, or interrupts someone else, or begins barking louder to silence another … turn the TV off. You might be surprised how often this happen…
Churches could show a different way, but you might be surprised how difficult it might be because the art of conversation is not common. Smith describes this at his church:
We didn't realize the full effects of what we were doing at the time, but over twenty years ago my own congregation, Englewood Christian Church, located on the urban Near Eastside of Indianapolis, created a space in which the convictions of our members could be spoken and explored, and in which we began to know c one another more fully. In the mid-1990s, our church had a Sunday evening worship service that was rapidly dying off, but we didn't want to give up being together on Sunday nights. Someone suggested that we gather on Sunday nights for conversation about our faith in Christ. So we gathered and awkwardly tried to talk together, but we rapidly realized how deeply we had been formed by a culture that has little capacity for conversation. Our early conversations together were a hot mess: people sometimes yelled at each other and often were deeply sarcastic; some people left the church altogether; others remained in the church but steered clear of our Sunday night conversations. Maybe it was stubbornness that kept us going, but we persisted in conversation on Sunday nights—week after week, month after month, year after year—and we gradually found that we were coming to know and trust one another and, in the process, were maturing in our capacity for conversation.
Take this next line home:
Conversation has become a way of life for us over the past two decades.
The question…
The fundamental question that I wrestle with in this book, therefore, is: How do we learn to talk together in our churches when we have been formed by a culture that goes to great lengths to avoid conversation?