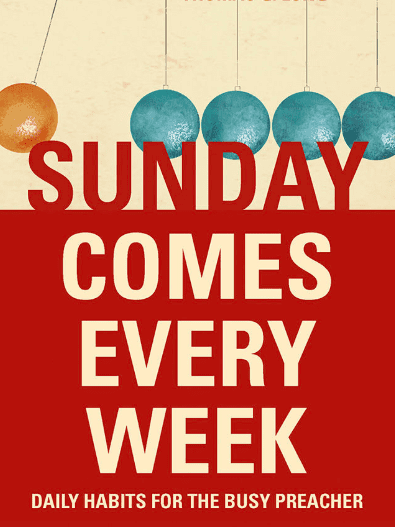 The biggest difference between a professor who preaches or an author who preaches is that the professor or author doesn't know the congregation. That makes all the difference for the local pastor's preaching, and the Wednesday chapter in Frank Honeycutt's Sunday Comes Every Week is all about Exegeting — beginning with the congregation.
Which led Honeycutt to one story after another about the quirkiness of the people in his congregation. Quirky is the right word, and not a few unsavory wishes by the pastor!
He believes pastors need to be "human weathervanes." Pointing to humanity's realities and pointing real humans to God. Something like that.
Sermons don't occur in a vacuum. They occur with very real people whose joys, sufferings, questions, annoying habits, infidelities, voting proclivities, gossip, sacrifice, glaring sins, faithfulness, and hearts for community service make up the diverse and sometimes-maddening body known as a congregation. And, to top it off, they've called a sinner with some of the same personality traits to be their pastor.

As a sermon theme begins to take shape—usually by Wednesday, if you've been attentive to the disciplines described earlier in the week—it is vitally important to bring into your imagination the specific people who will eventually hear the Word forming in your pastoral heart and soul. Churches are filled with some of the best people you'd ever want to meet, and also some of the most annoying. This is undoubtedly testimony to the creative power of the Spirit and the timeless message of a man who once said, "And I, when I am lifted up from the earth, will draw all people to myself (John 12:32). This is a wonderfully inclusive statement, but one that can test a pastor s patience when enacted practically on the congregational level. If "all" people are drawn, chances are that some of them will be difficult.
Being a weathervane requires speaking the truth in love, which is not always received happily — some leave over nothing less than the solid content of what Scripture teaches. He advocates befriending, as well, the skeptic.
Good story about Andy, his skeptic friend, his atheist friend, with whom he has carried on correspondence for forty years. Hundreds of letters, letters that have honed Honeycutt's pastoral skills and theology.
My pastoral writing interests have taken clear shape because of Andy. I am passionate about the historic catechumenate, offering candidates a protracted catechetical process prior to baptism, convinced that the "express conversion" practiced in many churches helps neither the convert nor the congregation. Newcomers to the faith need plenty of time to ask questions and ponder the cost of discipleship. Oddly, Andy taught me over the years that a quick baptismal splash into the arms of God is possibly not authentic, given the rather strange life into which Jesus invites followers.
Preaching emerges from pastoring, and pastoring from pastoring real people, and that's why Honeycutt offers this advice:
Invest time in unhurried conversations with a variety of people, inside the church and outside, who will teach you how to listen for how they arrived at certain convictions, and along the way will invite you to articulate what you believe and how you came to believe it. These conversations will powerfully shape the themes that surface in any preaching text and the words you choose for proclamation. Again, take the Bible lection for your Sunday sermon with you into these conversations, even if you never refer to it.
Sermons, because they emerge from pastoring people, are never quite done. He quotes Tom Long that "Preachers do not preach because the sermon is finished; they preach because it is Sunday. The time has come."
He urges pastors to take notes constantly — tying the Sunday text to events throughout the week. And he urges saving the notes… over time they come in handy.