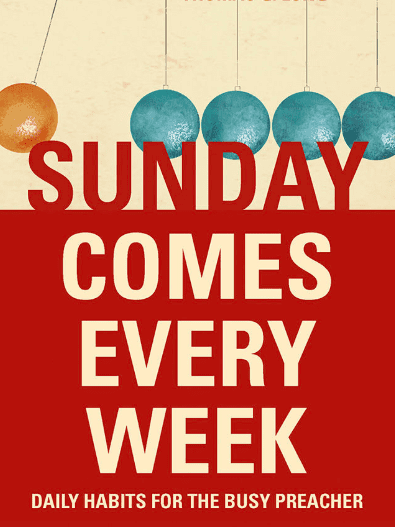 The Sunday of a week of pastor and preparing for preaching chapter in Frank Honeycutt's Sunday Comes Every Week suggests the sermon can be reconceived as an offering.
This book is striped page by page with wisdom. Buy it, read it, learn from it.
Honeycutt:
"I appeal to you therefore, brothers and sisters, by the mercies of God, to present your bodies as a living sacrifice, holy and acceptable to God, which is your spiritual worship" (Rom. I2:i).

The familiar adverb "therefore" in this verse is a deceptively complex word in that it refers back to the previous eleven chapters in Romans where Saint Paul makes powerful and theologically complex arguments concerning our justification (3:28); baptismal death in Christ (6:1-11); our inability to save ourselves (7:14-25); and new life in the Spirit (8:1-39) • As Christians we risk offering our "bodies as a living sacrifice" not to get God to love us any more than we are currently loved, but because the offering now springs from the theological truth that we have already died in baptism and can radically offer our lives back to the God who birthed us newly. We have died to self-improvement, merit-based reward, and fear of death itself. We slowly loosen our cautious grip on the things that were paralyzing us. This is the joy of worship, a story cyclically retold through the power of the church year. We offer our bodies on an altar "as a living sacrifice" because Christ has led the way. We make the sign of the cross (Luther's favorite liturgical gesture) as a reminder that in baptism we have been liberated—from death and for ministry—to now live sacrificially and without fear.

All authentic preaching is a response to what God has done and what God is doing in Jesus Christ.

Preaching is an offering rooted in the offering of Christ, in turn inviting an offering from those who listen and ponder in the silence that brought them to worship in the first place.
What you offer in your sermon will not always be good or liked. It may fall flat; it may elicit anger.
One ongoing pastoral task is to help a congregation come to terms with the word "Lord." Our first and primary allegiance is offered to Jesus, regardless of risk or cost. Christians have a single Lord. Americans live in a current climate where political expediency can sometimes unconsciously supersede this primary allegiance. Lectionary preaching will (over time) serve to reorient a congregation to a voice more important than any president or any authority. There is a pastoral art to clearly preaching his gospel words in an era of fake news, lies, and political deception.

Don't take it personally. You're probably on the right track when people get mad. In actuality, they're often angry at Jesus. A pastor is his proximate spokesperson.

C. H. Spurgeon (1834-1892), who preached in London for thirty-eight years, once said: "I have tried, especially of late, to take no more notice of man's praise than his blame." Spurgeon's striving is admittedly difficult and sometimes isolating, but an important consideration because a pastor ultimately serves Christ and the apostolic tradition rather than a specific congregation. Pastors sign on for a career of feeling a little out of sync with the good people we are called to lead.