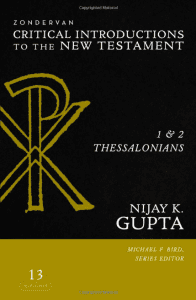 As someone who has written a few commentaries I can witness that the Introductions can be endless discussions, incorporating exegesis as well, and constant listings of scholars and their views … and the Introduction can easily take over. Let's put it this way: some Introductions consume a hundred pages or more. Some have grown so wearied by the Introductions they put the "introduction" at the end of the commentary!
There's a way to put a big pause on such lengthy introductions: write up a full book on the Introduction!
Which is what Zondervan is now doing, with Michael Bird as the series editor.
The first volume to appear in the Zondervan Critical Introductions to the New Testament is by Nijay Gupta on 1 and 2 Thessalonians. 320 pages. One finds here an impressive grasp of literature while composed with utter clarity.
Here's what Nijay covers with wise and careful description and argument:
Text
Background
Situation
Date
Authorship
Themes
History of Interpretation
Every library, every professor of NT, and every pastor who preaches 1-2Thess needs this volume on the shelf. It will save many much time. It's all here — for ten years or so.