Of the making of multi-view books there seems to be no end. I think the books began at IVP and then migrated for full-blown efforts to Zondervan, with a few other publishers involved as well. The genre had made for good books for students and pastors and classroom discussions. Most of them are quite accessible, and the introductions to them have mapped the territory for the readers.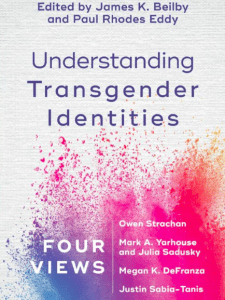 James K. Beilby and Paul Rhodes Eddy's book, however, doesn't quite fit the genre as a multi-view book. Called Understanding Transgender Identities: Four Views, the views don't always match up to a labeled viewpoint and the audience is academics and even specialists. [#ad] One would have to have a very serious interest in transgender studies to read this book. Kris, a psychologist, found it to be far more academic than what she as a practitioner would want to read.
The "introduction" is more of a survey of the scholarship; it is 54 pages with 246 footnotes, and it has so many terms to define (they are in bold face) that a glossary, which may well become one of the more valuable features of this book, is required.
The viewpoints can be mapped on a spectrum, from something like the traditional view that would not affirm dimensions of gender dysphoria or transitioning, to a transitioned person. For my money, I'lll use the categories of Mark Yarhouse and Julia Sadusky who enter this discussion through three lenses: integrity (a traditional binary intent of God), disability (one that brings in the Fall as creating dysphoria) and diversity (one that affirms gender diversities).
On this map, we move from Owen Strachan to Yarhouse and Sadusky to Megan K. DeFranza and then to Justin Sabia-Tanis.
The books is laced together with civility while there are some strong disagreements, which never boil over. Civility aside, the book remains a textbook for mostly Christian graduate studies in sexuality.