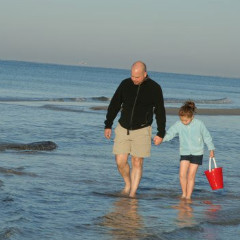 If you have kids, you know that discipline is inescapable. Without discipline they will talk with their mouths full, smart-talk their elders, punch their siblings, wear their underwear three days in a row, play in busy streets, tease animals, ignore their homework, and tell off-color jokes.
At least that's what I did.
Because children can be so foolish (childish?), Dr. D. Ross Campbell says that many parents "conclude that discipline is the basic and primary way of treating a child." I gave my parents plenty of reasons to think so. But in his now-classic parenting book, How to Really Love Your Child, Campbell challenges that notion and argues that the basic and primary way of treating a child is with love. "A child is the most needy person in our society," he says, "and the greatest need is love."
This may seem obvious, but it's also a bit tricky. Our children are not blank slates. They have their own temperamental dispositions, whether they are, for instance, more positive, adaptable, distractable, etc. Loving parents can positively shape and influence these dispositions. But, as the cliché goes, love is a verb, not a feeling. Campbell suggests that too many parents feel lovingly about their children and feel as if they are exhibiting this love but are in fact not very successful in doing so.
He says that parents (particularly men) must take the initiative in demonstrating unconditional love. "By our behavior a child sees our love." Childrearing is fundamentally an interactive and dynamic enterprise. Kids learn what we exhibit, so if we fail in demonstrating love, then they learn behaviors that negatively condition their natural temperamental dispositions.
Campbell says that love should be demonstrated by three emotionally-gratifying means: eye contact, physical contact, and focused attention. My kids are both very affectionate, and the first two are not difficult for us, but I personally find the third one a challenge.
I've written before
about Gordon MacDonald's book
Ordering Your Private World
; budgeting time is as crucial in parenting as it is on the job or anywhere else. The tyranny of the urgent (or the tyranny of the tired) can squelch almost any opportunity to demonstrate love if given the chance.
What really hit me about Campbell's argument is how it ties into a serious concern of mine—passing on my faith to my children and having it take root in their hearts. It's the concern of almost every Christian parent. I've written before about how cultivating virtue protects against unbelief. Here's another angle: Parenting is more about evangelism than it is about discipline. And, as is true for evangelism, love is the key.
This isn't a question of permissive parenting so much as perspective and priorities. "A child who does not feel genuinely loved and accepted," says Campbell, "has real difficulty identifying with parents and their values. Without a strong, healthy love-bond, a child reacts to parental guidance with anger, hostility, and resentment." What if by inadequately demonstrating love I am actually acting as an impediment to my children's belief? What if they have "real difficulty identifying" with my faith because of me?
Thinking about those questions makes one thing very clear and certain: Good parenting isn't just a question of making sure kids are respectful and well-mannered. It's loving them into the arms of Christ.