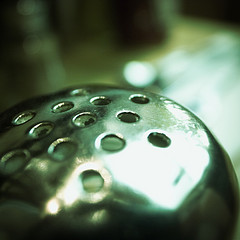 Whether it's the political activism of the eighties and nineties or the social activism of today, Christians want to make a difference in the world. But are we starting in the right place?
Often we see a crisis or a need and jump to fix it. We raise funds, join a movement, buy a T-shirt, send our tithe, blog, campaign, distribute voters guides, do all kinds of things — many of them good. But they're not enough. All those things are externally focused, which is only half the picture.
"The strongest weapon in the world," says Peter Kreeft in How to Win the Culture War, "is sanctity. Nothing can defeat it."
For Christians to really make a difference, we need to join our desire to right wrongs in the world with a desire to right our own hearts. Holiness matters. And sanctification, the process of increasing in holiness, matters for more than ourselves. One of the ways we fight poverty is to become poor in spirit. One of the ways we reduce the power-hungry is to become meek. We cannot bring the kingdom to bear on the world if our hearts are not subject to the king.
Jesus' warned about that in the Sermon on the Mount. "You are the salt of the earth," he said, "but if the salt loses its flavor, how shall it be seasoned? It is then good for nothing but to be thrown out and trampled underfoot by men." Holiness has real power. But if Christians are not holy — and are not striving to become more so — our efforts are empty and meaningless, salt with no savor.
So what's stopping us?
What's preventing us from being poor in spirit, from being meek and merciful, from being people who hunger and thirst for righteousness as well as people who mourn, from being peacemakers, from being pure in heart, from being people willing to suffer persecution for righteousness' sake? Kreeft answers the question by quoting from a book by William Law, A Serious Call to a Devout and Holy Life:
If you will look into your own heart in utter honesty, you must admit that there is one and only on reason why you are not, even now, as saintly as the primitive Christians: you do not wholly want to be.
Wow. Kreeft calls the statement an indictment, and it is. Here's what's tricky. By focusing on the externals — what we've done for this cause or that — we can dodge the charge, ignore it, push it aside and behind us. Our good deeds serve as masks for bad lives. But masks eventually slip.
Do-good activity unmatched with holiness always peters out. Real change in our world comes with real change in our hearts. To make a lasting difference, we have to work on both.