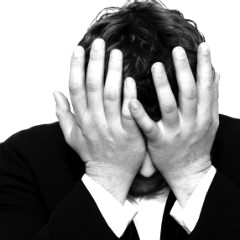 To grin and bear something means to tolerate it, put on a happy face and ride out the discomfort. After all, it'll be over soon enough. That's a perfectly practical way to deal with half the difficulties in life. But what if you could manage to respond with love instead of mere tolerance or reluctant acquiescence? What areas of life might improve with the switch — work, family, everything maybe?
What started this train of thought was a line I encountered in a letter from John of Gaza. John was a monk who lived in sixth-century Palestine in a monastery near the cell of his friend Barsanuphius. The pair is best known for their prolific correspondence, counseling, advising, teaching, and encouraging inquirers.
In this particular instance, a man wrote to say that a fellow monk (make him a colleague, a client, a friend, or a sibling for applicability's sake) had done something extremely irritating but not sinful. What should he do? How should he respond?
John's response caught me off-guard. "[I]f you speak simply in order to give rest to your heart, then it is to your defeat," he said. "For you were not able to endure it as a result of your weakness," continuing, "Just blame yourself and be silent."
Seems a bit harsh, but it got me thinking: How much frustration, aggravation, and irritation to do I face because I'm weak? My kneejerk reaction is to think that my suffering is another person's fault. If she would stop doing X, Y, or that very annoying Z, then I'd be fine. But maybe the problem is me. Or let's just be more forthright here: Usually the problem is me.
As I was owning up to this fact, the verse that kept looping through my mind was from 1 Corinthians's great love passage in which the Apostle Paul says that love "bears all things" and "endures all things." He says nothing about how love grouses or complains even in a few, little, peevish things.
Earlier in John's life, before he came to the monastery in Gaza, he received a similar letter from Barsanuphius with whom he corresponded. Though John faced difficulty, Barsanuphius encouraged, "[W]hether we find what we want or not, we should offer prayer and thanks to God." Unless you want to
wreck your life
, we should
give thanks
no matter how things turn out, good or bad, pleasant or frustrating.
But more than that — or as a very significant part of that — Barsanuphius added, "[S]ee that you bear 'the dying of Jesus in your body' (2 Cor 4.10) in everything."
That's a twist. Or is it the link?
Here's a bit more of Paul's thinking from the 2 Corinthians 4 passage: "We are hard-pressed on every side," he says, "yet not crushed; we are perplexed, but not in despair; persecuted, but not forsaken; struck down, but not destroyed — always carrying about in the body the dying of the Lord Jesus, that the life of Jesus also may be manifested in our body."
Love lays itself down for the other, just like Jesus did, in every circumstance, however adverse. That's how it bears all things and endures all things — the irritating, aggravating, frustrating, annoying, difficult, maddening things, along with things much, much worse.
This is not to say that certain circumstances do not present real problems that need to be addressed. Other letters by Barsanuphius and John assume as much, and our professions and families and friendships provide plenty of real-life examples. But how often is our weakness and self-concern the real issue? For me, I'd say plenty.
Grinning and bearing might get us through from time to time, but working more toward loving and bearing would be a great improvement.
Question: How do you think that pausing to reflect upon loving in a moment of frustration might affect your reaction?