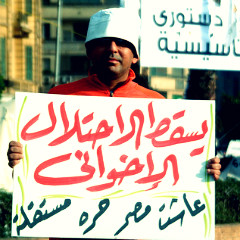 Egypt has approved a new, pro-Islamist constitution, and while Christians prepare to celebrate the Nativity of Christ they and other minorities foresee bleak and repressive days ahead.
Voter turnout in the two-stage nationwide referendum was reportedly limited, and Christians were particularly underrepresented, "as low as 7% in some areas," according to one report.
Intimidation by Islamists kept many from the polls. In one instance, an estimated 50,000 pro-constitution marchers swept through Christian areas of the city of Assiut before the election. Men on horseback with swords led the way — evoking the seventh-century Muslim conquest — as marchers chanted that Egypt would be "Islamic, Islamic, despite the Christians."
Christians make up about 10 percent of the Egyptian population and can trace their history back to the evangelism of the Apostle Mark. Despite this claim to the region, the ascendant Muslim Brotherhood brooks no disagreement, and their reactionary and repressive mood is reflected in the constitution itself — certain articles of which Coptic patriarch Tawadros II has called "disastrous."
He's not alone.
"The first few constitutional articles — the foundation of Egypt's new legal framework — are especially frightening once the implications are assessed and the articles are viewed in context of one another," says Arizona Congressman Trent Franks, who co-chairs the bipartisan International Religious Freedom Caucus.
Hudson Institute scholar Samuel Tadros offers an article-by-artcle analysis of the more troubling aspects here. Under the new charter, he says, the rights of Christians and other religious minorities are "undermined beyond salvage."
Any group whose interests misalign with the Muslim Brotherhood has reason for worry.
The constitution limits what meager religious rights it dispenses to only the so-called "heavenly religions," Islam, Judaism, and Christianity. Other groups, such as Baha'is, are denied the freedom to worship.
And more than religious expression is endangered. A new report from York University, "Out in the Open: Artistic Practices and Social Change in Egypt, Libya, Morocco and Tunisia," underscores the censorship faced by artists, despite their initial enthusiasm during the Arab Spring uprising.
"A lot of things have been stopped and censored," says filmmaker Karim el-Shennawy, who had originally joined the Tahrir Square protests. "This can get worse." And says playwright Ahmed el-Attar, "I'm afraid the country is sliding toward fascism."
Coptic Christians celebrate Christmas on December 25, but like many nonwestern Christians that day falls on January 7 on our modern Gregorian calendar. As we leave Advent's preparations for Nativity celebrations, let us not forget our brothers in Egypt who still await His coming. Let us add prayers for mercy to our moments of cheer.
Lord, have mercy.