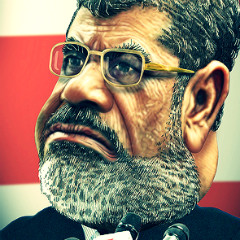 A Christian schoolteacher in Egypt has been detained by authorities for allegedly insulting Islam and Muhammad. Demyana Emad is twenty-three and teaches social studies at the Sheik Sultan Primary School in Luxor. She denies the charge and claims extremists urged students to falsely accuse her.
The allegation is troubling. Last year another Christian teacher, Bishoy Kamel, was sentenced to six years in prison on similar charges, including insulting Egyptian president Mohamed Morsi. Covering Kamel's story, reporter Leone Grotti mentioned the 2007 case of a man convicted of insulting dictator Hosni Mubarak. His one-year sentence was met with protests. "Today, however," said Grotti, "no one raises his voice."
Conformity is the supreme value for the Muslim Brotherhood, and the response to Christians and political dissidents has been an ongoing but intensifying crackdown.
"In recent months, there has been a notable increase in judicial harassment of opposition activists, bloggers, comedians, protesters, and others," reports Amnesty International. "News about fresh charges of insulting President Mohamed Morsi or other officials, or of 'defaming' religion — as well as sweeping arrests of opposition protesters — are now the norm."
By way of example, the BBC reports that authorities
have arrested
April 6 Youth Movement leader Ahmed Maher. A participant in the protests that brought down the Mubarak regime, he has since been critical of Morsi's government.
"Now we are being treated as traitors and our image has been tarnished and we are sent to prisons by those we defended," Maher said on his website.
As bad as things might have been under Mubarak — and they were very bad — free speech has taken a greater drubbing under Morsi. "[M]ore journalists have been prosecuted for insulting the president during Morsi's ten months in office than during Mubarak's thirty years in power, and many of these individuals are also being tried for insulting Islam," said Eric Trager in the Atlantic.
Trager pointed to a recent Brotherhood fatwa that banned Muslims from saying "Happy Easter" to Christians. The statement is theologically incorrect and therefore verboten, according to the fatwa — a horrifyingly far-reaching bit of logic that could squelch all sorts of speech.
Coptic Pope Tawadros II has objected to the increasing Islamification of the government. "Egyptian society refuses religious formation of the state," he recently told Al-Nasr magazine. "What was established by Muhammad Ali nearly two hundred years ago was a modern civil state that respected pluralism."
That vision is long gone.
Side note: Persecution resources

For a thorough report on Christian persecution in Egypt and other hotspots like North Korea, Iran, and Pakistan, see the recent book from Paul Marshall, Lela Gilbert, and Nina Shea, Persecuted: The Global Assault on Christians.

And for up-to-the-minute coverage, see Marshall, Gilbert, and Shea's news aggregator, PersecutionReport.org.