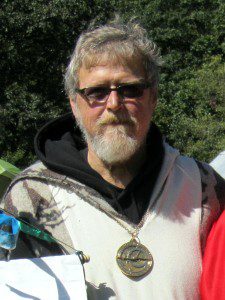 Fellow OBOD Druid James Bianchi passed from this world to the next on Monday night.  He had been in hospice care for a short time.  I don't know all the medical details – at this point they don't seem very important.  What's important is that a good friend has died, but he will be remembered.  (A full obituary is on today's Wild Hunt)
I first met James at the 2009 House of Danu Gorsedd in California.  James was the Gorsedd Master – I was attending my first Druid gathering ever.  I remember how James made me feel welcome from the first time I met him.  I remember his off-beat humor and his flare for the dramatic:  whenever he wanted to get everyone's attention in the dining hall, he'd shout "Tuatha De Danann!"  But there was purpose behind the drama – he really wanted everyone to feel like we were spending an extended weekend in the world of the Gods.
He had big dreams for our Druid community.  A week after the Gorsedd, James sent a letter to all the participants.  It began:
You will always know that you were there when it happened. Finally, it was your time, your place, your light that enhanced the glow. The first Gorsedd of the House of Danu marked a sea change in the emergence of the Druid Diaspora in the West. Many changes in Druid culture will trace their emergence to this event. You were as a stone tossed into a pond that will make ripples for generations.
Building a community is never the work of one person. A lot of people put a lot of work into planning and facilitating the Gorsedd and James called them by name in the letter.
I saw James again at the 2010 Gorsedd.  This was a much smaller gathering than the 2009 event.  James blamed it on the bad California economy – I blamed it on the lack of headlining Druids (Isaac Bonewits and John Michael Greer were part of the first Gorsedd).  James was disappointed in the low turnout, but that didn't keep it from being an amazing spiritual and magical experience.
I remember his drumming in the evening and flute playing early in the morning.  He loved both.
We met again at the 2012 East Coast Gathering.  This time James was a participant and not an organizer, but most of the conversations I had with him were still centered on community and how we can best build it.
I finally got around to asking him about the large medallion he always wore with his Druid robe.  It's an astrolabe, an ancient astronomical instrument.  James said he wore it to emphasize Druidry's commitment to science – I've always appreciated that.
I saw James for the last time at Pantheacon 2014.  He heard I was coming and made sure I had a part in the House of Danu ritual.  I wasn't sure I was going to get to see him.  James had been in the hospital earlier in the week, but through good doctors and the force of his own will, he made sure he was there.  His ideas about ritual were very different from mine, but it was full of energy and joy.
James was a lawyer in the ordinary world.  We never discussed his professional work, but considering how well the Gorsedds were organized and the way he cared for people, I have to think he was a good one.  At one point a mutual friend found himself in a difficult situation and James thought I could help, so he picked up the phone and called me.  He knew he couldn't do it all himself, so he brought others into projects whenever he could.
James, you're a good friend and a fine Druid.  Enjoy your time of rest and reunion in the land of the Gods and ancestors, and know that you will be remembered here.