Nine Things I Think is an irregular feature whenever I have a list of things I want to talk about that aren't long enough for their own individual posts.  There's no theme, just nine things I want to bring to your attention.  Feel free to expand on any of these topics in the comments section.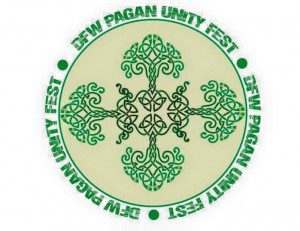 1) There is no Pagan Pride Day in North Texas this year.  There is, however, a Pagan Unity Fest, which will be held next Saturday, September 5 from 10:00 AM to 6:30 PM at the Arlington UU Church, which was the site of last year's DFW Pagan Pride Day.  There will be the usual assortment of vendors, musicians, dancers, workshops, and rituals.
I'll be speaking on "Worshiping Fearsome Gods" at 11:55 AM.  If you're in the area, come out and spend some time with your fellow Pagans.
2) The nearest official Pagan Pride Day is in Austin.  It will be Saturday, November 14th at the Zilker Park Polo Tables.  Austin PPD says:
We foster pride in Pagan identity in Central Texas. Each year we celebrate our identity by hosting a religious acceptance event and inviting the non-pagans in the city to be our guests and learn about paganism, dispelling any myths and cultural misconceptions about who we are. We make ourselves accessible for questions and understanding. It will be our pleasure to meet you, come join us!
3) There is finally an OBOD Seed Group in North Texas.  River of Stars Druid Fellowship was recently formed.  Their first public event will be Alban Elfed (the Autumn Equinox) on Saturday, September 26 at the UU Church of Oak Cliff (which, coincidentally, was the site of Pagan Pride Day in 2010 and 2011).  Another event is booked for the main sanctuary – the Druids will be in the wooded space outdoors… which is very appropriate for Druids!
The event begins at 2:00 PM with a meet and greet.  A meditation will be held at 3:00 and the ritual will begin at 4:00.  A potluck dinner will follow.  The organizers ask that if you're going, please RSVP on their Facebook page so they know how many to plan for.
If you're an OBOD Bard, Ovate, or Druid, or if you're just interested in OBOD Druidry and Nature spirituality, come out and be a part of the first official OBOD ritual in North Texas.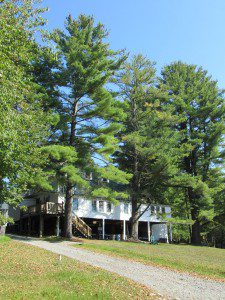 4) Keeping with the OBOD theme, in less than three weeks I'll be back in Pennsylvania for the OBOD East Coast Gathering.  This will be my fifth year at the ECG.  I'm looking forward to seeing friends I only see once or maybe twice a year, talking with Damh the Bard and Kristoffer Hughes (mainly listening while they talk!), enjoying the beautiful hills and trees, and spending a long weekend immersed in Druidry.
The East Coast Gathering sold out less than 24 hours after registration opened and I would expect something similar next year.  However, we had plenty of room at this year's inaugural Gulf Coast Gathering and while I expect a bigger turnout in 2016, I wouldn't expect it to fill up so quickly.  If you're an OBOD member and you're looking for a camp in the United States, consider joining us for Alban Eilir (the Spring Equinox) March 17-20 at Fontainebleau State Park in Mandeville, Louisiana.
5) My local spiritual home is Denton CUUPS.  As I've said on numerous occasions, we're not your typical CUUPS group:  we're older and larger, and we have a much stronger public presence than most CUUPS chapters.  We also have more polytheists.  This means I talk about our work to a lot of folks who aren't familiar with CUUPS.
In a conversation at Many Gods West, the Anomalous Thracian told me that when I say "Denton CUUPS" what he hears is "Dented Cup" and he imagines a chalice with a dent in it, but that's still beautiful and functional.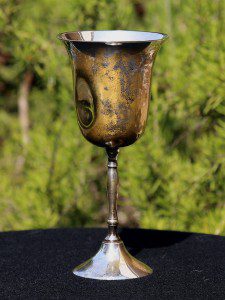 And so I present to you the Dented Cup.  It's been used in countless Denton CUUPS rituals to offer wine and other libations to various Gods and spirits, and occasionally to share the blessings of the Gods in a small gathering.  The tarnish is authentic – it's one of the first magical tools I bought when I began exploring Paganism over 20 years ago.  The dent is a new addition… I rather like it.
6) Gordon White at
Rune Soup
is a chaos magician who's the answer to "one of these things is not like the others" when you look at the blogroll on the right side of this page.  But he's informative and entertaining even when he's writing on conspiracy theories or UFOs (and I'm in awe of his photos) so I read him regularly.  And occasionally he brings insight into matters we're discussing here.
Gordon's post from last week is very relevant to our current discussion about terms and meaning:
Semantic drift is the tsunami-warning klaxon that should see you seek the higher ground. Not even terms that come across to us, dusty with age and shiny with use; like tulpa; can avoid the warp and diminution of their indigenous meaning. When hurled into the gaping maw of monoculture, everything becomes a dreamcatcher – a commodified cultural orphan best used for entertaining the children on a wet weekend.
The Pagan internet can turn into an echo chamber at times – it's good to read perspectives that share our non-mainstream worldview but that approach it from a completely different angle.
7) After years of years of saying "I can't afford it" and whispering "and I can't deal with the crowds" I finally went to Pantheacon in 2014.  I had a great time.  The workshops and rituals were good, but the main attraction was seeing and talking face to face with friends I see regularly on Facebook but rarely in person.
I managed to deal with the crowds just fine, but it really is an expensive trip – one I can't make every year.  But I'm going back next year – I'm already registered for Pantheacon 2016.  I also turned in a proposal to lead a workshop – we'll see if I make the cut.
8) Donald Trump is leading the Republican primary because he's saying what some people think but are afraid to say.  But Trump has the blind spot I've seen in many powerful people:  he thinks he has all the answers and solutions are as simple as forcing people to do what he wants.  That simple, black and white, good guy / bad guy dichotomy is very attractive to a lot of people, particularly people whose lives are both difficult and complicated.  Would-be dictators get elected all the time in other countries – don't assume it can't happen here.
Now, I don't think it will happen here.  Contrary to the memes some of my liberal friends are circulating around Facebook, I don't think Trump speaks for average Republicans… and I know he doesn't speak for the Republican establishment.  Trump is currently leading the pack at 27%, but once the voting starts and candidates start dropping out, I expect their supporters to flock to other traditional candidates and not move to Trump – I think he's got about all he's going to get.
I don't like Donald Trump and I think his politics are all wrong, but I have to admit it's refreshing to hear a politician say what he thinks instead of what his handlers tell him will get the most votes.
I'm still voting for Bernie Sanders.  He's pretty plain-spoken too, and unlike The Donald, he makes a lot of sense.
9) Are you ready for some football?  I know a lot of you are too cool for sports – much less football – and it is a game of excess and brutality, but I love it.  College football starts this Thursday and the NFL starts next Thursday (September 10).  Dallas opens against the Giants on Sunday Night Football on September 13.  This time last year I was expecting more mediocrity from the Cowboys – they ended up going 12-4, winning a playoff game, and coming within a catch that wasn't a catch because of a bad rule from the NFC Championship Game.  This year I'm expecting a good season, but you just never know.  I'm just glad football is back.
That's what I'm thinking – what about you?