I haven't done a Nine Things I Think post in over two years. I started the series in 2013 – I thought it would be a good way to cover things that aren't long enough for their own individual posts. I stopped in 2017 because they weren't well read, and because I've had no shortage of blog-length topics to write about.
But now I have another list of short things I want to talk about, so it's time for another Nine Things I Think.
1. Paganism In Depth – A Polytheist Approach. My second book was released for sale on June 8. The title is very descriptive of the content – it's a "next level" Pagan book that goes deeper, from a polytheist perspective. It covers the ideas, concepts, and principles on which my Paganism is built. It has a strong emphasis on practice – all the things we do on a regular basis that build our skills and strengthen our relationships with our Gods and spirits. And it addresses many of the challenges we face in moving from a casual Paganism to a deep Paganism.
Paganism in Depth is available from Amazon, Barnes & Noble, Llewellyn, and at selected book stores and magic shops. If you see me at a Pagan gathering I'll have copies to sell, and I'll be happy to sign your book no matter where you bought it.
2. Paganism In Depth – the on-line class. Do you want to take your Paganism deeper? Do you want to explore polytheism with guidance from a practicing devotional polytheist? Then sign up for Paganism In Depth – the On-line Class. This will be a six-week class based on the new book. It wasn't written as a textbook, but I think we can use it for that just fine.
Each week will have a video presentation delivered on-demand. Classes will have reading, practice, and writing about what you experience. None of that is mandatory – if you don't want to do the homework that's your business. But if you go to the trouble of doing it, I'll go to the trouble of reading what you turn in and offering feedback.
The cost is $50 for the entire 6-week series, and there will be a limited number of scholarships available for those experiencing financial difficulties.
Sign-up begins July 5 – look for announcements here, and on Facebook and Twitter. The class begins August 1st.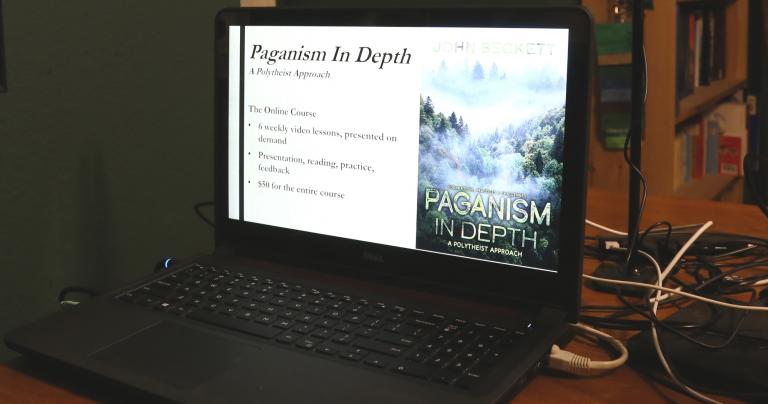 3. Mystic South – workshops. I'll be at the third annual Mystic South conference in Atlanta July 19 – 21. It's quickly become my favorite Pagan conference. Here are my comments on last year's gathering, and on the inaugural gathering in 2017.
This year's headliners are Lilith Dorsey, Sangoma Oludoye, and Jason Mankey, and Tuatha Dea are the musical guests.
I'll be presenting "Connecting to the Land Where You Are" on Friday at 12:30 in the Azalea Room, and "Self-care for Priests and Other Pagan Leaders" on Saturday at 12:30, also in the Azalea Room.
4. Mystic South – conversations. One of my favorite parts of any Pagan gathering are the one-on-one and small group conversations you just can't have anywhere else. Several of you have approached me via e-mail and on Facebook about something you want to talk about. I have quite a few obligations, and I want to get to some of the other presentations (the schedule is really good and really full), but I want to have as many of these conversations as possible.
I'm arriving Thursday and should be in by late afternoon – Thursday evening is pretty open. After that, it just depends. Contact me when you get in (FB Messenger, text, in-person) and let's set up something.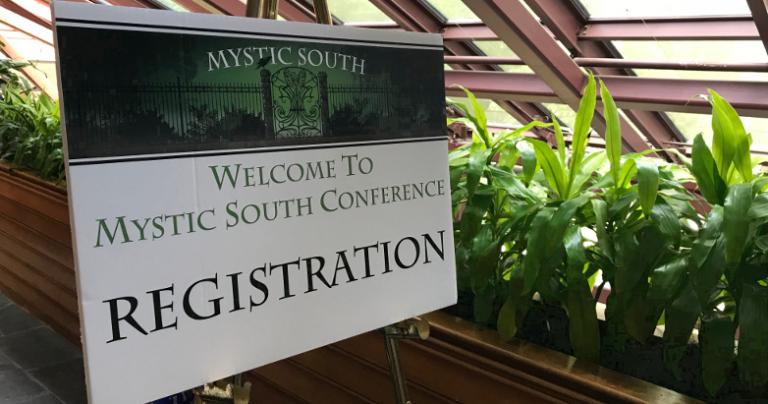 5. UU Sunday Services. I'll be presenting a shorter version of "Connecting to the Land Where You Are" in a UU Sunday service at the Denton Unitarian Universalist Fellowship in Denton Texas on July 28, and at the Unitarian Universalist Church of Victoria Texas on August 25. If you're in the area, come out and say hello.
6. The kindness of the Gods. Weekend before last I was in Seattle for a private event. I was supposed to fly back to Dallas on Sunday evening, but storms in North Texas caused my flight to be canceled. And because I have no status with any of the airlines, the soonest I could get back was Tuesday evening. Thankfully, I have a paying job that's understanding, and a good friend who put me up for two nights (Have you seen Joe Perri's photography? It's awesome). Instead of going back to work on Monday, or hanging out in the airport, I spent the day visiting waterfalls around Mount Rainier.
The Gods I serve are demanding. Sometimes They can be harsh. But other times They can be extremely kind, and for that I am very, very thankful.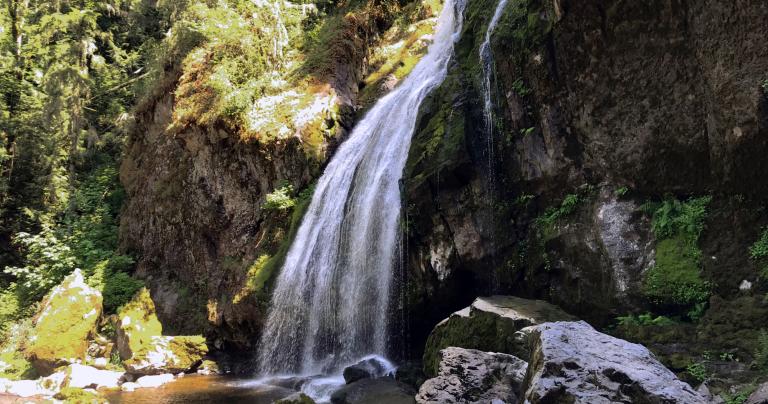 7. But now I'm out of vacation. My paying job is understanding, but I still had to burn two days of vacation I was saving for other trips later in the year. I've got enough left for the late December trip my wife and I take every year, but that's it. If you were thinking about inviting me to your Pagan Pride Day or other gathering later this year, I won't be able to get away.
On one hand, that's disappointing. I love going to conferences and gatherings, like the Southern New Hampshire Pagan Pride Day in 2017 and the ADF Rocky Mountain Retreat in 2018. On the other hand, I'm not exactly young anymore, and it's getting harder and harder to get home late Sunday night and go back to work on Monday morning.
8. I'm already planning 2020 travel. There are two gatherings on my permanent schedule: the ADF Texas Imbolc Retreat in February and Mystic South in July. And I'm planning a major vacation / pilgrimage for May – where depends on world events. Beyond that, while I have a lot of vacation by American standards (due to 22 years with the same employer) there are only so many trips I can do.
If you're planning a retreat, convention, or other Pagan gathering and you'd like me to speak, present, and/or lead ritual, the sooner we start talking the better the odds I'll be able to attend. I don't charge an appearance fee – I do expect travel expenses to be covered.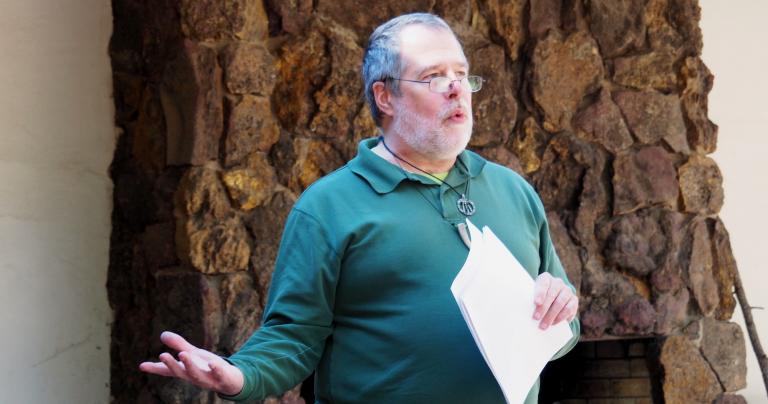 9. Current thoughts on the 2020 election. Enough about me. Back in April I wrote The Reasonable Liberal's Guide to the 2020 Democratic Primary. Since then we've had even more candidates declare for the Democratic nomination for President. I agree with whoever said that some of them need to drop out and run for Senate, or the House, or even a position in their state legislature. All but one of them are going to lose – they need to be doing something productive.
Joe Biden's personal conduct is showing why he's not Presidential material. He's better than Trump, but that's not saying much. The candidates I want to like – Kamala Harris, Corey Booker, and Tulsi Gabbard – have done nothing to grab my attention.
Elizabeth Warren continue to impress me with her calm demeanor and her detailed policy proposals. As much as I want a dynamic candidate who can inspire people – especially the ones who voted for Obama in 2008 and 2012 but stayed home in 2016 – it's more important to find someone who can govern well. Warren has convinced me she can do that.
But I'm still listening to anyone and everyone.
The Iowa caucuses are February 3, the New Hampshire primary is February 11, and Super Tuesday (which includes Texas this time) is March 3.