Since the COVID-19 outbreak and the resulting social distancing, we've seen the emergence of a new group of unlikely heroes: nurses, doctors, and medical researchers. People stocking shelves and running registers at grocery stores. Drivers for Amazon, UPS, and restaurant delivery services.
People doing jobs that are demanding at any time but that are now on the front lines of a worldwide pandemic – while the rest of us are sheltering in place. They're working long hours under dangerous conditions at great risk to their lives and to their mental health.
Others are recognizing their heroism. We've seen rounds of applause at hospital shift changes and for people walking home at night. The yard sign below is from my neighborhood in suburban Texas.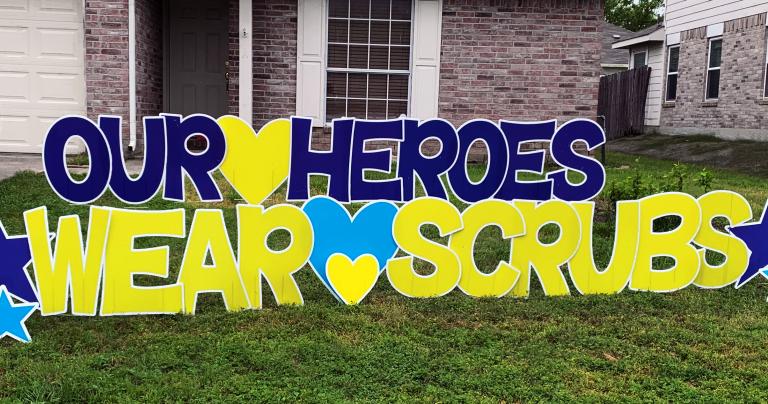 But this isn't Han and Luke getting medals from Princess Leia after destroying the Death Star. This is hearing a few kind words, trying to sleep for a few hours, then going right back into a war zone.
Here's a very good and very troubling essay from two doctors titled Health care workers aren't just "heroes." We're also scared and exposed.
The willingness to serve others is a noble, beautiful thing about our workforce. But even for a profession that has historically always placed patient needs first, the degree of sacrifice being demanded of us now is unprecedented.
The essay leads with a picture of nurses in New York City protesting for more and better personal protective equipment.
Hospital workers in New York are being told not to talk to the media, and some are being fired for questioning the safety of the personal protective equipment they are provided. This relays the message that our fears and concerns don't really matter.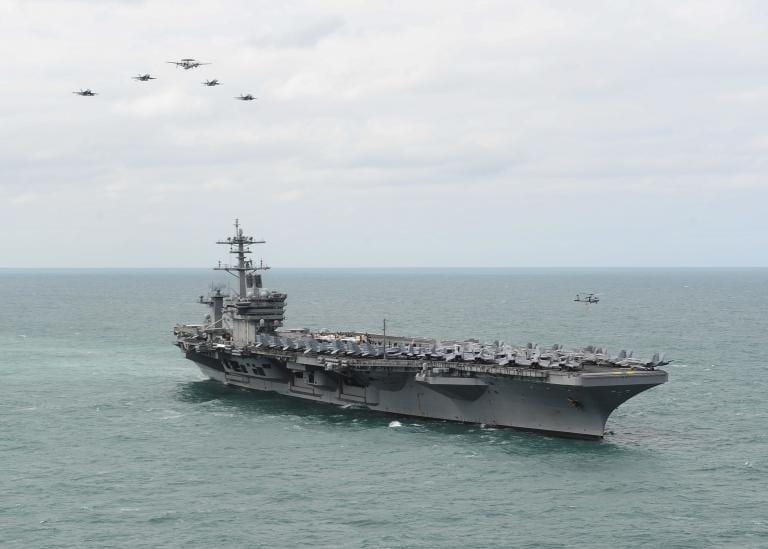 And then there's Brett Crozier, who was captain of the USS Theodore Roosevelt, one of only ten nuclear powered aircraft carriers in the U.S. Navy. When the COVID-19 virus began to infect more and more of his crew – on a ship at sea, where social distancing is physically impossible – he sent a letter to his superiors asking that the ship be evacuated and the crew quarantined.
We are not at war. Sailors do not need to die. If we do not act now, we are failing to properly take care of our most trusted asset — our Sailors.
The ship was evacuated. And then Captain Crozier was relieved of command.
He had to know it was coming. I've never been in the military, but every single person I've talked to in every branch at any rank has told me the same thing: Rule 1 is don't make your superiors look bad (the same thing pretty much holds true in the corporate world too). But he had a clear choice: continue to wait for orders and watch the virus continue to sweep through his ship – sickening many and killing some – or raise the flag and end his career.
Captain Crozier made the right choice.
This isn't North Korea – he's not going to be shot. But he's only 50 and now his career is over. It's likely that after he completed his assignment as captain of the Theodore Roosevelt he would have been promoted to Rear Admiral. A Navy Captain's pension will allow him to live securely – an Admiral's pension would have been considerably more.
A hero does what must be done.
What is a hero, anyway?
Joseph Campbell, whose 1949 book The Hero With A Thousand Faces was both insightful and troublesome, said:
A hero is someone who has given his or her life to something bigger than oneself.
I think that's a pretty good definition, and it certainly fits the heroes of today.
But Campbell was writing about mythological heroes, in an effort to show people how to live deeper, more meaningful lives. He talked about "the call to adventure" and the difficulties that come with a refusal of the call; about initiation and transformation.
Modeling your life on mythological heroes is a very different thing from being thrown into a real-world situation where heroic action is not requested or suggested but demanded.
I think it's safe to say that most of our current heroes working in retail and food service aren't trying to transform their lives with their jobs. They're just trying to make a living. And while I'm sure many of them feel a justifiable sense of pride from their work and the difference it makes in people's lives, they're frustrated with the systemic shortcomings that make it hard for them to do their jobs – and that put them at substantially higher risk for contracting COVID-19 than those of us who are working from home.
I've seen several people on social media saying "don't clap for me – pay me a decent wage."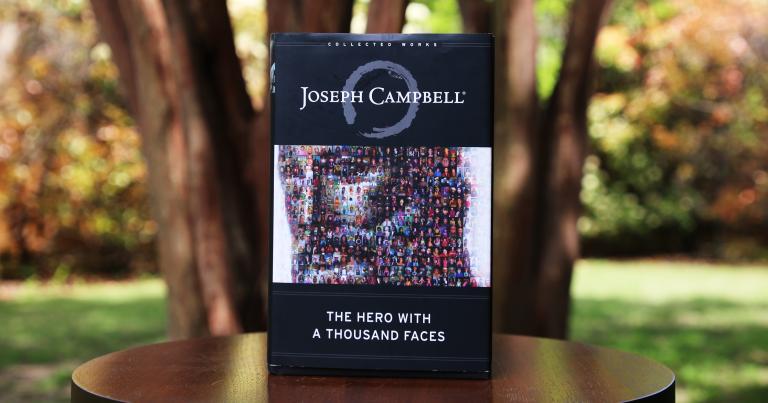 Heroes as agents of change
Another quote from The Hero With A Thousand Faces is quite relevant here:
The hero is the champion not of things become but of things becoming; the dragon to be slain by him is precisely the monster of the status quo … the keeper of the past.
We clap for nurses and stockers and ship captains because that's all we can do to express our gratitude. You and I have no stashes of N95 respirators, we don't set pay at the grocery store, and we don't choose the captains of aircraft carriers.
But what we cannot do individually we can do together.
What if instead of clapping for our heroes – or rather, in addition to clapping for them – we listened to them? And then acted on what they tell us?
What if we demanded to know the pay levels for retail workers (or just bothered to ask) and only shopped at stores that pay a living wage? That may be hard to do now, when many items are in short supply and we have to buy where we can. It will be very simple once the pandemic is over.
What if we generously tipped delivery drivers for now, and then took a hard look at the "gig economy" and figured out how to make the lives of those who bring us what we need more secure?
What if we strengthened whistle-blowing laws to protect nurses who complain about inadequate safety equipment? And more importantly, insist that the government use the Defense Production Act to increase stocks to sufficient levels?
What if we elected a President who would staff the Defense Department with Secretaries who will listen to commanders trying to protect their charges? (As I'm writing this, the Secretary of the Navy who fired Captain Crozier and who called him "stupid and naïve" just resigned. That is appropriate, but not nearly as appropriate as having a competent Secretary in the first place).
Who will be the next heroes?
Historically, most people we've thought of as heroes have been soldiers and other fighters. Since 9-11 we've thought of first responders as heroes. In the early days of the Trump regime, it was park rangers. Doctors and nurses have always been heroes, but who had money on delivery drivers?
Some people choose to become heroes. But many times people are thrust unwillingly into situations that require them to become heroes. Most of them accept the challenge, because most of us realize that giving your life to something bigger than yourself is a good and necessary thing.
Next time it may be you who's called to be a hero.
So let's treat our current heroes as we'd like to be treated: with honor and dignity, but also with respect for the difficult things they have to tell us. Clap for them but then listen to them, and use what they tell us to make the world a better place.
---
Want to get my personal weekly newsletter every Friday? It covers things that don't fit into the blog format, mostly in my usual range: Paganism, polytheism, and magic. Current events and politics. What I'm working on that you'll see in the near to medium future. Plus whatever else I find interesting.
Sign up on my teaching site https://undertheancientoaks.com/
Enter your e-mail in the big green block and do the not-a-robot thing. You'll get a confirmation e-mail – respond to it and you're set.