Denton CUUPS matriarch and my dear friend Dolores Nabors died peacefully on Wednesday morning. She was 88.
I first met Dolores in 2004. I can't remember if it was at a CUUPS circle or at a UU Sunday Service – she was a regular at both. She served on the Denton UU Worship Committee for several years, and she was congregational President in 2008-09. She was President when a shooter attacked a UU church in Tennessee – one of the dead and one of the wounded were former members of Denton UU. Dolores' calm, spiritual leadership was a comfort to all.
In CUUPS, Dolores served several years as Education Officer, and she led numerous seasonal circles and celebrations. Her last one was the Spring Equinox three years ago.
I'm not qualified to write Dolores' biography, even in an abbreviated obituary form. Nor can I capture what Dolores meant to everyone in our spiritual communities. Instead, I want to talk about what I learned from Dolores, and what I will remember about her in the future.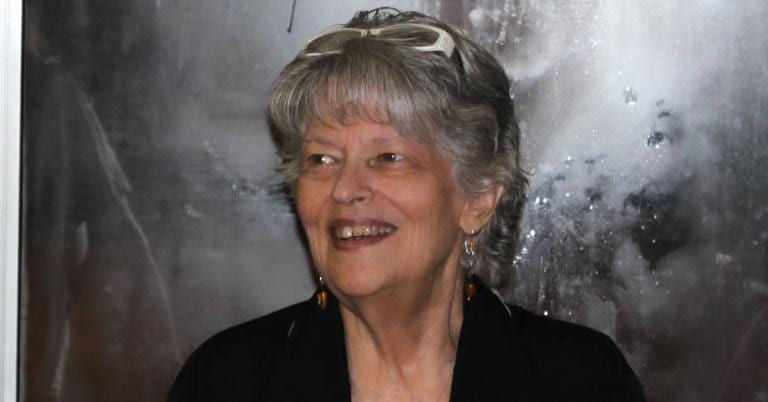 Dolores did many things well. She did two things exceptionally well. The first was leading guided meditations.
Dolores trained in Science of Mind – it informed her entire spiritual practice. And while I have issues with the way Science of Mind is used by some people (Dolores would say the people who misuse it), what the techniques do, they do very well.
If I was leading a ritual, I would always ask Dolores to do the grounding and centering meditation. I would write the script (because that was my responsibility as ritual leader) but I knew she was going to tweak it to make it hers. Sometimes she would take it in a different direction than I intended. It always worked – occasionally someone would say "your ritual was good, but I came for Dolores' meditation."
Sometimes a ritual would have a more extended meditation, or a small group would meet for the explicit purpose of doing a guided meditation. Dolores was great at those. She rarely worked from a script – she relied on her training to get started, then she would "go where Spirit leads." Spirit never led her wrong.
On a few occasions she led past life meditations. Now, I've never put a lot of emphasis on past life memories, but I believe in reincarnation, and I believe I've lived several lifetimes in this world. I've had hints all my life. Dolores was able to help me get enough details to understand how I got from "there" to "here" especially in my most recent life. I still remember that session, and I will always be grateful for Dolores' guidance.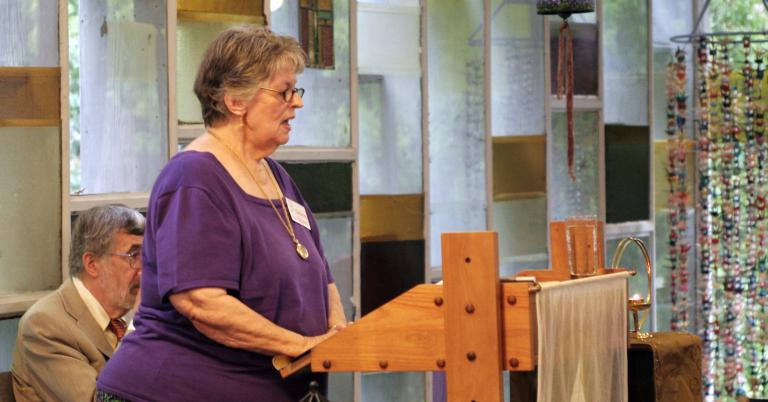 The other thing Dolores did exceptionally well was teach. She's the reason I can read Tarot reasonably well.
Like many people, one of the first "Pagan things" I bought was a deck of Tarot cards. I tried to read them intuitively and failed. I tried learning from books and failed. Shortly after she joined Denton CUUPS, Dolores volunteered to teach a Tarot class. Six or seven of us met at her house every week – she went over each card in depth, talked about how to do a reading, and shared her stories of working as a professional reader. The class ran for seven weeks – after it was over I finally felt like I knew Tarot.
Unfortunately, once I set the cards down, I promptly forgot them. So when she taught her Tarot class again a couple years later, I took it a second time. This time it stuck. I've kept reading, and I was honored to read alongside Dolores at a psychic fair in 2015.
There are lots of people in Denton (and elsewhere) who owe at least some of their skill with Tarot to Dolores.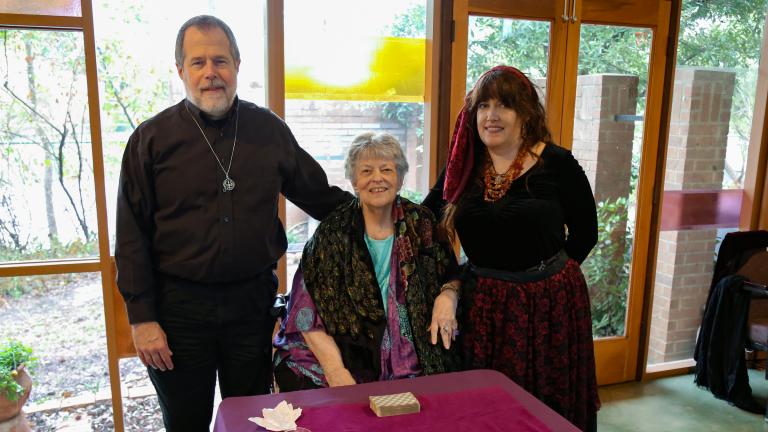 Dolores and I often disagreed when it came to theology. The further down this path I went the harder my polytheism got. Dolores' theology could best be described as panentheism – the idea that the divine is present in all things, but is also distinct from all of creation. There were numerous times when one of us would say something and the other would respond "I don't see it like that." And we would acknowledge that ultimately we don't know and go on with what we were doing. And we always remained friends.
We could do that because we shared values, especially the UU value of the inherent dignity and worth of every person. We shared a curiosity about the Big Questions of life and death, and we both had enough first-hand experiences to understand that all beliefs are ultimately tentative – they're our best guesses and we run with them, even though we recognize we might be wrong.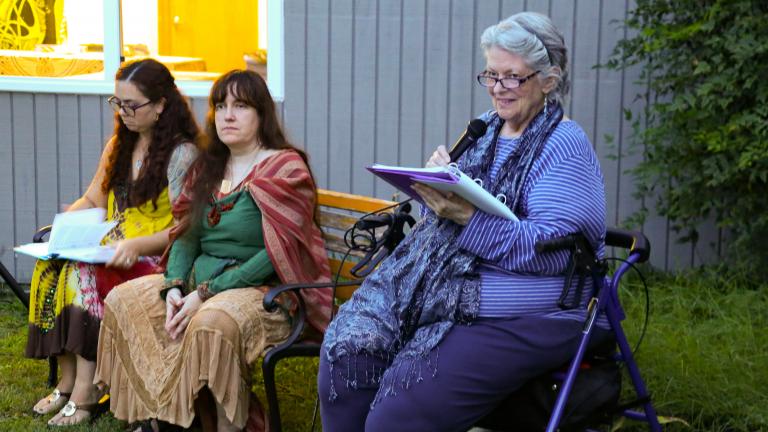 When I hear a friend has died, my first instinct is to pray. I pray to my Gods and to theirs, asking that their crossing may be safe and easy and that they may quickly find their place in the Otherworld. I said those prayers for Dolores yesterday, but I don't think they were necessary. Dolores knew where she was going, because she had been there before. And there were people there ready to greet her, because she always remembered them while she was here.
We who knew Dolores in this world will always remember her.
I'm thankful for all the things she taught me. Mainly, I am thankful Dolores Nabors was my friend for 17 years.
---
Here's Dolores' obituary: https://www.billdeberry.com/obituary/dolores-valastro