Beltane is, I think, the most difficult of all the sabbats to celebrate alone.
I don't mean the sexual aspects of Beltane – I'm not going to discuss that this year. I have more to say about it after last year's Beltane post, but this year isn't the right time for that conversation. Maybe next year.
But when I think about how I've actually celebrated Beltane over the years, I think about loud and boisterous Maypole Dances… and then quietly processing to the ritual area. I think about ritual plays to present the stories of our Gods. Mainly, I think about people coming together to celebrate the joy of being Pagan.
But it's still not safe to gather in large groups. So one again I'll be celebrating our modern Pagan holy days online – hopefully, with many of you.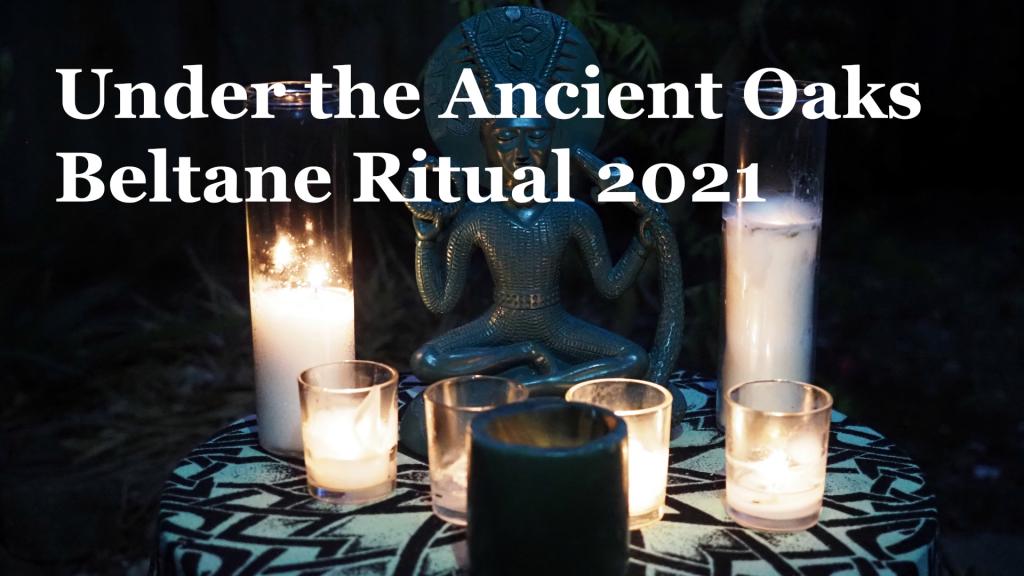 Under the Ancient Oaks Online Beltane Ritual
Saturday, May 1
8:00 PM CDT
The Ritual
The liturgy follows the same basic outline we've been using for the past year (and before). The Deity of the Occasion is Cernunnos.
Cernunnos is a very old God, and like many very old Gods there is little mythology surrounding Him. His name appears only once, on the Pillar of the Boatmen in France, which dates to the first century of the Common Era. The image of Him on the pendant I wear and on the statue in this picture comes from the Gundestrup Cauldron, from about the same time period. That image does not mention Him by name.
But what we cannot know from history we can know from personal experience. From my experiences and from the experiences of others, I know Cernunnos as the Lord of the Animals, the Lord of the Hunt, and the God of the Wild. Who better to honor at Beltane?
Our main working is a journey to meet Cernunnos, and to listen for what He has to say to each of us.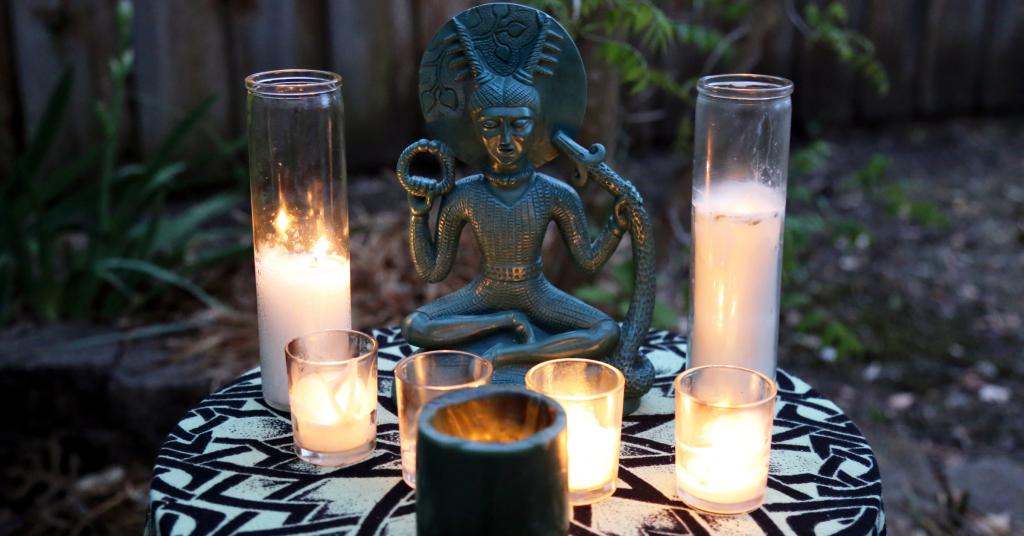 What you need to participate where you are
As usual, if you'd like to participate where you are, you'll need a candle and something to light it with, something for offerings and something to pour them into. I'm offering whiskey – you offer what seems right to you. When we're done with the main working, we'll share a drink among ourselves.
The main working is similar to what we did at last year's Beltane, except that was on Facebook Live and was strictly a guided meditation. For this year's Beltane, I solicited video clips of wild places from around the country and around the world. If we cannot travel physically to meet Cernunnos in wild places, we will journey to wild places spiritually.
In preparation for this ritual, I encourage you to spend some time in meditation, outdoors if you can. I know it's still very cold in some places. But if you can, take a few minutes to sit quietly and listen for what Nature and the Gods of Nature have to say.
The ritual runs just under 20 minutes.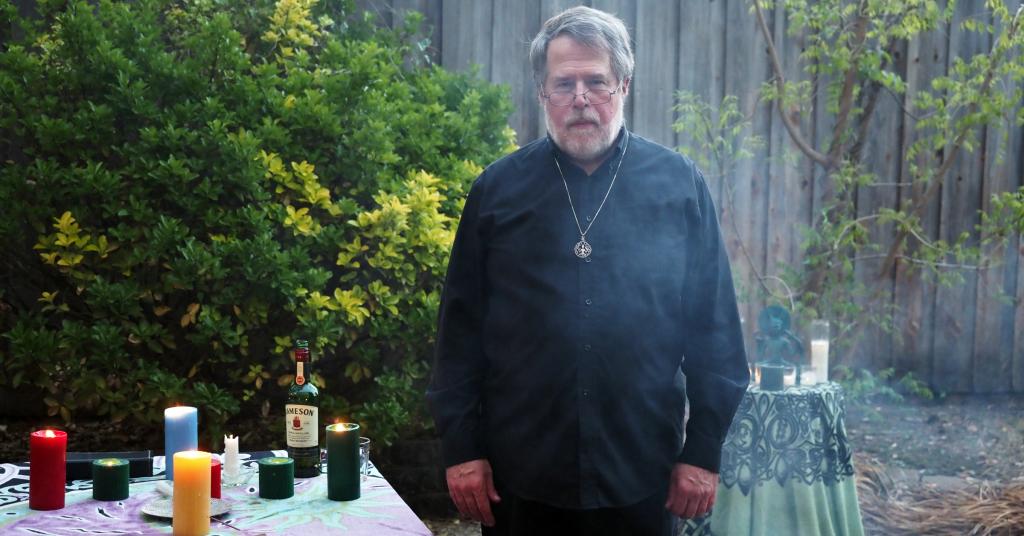 Want to get my personal weekly newsletter every Friday? It covers things that don't fit into the blog format, mostly in my usual range: Paganism, polytheism, and magic. Current events and politics. What I'm working on that you'll see in the near to medium future – be the first to find out about things like this.
Sign up on my teaching site https://undertheancientoaks.com/
Enter your e-mail in the big green block and do the not-a-robot thing. You'll get a confirmation e-mail – respond to it and you're set. You have to respond to the confirmation e-mail – my mailing service wants to make sure you really want the newsletters and someone isn't signing you up for something you don't want.